Posted on
Fri, Apr 27, 2012 : 5:59 a.m.
University of Michigan Health System in 'growth mode'
By Kellie Woodhouse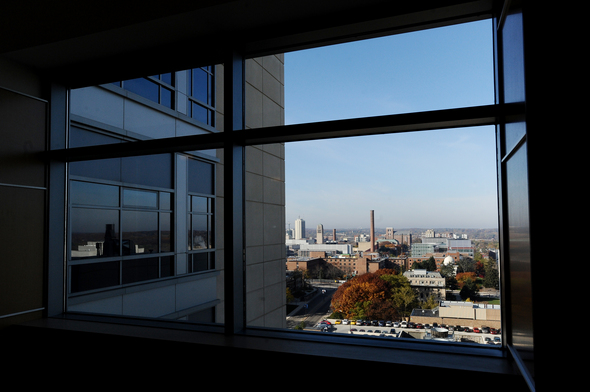 Patient capacity at the
University of Michigan Health System
has grown nearly 19 percent in five years, and university officials said Thursday there are no plans to slow growth anytime soon.
"We are in a growth mode," said Thomas Peterson, UMHS associate director of operations.
"Our demands continue to exceed the number of beds that we have," Peterson added in an interview. "We're consistently at capacity."
The number of UMHS patient beds has grown from 848 five years ago to 1,009 today, and officials plan to add another 120 beds within the next two years as it renovates the old C.S. Mott Children's Hospital and Von Voigtlander Women's Hospital facility.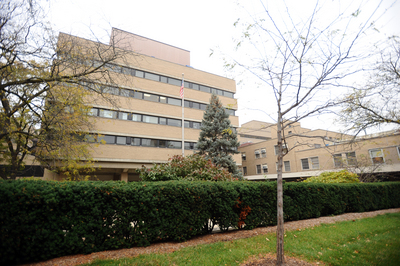 Melanie Maxwell | AnnArbor.com
Compounding overall UMHS growth is the increase in hospital staff, which has risen 9.4 percent in the last four years. Today there are roughly 21,000 UMHS employees.
"That's pretty significant employment growth," Peterson said. He discussed health system growth during a meeting with Wall Street corridor residents on Thursday evening.
Over the past decade UMHS has added 18 operating rooms —and plans to add another eight operating rooms during the former Mott facility renovation— and seven MRI devices. Last year UMHS opened a $754 million, 1.1 million square foot facility for its children's and women's hospitals, adding nearly 150 beds, and finished a $17.7 million emergency department expansion, adding 27 new patient rooms.
"The demands of the emergency department just surpassed our size," Peterson said. "Many patients were being treated in a hallway with just a curtain closed off for privacy."
UMHS also opened new surgical and medical observation units within the past five years.
The upcoming $163 million renovation of the old Mott facility includes 120 private rooms, mostly for use in neuroscience units, and office space for hospital staff. Peterson foresees "hundreds" of new UMHS positions as a result of the expansion. When the new Mott facility opened, more than 500 positions were created.
Joseph Tobianski | AnnArbor.com
"Think of it as building a small hospital," Peterson said.
In spite of the upcoming renovation, UMHS capacity shortages will not immediately be fully satiated.
"There is continuing demand for our hospital facilities: Mostly for extremely complicated acute care patients," said UMHS CEO Ora Pescovitz at a recent Board of Regents meeting.
Peterson said the Mott renovation merely "bridges" the next phase of UMHS development. University Hospital, for example, is "already getting to the point" of becoming outdated. Peterson said it's likely University Hospital will be completely moved into a new facility within the next "10 to 20 years."
"Within a decade we'll have to be doing something," he said.
Meanwhile, U-M Community Relations Director Jim Kosteva said the UMHS master plan calls for for between 700,000 and 900,000 square feet of "clinical research" development in the Wall Street corridor and two parking garages.
The university is in the planning stages of building a hotly contested 700-space parking structure on Wall Street. The Kellogg Eye Center, located on Wall Street, is roughly 230,000 square feet. UMHS doesn't currently have any other large buildings in that corridor. Expansion into the Wall Street corridor has been "part of the university's plan since 1988," Kosteva said.
Kellie Woodhouse covers higher education for AnnArbor.com. Reach her at kelliewoodhouse@annarbor.com or 734-623-4602 and follow her on twitter.