Posted on
Fri, Apr 27, 2012 : 5:59 a.m.
Wall Street residents say U-M parking garage will take toll on neighborhood
By Kellie Woodhouse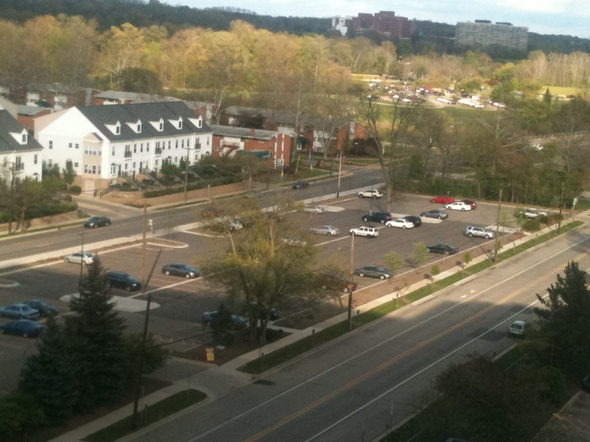 Kellie Woodhouse | AnnArbor.com
Northside Grill
owner
Jim Koli
recalls a time when Wall Street was nothing more than a residential neighborhood in northeast
Ann Arbor
.
Koli has watched as it the University of Michigan has slowly acquired land in the area, built the Kellogg Eye Center and paved much of the landscape.
"This used to be a neighborhood. It's been slowly leveled and cleaned out and bought out by U-M," Koli said.
"When I first started the grill in 1993 there were houses all down Wall Street and now they're all parking lots," Koli added later. "People here are very aware of how the university can change a neighborhood."
Twenty-six-year resident Brenda Giers, a former University of Michigan hospital staffer, too has seen the landscape change.
"I've seen everything torn down," she said. "I've seen everything disappear."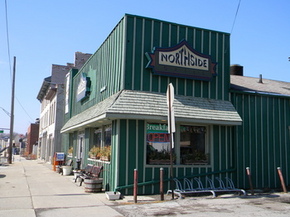 Koli, Giers and roughly 20 other individuals —Ann Arbor residents and school officials— discussed U-M's plans to build a 700-car parking garage atop an existing 200-car parking lot on Wall Street during a meeting Thursday night.
According to university planner Sue Gott, U-M held the meeting as a good faith measure.
Gott agreed that the landscape of the Wall Street corridor would surely change, but said that the university —with the input of residents— can make the new structure as aesthetically pleasing, environmentally sensitive and residentially useful as the school's $34 million budget allows. She said U-M plans to honor "the experience that one deserves to have in this community" by designing something that "is not only environmentally sensitive but great."
The university is in the beginning stages of designing the four- or five-story garage but preliminary plans have small park areas at either end of the park. Gott said U-M is looking into putting sidewalks and trees along the lengths of the garage that abut Wall Street and Maiden Lane. Responding to residents' concerns that the low elevation of the Wall Street corridor will cause toxic runoff, Gott said the university is planning a storm water drainage system that "wouldn't do anything other than improve today's conditions."
Project architect Neil Martin said he is working to determine a facade "that doesn't feel enormous and feels pedestrian friendly." He said his firm, SLAM, is working on a design that will minimize light and noise pollution into surrounding neighborhoods.
Residents expressed concern about traffic on Maiden Lane, a roadway they say is already highly congested during rush hour.
"You're taking 500 additional cars and dumping them all on Maiden Lane, the majority of them within a half hour or 45 minute period," Koli said.
Wall Street resident Tim Mortimer, president of the Riverside Park Place Condo Association board of directors, said pedestrian safety, "especially of the children and elderly residents of our neighborhood," is also a concern.
U-M Community Relations Director Jim Kosteva said the health system's master plan includes construction of a second parking deck on Wall Street and a total of 700,000 to 900,000 square feet of clinical research space. He said there are no imminent plans to construct any other structures or buildings in the Wall Street corridor.
Eliana Moya-Raggio, another Wall Street resident, called the university's plans to further build on Wall Street "awful."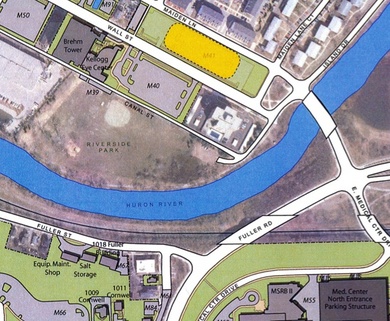 "You don't destroy a neighborhood to place cars in it," she said.
U-M Health System associate director of operations Tom Peterson stressed the need for additional parking, saying patient capacity at UMHS has risen 19 percent in the past five years and staff has increased by 9.4 percent over the past four years.
The growth, he said, is leading to a mounting UMHS parking shortage.
"We have really grown" since the U-M Board of Regents first passed plans for a Wall Street Parking structure in 2008. After receiving fierce criticism from Wall Street area residents, those plans were scrapped a year later in favor of the Fuller Road station, a collaboration with the city for 997-spot parking structure. However university officials announced earlier this year they were canceling plans for the Fuller Road deck due to the city's inability to pay it's agreed upon portion of the garage and adhere to a quick construction timetable.
U-M regents once again approved a Wall Street parking structure at their monthly meeting on April 19.
"This was a project and an activity that was first incorporated in the university's master plan for the medical center in 2005," Kosteva said during the Thursday meeting, adding that planners foresaw UMHS quick growth. "Those expectations have been filled and thus we continue to have a strong need to meet parking demands in this area."
Mortimer and Koli said praised the university for, in their view, being more communicative than it was when it first proposed a Wall Street parking structure in 2008.
"They're being a lot more open this time," Koli said. "Last time it had gotten kind of knocked down the road a little bit before we found out. I think they were surprisingly interested in the residents' response."
Gott said the university will continue to hold meetings with Wall Street area residents throughout the design and construction process.
Moya-Raggio said the inclusion makes her "feel better" about the structure and said residents would hold the university to its promise of additional meetings.
"Because you are not building on campus you need to listen to us and you need to incoporate us in the process," she told Gott. "It's our right."
Kellie Woodhouse covers higher education for AnnArbor.com. Reach her at kelliewoodhouse@annarbor.com or 734-623-4602 and follow her on twitter.