Posted on
Mon, Oct 24, 2011 : 1:53 p.m.
U-M led ALS stem-cell trial poised to take major step forward
By Juliana Keeping
A University of Michigan-led clinical trial involving the injection of stem cells into the spines of patients with Lou Gehrig's disease is poised to take a major step forward, Neuralstem Inc., the private sponsor of the trial, announced today.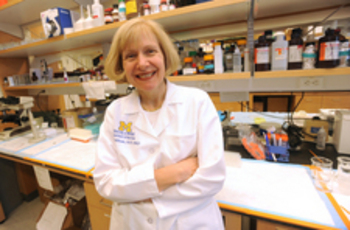 Led by
Eva Feldman
, a U-M neurologist, researchers have been evaluating the safety the stem cell treatment after injecting millions of the cells into 12 patients' lower spines. The
U.S. Food and Drug Administration
on Friday approved transplanting the stem cells into patients' upper spine region for the next phase of the trial,
Neuralstem announced today.
The study is moving forward with six patients who will undergo the procedure in the upper spine, Feldman said.
Amyotrophic lateral sclerosis, a fatal neurological condition also called Lou Gehrig's disease, robs its victims of their ability to speak, move and eventually breathe, while leaving their minds alert, according to the Centers for Disease Control and Prevention.
The first patient is expected to undergo the procedure in November, Feldman said.
"In that area of the spinal chord are the large nerve cells that allow you to breathe normally," Feldman said. "If by injecting stem cells, we can provide the integrity of the large nerve cells that permit breathing, we hopefully will be able to enhance the lifespan and the longevity of patients with ALS."
Neuralstem said the first 12 patients tolerated the procedure well, with no major complications.
The study is being conducted at Emory University in Atlanta with Feldman, the director of the A. Alfred Taubman Medical Research Institute, on board as a an unpaid consultant to the trial's sponsor. The safety trial got under way in January 2010.
Participants are singing its praises.
A 38-year old ALS patient weighed in on the results in September, telling CNN he had to walk with a cane and had trouble breathing when he went to the mail box before entering the trial, but has not had to use a cane and can breathe better since the stem cell injections.
"It's been nothing short of miraculous," Ted Harada told CNN. "I cannot begin to explain the difference it has made."
The hope is the treatment being studied will pave the way for procedures that could halt the destruction of nerve cells by the disease.
Roughly 30,000 Americans are afflicted with the disease and 5,600 diagnosed each year, according to the ALS Association.
Juliana Keeping covers general assignment and health and the environment for AnnArbor.com. Follow special project Viking's War on Facebook and Twitter
Reach her at
julianakeeping@annarbor.com
or 734-623-2528.
Follow Juliana Keeping on Twitter