Posted on
Sat, Aug 31, 2013 : 5:56 a.m.
What it takes to get Michigan Stadium ready for game day
By bob horning
Starting Aug. 1 every year, Michigan Stadium becomes a potential paradise for little boys. Vehicles of every type appear - pick-ups, vans, hi-los, golf carts, Coca-Cola trucks, construction booms.
There are men in hard hats sandblasting, paint spraying, jackhammering, window cleaning as they are suspended from the roof in their boatswain chair. There is noise everywhere - plenty of sounds to imitate.
Alas, the kids can't get in. Their hard hats would probably fall off even if they could.
But I was able to get in for part of a day, and what was going on is impressive even for older boys. Every work trade you can imagine is there getting the Big House ready for its first visitors of the football season.
I talked with Chris Ehman, facilities supervisor for the stadium, and then some of the contractors both about long-term projects and what they were doing in the days before the season opener on Aug. 31.
If you have a ticket from row 72 on up (row 54 on the east side), you will notice the result of the biggest project of the summer - a fresh coat of gray paint. Ehman said that area accounts for roughly 35,000 seats.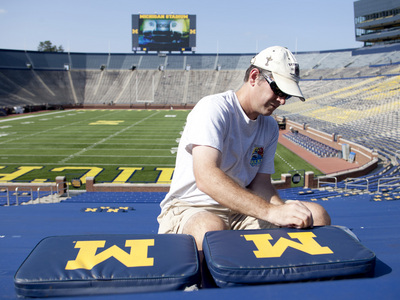 Patrick Record | AnnArbor.com
Niles Industrial Coating, based in Fenton, started the job in April, and dedicated 55,000 man-hours to it, often having 100 men present. Though it was originally expected to take two summers, they finished last week.
Foremen Al Giraud and Jerry Lindke said that first the bleacher seats had to be removed, then the old paint was sandblasted because it was lead-based.
"During that phase, three million pounds of abrasive were used," Giraud said.
"Sixteen blasters were going at a time and they used 1,300 gallons of diesel fuel per day," Lindke added.
A coat of zinc was put on next to prevent rusting, then a midcoat, and finally the gray. The same process was followed on the underside of the bleachers.
After that was done, they put a ceiling sealing on the structural support in two bathrooms on the north side and two on the south. They had also repainted the dark blue rim around the stadium.
When Geraud and Lindke told me that the rim hadn't been painted in 45 to 50 years, I was amazed. That would have been the time my brother, Doug, and I worked with the athletic maintenance department during our high school/college years. One of our last jobs was helping to paint the rim.
They said we did a good job.
Ehman commented that one of the last tasks for his team now would be putting the aluminum benches back in place so all 35,000 seats are in the correct numerical order and so the seams between benches are both level and tight, in order to prevent someone from getting pinched.
The other big project, which you can't miss if you drive by on West Stadium Boulevard, is the new 48' x 24' marquee. It stands 21 feet above the ground and was put in by TS Sports, the same company that did the two scoreboards inside the stadium. It has a row of speakers on the bottom and will have UM athletic events and information on it every day, around the clock.
Besides the big projects, lots of last-minute work was ongoing.
Gate 10 on the northeast side was revamped as a student-only gate.
Coca Cola workers were reinstalling and fixing the lines of their 75 fountain machines. What normally takes one week each year, took almost a month because they had to remove the machines for the bleacher painting, then reinstall them.
RAM Construction Services was waterproofing and putting flashing around several columns on the east side where water had been leaking to the floor below.
Mike Calhoun and others were getting the rolling carts ready for transporting M Den merchandise to their tents within the stadium, setting up grids for displaying it, and hanging signs and banners.
The columns in the Champions Circle near Crisler Arena were inscribed with the most recent U-M championship teams.
Part of the black wrought iron fence surrounding the perimeter was refinished and recoated by the original installer, Future Fence.
"The heavy salting that we do in the winter causes the fence to flake and rust," Ehman said.
A worker for Sodexo, the company that handles concessions, was moving 130 pallets of water bottles to the vending locations. Each pallet holds 36 cases, and each case has 24 bottles. That's 112,320 bottles.
Another Sodexo employee was getting all of the mobile concession stands ready (his goal was to be finished by Wednesday before the game) and checking electrical connections. A couple more were loading coke bottles into the coolers.
And Pat Helsel, a service technician from the Chicago area for Super Pretzel, was checking over the company's 99 machines and doing maintenance on them when necessary.
So it looks as though there will be plenty of food. One warning, though: U-M acquired four hot dog stands from Ohio Stadium this year, the kind that are about 7' x 2.5' wide x 4' high. They aren't recognizable any longer as Buckeyes exports since Graphic Resource Group from Troy redeemed them by putting the U-M logo on them.
Also, a week ago, the UM Police Department sponsored a canine unit training day at the stadium. It included bomb squad experts from the state police and explosives experts from ATF (Alcohol, Tobacco, and Firearms), and was open to local, county, and other law enforcement units. The dogs are probably still confused by those suspicious hot dog stands.
Ehman, who oversees all of this stadium activity, worked in U-M maintenance as a student from 1987-91 and took over the head position at the stadium in 1998. He mentioned that he attended Lapeer East High School; that's for the sake of the football fanatics who will recognize it as the school of Jake Long, former U-M All-America offensive tackle and four time all-pro, now with St. Louis.
Ehman has a crew of four full-time and 10 to 15 part-time workers. They care for everything inside the fence plus the parking lots to the north and east, and the Junge Center. He said having the best facilities staff in the athletic department enables him to get everything done and done smoothly.
Most years since he has been there, he said there have been major projects during the spring and summer, one of the biggest, stretching from 2000 to 2006, the pouring of new concrete for two-thirds of the seating area. That made it possible to begin the stadium expansion in 2007.
"Right now there are no big projects slated for next year, so we will be able to catch up on routine maintenance (and) change a light bulb or two," he said.
The month prior to the first game, they help where needed with the other things going on at the stadium and do things like touch-up painting in the suites and heavy use areas, check on lights, electrical work, and plumbing.
On game days, they are there to handle trouble calls.
"We might need to get rid of a hornet nest under the stands, clean up after a fan who gets sick (it happens about a dozen times a game), mop a flood in the restroom, fix a stuck gate somewhere," he said.
But for now, everything is finally ready.
The big boys can come in and play.
Bob Horning, a lifelong Ann Arbor resident, is writing U-M game day stories for AnnArbor.com. If you have ideas for future columns, please email news@annarbor.com.