Posted on
Sun, Oct 3, 2010 : 8:02 a.m.
University of Michigan student body president, assistant state attorney general face off in court Monday
By David Jesse
Chris Armstrong and Andrew Shirvell are expected to come face-to-face in a Washtenaw County courtroom on Monday afternoon.
The two men are used to seeing each other.
For months, Shirvell, a state assistant attorney general, has been following Armstrong, the University of Michigan student body president, around campus and town to protest against him.
Shirvell has appeared outside Armstrong's Ann Arbor home, at a meeting of the Michigan Student Assembly and even staged a counter-protest to a protest Armstrong was leading.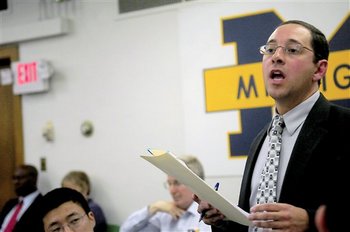 Marissa McClain | The Michigan Daily
At every stop and on an online blog, Shirvell has attacked what he calls Armstrong's "radical homosexual agenda."
Armstrong, the university's first openly gay student body president, last month asked the Washtenaw County Trial Court to issue a personal protection order against Shirvell. That order would bar Shirvell from talking to Armstrong, being in the same area as Armstrong or sending him e-mails or Facebook messages.
It's unclear exactly why Shirvell is targeting Armstrong, but the issue has intensified in the last week, thanks to national media exposure. Armstrong and Shirvell have not returned repeated requests for comment from AnnArbor.com in the last week.
When both sides make their arguments in court Monday, it will likely pit the words of a student who says he feels threatened against those of a U-M alumnus who says his actions are protected free speech.
Armstrong called Shirvell's words a direct threat in his letter requesting the order.
"The actions that Mr. Shirvell has taken against me over the past four months have been incredibly distressing," Armstrong wrote. He added he might feel slightly different if Shirvell was a student, but since he isn't, "his actions are concerning and make me feel unsure about my own personal safety.
"His actions … have been an outright attack on my ability to live my life openly and be honest about who I am," he wrote.
At the hearing, Armstrong is expected to testify about the incidents detailed in the restraining order. And the judge must decide whether the actions constitute stalking, which is defined as repeated unwanted contacts in person, online, on the phone and by other means.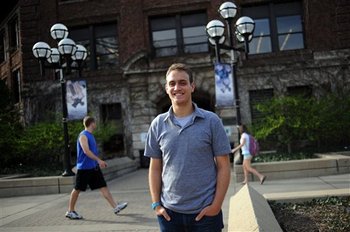 Melanie Maxwell | AnnArbor.com
Shirvell will then be allowed to respond to the allegations before Judge Nancy Francis makes a decision on whether to grant the personal protection order. Shirvell told CNN's Anderson Cooper last week that he isn't breaking any laws and is exercising his free speech rights.
Kary Moss, executive director of the Michigan chapter of the American Civil Liberties Union, said Shirvell's free speech rights deserve to be protected — no matter the contents of his message.
"As offensive and as despicable as Mr. Shirvell's comments are, they are protected expression under the First Amendment when they are not used as a direct threat," she said. "Without making specific threats against others, this is just another example of speech that society must tolerate, even though it is profoundly disturbing and stirs many to anger."
Shirvell's boss, Attorney General Mike Cox, also has defended Shirvell's free speech rights, saying that while his posts are "distasteful," he has the right to make them.
But Cox also said he was troubled the 30-year-old lawyer videotaped police breaking up a party at Armstrong's off-campus home in Ann Arbor over the Labor Day weekend.
"Part of the video is being outside this young man's house at 1:30 on a Sunday morning. Clearly, I wouldn't recommend that to any state employee to be doing," Cox told The Associated Press. "That being said … it's not something where I can walk in one day and say, 'I don't like what he has on there, let's broom him.' He has First Amendment protections."
Cox's defense of Shirvell has also attracted national media attention. Facebook petitions are advocating for Cox to fire Shirvell, and Cox's office has been flooded with e-mails and calls.
On Thursday, Shirvell took a voluntary leave of absence from the office. Officials won't say how long that leave will last or whether it is paid or unpaid. They did say he's likely to face a disciplinary hearing when he returns to work, but refused to comment on what that hearing might center on.
Shirvell and Cox have a long history. Shirvell worked in Cox's office as an intern in 2003 and 2004. He got a full-time job there in 2006 when he graduated from Ava Maria School of Law.
In addition, Shirvell was one of a handful of paid consultants on Cox's reelection campaign as he ran for attorney general. Campaign finance records show Cox's campaign paid Shirvell $13,478.42 in fees and reimbursements from August to November 2006.
Campaign finance records also show Shirvell has given more than $400 in donations to Cox campaigns, including Cox's unsuccessful run for governor this year.
The Associated Press and AnnArbor.com reporter Kyle Feldscher contributed to this story. David Jesse covers higher education for AnnArbor.com. He can be reached at davidjesse@annarbor.com or at 734-623-2534.