Posted on
Tue, Dec 21, 2010 : 12:50 p.m.
University of Michigan trespass policy under review
By Juliana Keeping
University of Michigan President Mary Sue Coleman has directed the legal office to review the school's trespass policy.
"Rest assured that finding the appropriate legal balance between safety and free speech is a goal that I share with you," Coleman wrote in a Nov. 24 letter to Mallory Jones and Bennett Stein, student leaders of the undergraduate chapter of the American Civil Liberties Union.
The review process follows a series of events involving a state assistant attorney general, who is a U-M alumni, and U-M's student body president. Attorney General Mike Cox fired Andrew Shirvell after the assistant attorney general followed Michigan Student Assembly President Chris Armstrong for several months to protest the student's so-called "radical gay agenda," kept a blog called "Chris Armstrong Watch" and heckled Armstrong at public speaking events. Armstrong is the first openly gay student body president at the school.
Shirvell was banned from campus, although the order was later modified.
Coleman issued a statement Sept. 30 that said U-M "has called upon others in positions of authority to take all appropriate action to address this situation." A U-M spokesman declined to elaborate at the time.
Civil rights attorneys first raised questions about the constitutionality of the trespass policy in an Oct. 24 report by AnnArbor.com that detailed the university's use of the policy.
Each of U-M's 56 sworn police officers have discretion to read or mail trespass warnings. The policy permanently bans a person from campus and various other properties throughout the state and nation. Police also can ban individuals from smaller areas like a building floor, a whole building or a section of campus.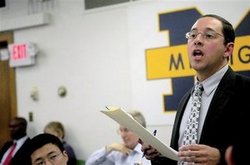 Only the director of public safety can modify the warning. Individuals also can bring grievances to an elected, independent police oversight committee of U-M students, faculty and staff members, but the committee's powers are advisory only.
The state chapter of the ACLU threatened to bring about a lawsuit over the policy in mid-November.
Michael Steinberg, an Ann Arbor resident and legal director of the ACLU of Michigan, said U-M violated Shirvell's free speech and due process rights under the policy.
Around the same time, the student chapter of the ACLU sent a Nov. 16 e-mail to Department of Public Safety Police Director Ken Magee and Coleman asking for the policy to be narrowed and revised in a way that free speech and assembly rights would be protected. Magee has since gone on extended sick leave.
"We're encouraged by the university's decision to review the policy, and that we will work with them and the students to ensure that constitutional policy is developed that recognizes the free speech and due process," Steinberg said Tuesday.
U-M student Mallory Jones, chair of the student ACLU group, echoed that sentiment.
"Our group was very pleased by the response from President Coleman, and we are looking forward to continuing to work with the university to construct a trespass policy that protects the civil rights of individuals while maintaining campus safety," she said via e-mail.
U-M spokesman Rick Fitzgerald said the letter from students prompted Coleman's response.
"I have asked the university's Vice President and General Counsel, Suellyn Scarnecchia, to take the lead in a thorough review of the trespass policy," the letter from Coleman states. "She has assured me that she will seek input and review of any proposed changes from interested individuals and organizations, including yours."
Juliana Keeping is a health and environment reporter for AnnArbor.com. Reach her at julianakeeping@annarbor.com or 734-623-2528. Follow Juliana Keeping on Twitter