Posted on
Thu, Nov 18, 2010 : 6:05 a.m.
Washtenaw County commissioners decline to reduce own pay as county faces budget troubles
By Ryan J. Stanton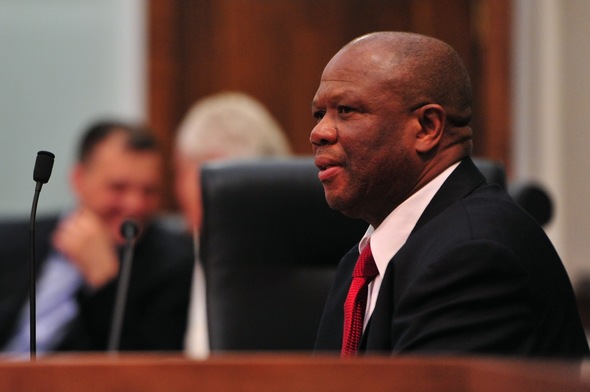 Ryan J. Stanton | AnnArbor.com
Washtenaw County Commissioner Leah Gunn was unable to convince her peers on the county board Wednesday night to reduce their own pay starting in 2011.
Gunn, D-Ann Arbor, proposed eliminating the $25 per diem payments they collect on top of their $15,500 salaries for attending meetings. Those payments add up to thousands of dollars every year and have been questioned by some, including the county clerk.
The board also voted 8-3 to reject Gunn's proposal to eliminate commissioner travel budgets, which would have put an end to county-funded trips to conferences in places like Florida, Hawaii and Nevada.
The vote on per diems originally fell 6-5 in favor of eliminating them, but Commissioner Ronnie Peterson, D-Ypsilanti, was allowed to change his vote due to some apparent confusion. That swayed the outcome to 6-5 in favor of keeping per diems.
In addition to Peterson, others who voted to continue per diems were Jessica Ping, Kristin Judge, Wesley Prater, Ken Schwartz and Rolland Sizemore Jr.
The only two commissioners to support Gunn's proposal to eliminate travel were Mark Ouimet, R-Scio Township, and Barbara Levin Bergman, D-Ann Arbor.
Gunn, appearing defeated, lamented the outcome.
"I tried and I failed," she said, expressing regret that the county soon will begin working to close a massive budget deficit while sending the message to its employees and the community that commissioners are unwilling to cut their own pay.
"To me, this is symbolic," she said. "If we're going to ask for cuts from our departments, and we're going to ask our employees to bite the bullet, and we're going to go out to the community and say, 'We can't fund this or that,' I think we should make an effort to take compensation away from ourselves, but my colleagues didn't agree with me."
The county potentially faces a structural deficit of $15 million to $20 million for the two-year budget cycle for 2012 and 2013. The board will begin building that budget in January, and likely will ask county employees to make concessions.
The compensation changes, if approved, would have taken effect Jan. 1, when four of the 11 commissioners who voted Wednesday night will no longer be on the board. That includes Ouimet, Ping, Schwartz and Jeff Irwin. Ping is being replaced by her sister.
Gunn also brought forward a proposal to eliminate commissioner mileage reimbursements. But after several commissioners argued being reimbursed for driving to meetings was justifiable, even Gunn was swayed and joined her peers in a unanimous vote to keep them.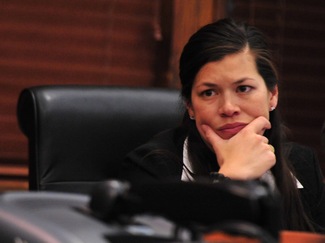 Ryan J. Stanton | AnnArbor.com
The issue of commissioner compensation has been an especially hot topic since it was alleged last month that Ouimet may have improperly billed the county for thousands of dollars worth of per diems and mileage reimbursements he shouldn't have been eligible for.
An investigation by the county clerk's office confirmed as much, but the clerk's report also found almost every single commissioner on the board — except for Peterson, who does not bill the county for mileage or per diems — was guilty of collecting either ineligible or questionable payments between 2005 and 2009.
Of the nearly $27,000 in questionable and ineligible payments, nearly $17,000 belonged to Ouimet and nearly $5,000 belonged to Ping, the two Republicans on the board. The other eight Democratic commissioners averaged $675 apiece. Some already have repaid the county or have pledged to repay the county for the amounts that appear to be owed.
The county has engaged a senior auditor from the Rehmann Robson public accounting firm to conduct an independent review of commissioner per diems. According to County Clerk Larry Kestenbaum, the audit was completed more than a week ago and it found "only slight differences" from the report put out by his office.
County Administrator Verna McDaniel said the county is holding off on releasing the auditor's report until each commissioner has a chance to review and challenge its findings.
"We are not done with that process yet," she said. "We are finished preliminarily with one aspect of it, but the full process has not been completed."
McDaniel said it could be another two weeks before a final report is released.
Several commissioners took turns voicing their opinions for and against per diems and travel expenses during Wednesday night's meeting.
Peterson argued "compensation is something that this board deemed appropriate some years ago." He said it's "historical practice" to pay commissioners a salary, per diems and mileage reimbursements for their attendance at meetings.
He spoke in favor of travel to conferences, saying it's important that commissioners take the time to "come up to speed" and educate themselves on issues facing counties. He said "the books are open" when it comes to those costs and voters can "check how much we spend."
"They're not honeymoons," Peterson said of the conferences.
Peterson noted the concept for the Urban County came from a national conference that commissioners attended. The Urban County is a consortium of the cities of Ann Arbor and Ypsilanti and many of the surrounding townships. It formed in 2001 and allocates federal money for housing rehabilitation, shelter and public service programs and projects.
On the topic of mileage reimbursements and per diems, Ping said she doesn't think it was made clear until this year which meetings commissioners can and can't bill the county for. She said she drives to many meetings of the various municipalities she represents in her district and thinks she should be compensated for attending those.
"In order to properly represent the county, you are expected to be in front of these people … and you can't do that for free," she said.
Judge said she actually would be in favor of expanding the county's mileage policy to allow commissioners to be reimbursed for driving to meetings now deemed ineligible.
Bergman agreed with Ping and Judge and said commissioners shouldn't have to sacrifice their personal vehicles on county business without proper mileage reimbursement.
Ryan J. Stanton | AnnArbor.com
Prater argued in favor of per diems, using his appointment as a liaison to the Road Commission as an example. He said there are more than two dozen Road Commission meetings a year, and each one can last two hours. Providing a little compensation to commissioners who sacrifice their time, he said, is justifiable.
Commissioner Conan Smith, D-Ann Arbor, countered Prater's argument, saying commissioners make about $18 an hour through their salary, and they're already "well compensated" without per diems. Adding in per diems, he said, they make 140 percent of what an average resident makes.
"My base salary compensation is enough," Bergman agreed. "I don't need $25."
Under new rules put in place this year, each commissioner is entitled to spend one-eleventh — or about $3,500 — of the board's $39,000 "commissioner flex account." That is their annual allowance for all travel, per diems and mileage reimbursements.
Prater said he thinks that limit keeps costs down well enough, so commissioners don't need to worry about eliminating travel, per diems or mileage reimbursements.
Peterson questioned why commissioners were spending so much time debating such a small amount of money, which he compared to the pay of an entry-level clerk.
"We're dealing with a huge deficit," Peterson said. "If we're going to deal with the issue of saving money, let's be real. Let's put the hardcore numbers on the table."
Commissioners voted unanimously Wednesday to move their retirement accounts from the county's money purchase pension plan into new deferred compensation plans. The change is expected to save the county $10,000 it had paid annually in management fees for the plan.
Ryan J. Stanton covers government and politics for AnnArbor.com. Reach him at ryanstanton@annarbor.com or 734-623-2529.