Posted on
Thu, May 24, 2012 : 5:58 a.m.
Washtenaw County teacher still jobless after 7-year quest in midst of education funding crisis
By Danielle Arndt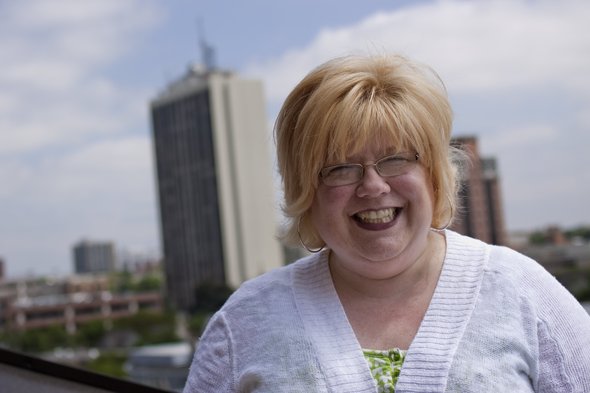 Jeffrey Smith | AnnArbor.com
Saline
resident Lisa St. John has been searching for a permanent teaching position in
Washtenaw County
since 2005.
Despite submitting dozens of applications, her substitute teaching experience and going back to obtain her master's degree, St. John has received very few interviews throughout her seven-year job hunt.
She did work for a year teaching at a charter school in Detroit and she picks up substitute teaching jobs whenever she can, but St. John's search for a full-time teaching job in Washtenaw County has been futile.
"I've never had a problem before in my life getting any type of job," she said.
St. John's passion for children may not be enough to offset her age and pricey qualifications.
St. John, now 40, graduated with psychology degree from Wayne State University in 1995. About seven years later, after working for a non-profit organization in Port Huron, she got the bug to teach.
Through the nonprofit, St. John was assigned to meet twice per week with a group of incarcerated teenage girls at the juvenile detention center. She spent a significant amount of time speaking with the girls about the challenges they faced and why they were there.
One day, as part of a sharing activity, St. John asked the teens to write about a time they had to make a difficult decision and whether they picked the right choice or the wrong choice and why. St. John said a 16-year-old girl called her over and asked if she could draw a picture instead because she wasn't comfortable writing.
St. John said at that point, she knew in her heart that in order to really make a difference in the lives of underserved and struggling children, she had to become a teacher.
So she got a teaching certificate in 2005 from Saginaw Valley State University.
"I was applying and not receiving many interviews," St. John said. "And what interviews I had weren't resulting in any opportunities — maybe one or two, but I never got calls back."
Call it a case of poor timing. St. John entered the teaching field just as Michigan's K-12 education funding crisis was beginning.
She decided to return to school to get her master's degree in education and an endorsement in learning disabilities.
"I thought this would open a door for me and I could get into the schools … but I found that I was still really quite frustrated," said St. John.
She received her first full-time teaching position in 2008 at a charter school in Detroit. While she was grateful and finished out her year-long contract, she found that particular charter school environment wasn't for her. She also got married and wanted to hunt for something closer to home.
Three year's later, St. John's search continues.
"What is expected of teachers today going into the field, you have to be at the top level of your game with everything," she said of her observations while looking for a job. "Administrators have the pick of the litter."
When St. John was hired at the Detroit charter school, she went through three interviews and was selected from a pool of 42 applicants.
St. John added she is finding there are many summer teaching positions open for local summer school programs because the permanent, full-time teachers want their summers off.
Budget cuts may make it especially difficult for older teachers with credentials beyond a bachelor's degree, like St. John, to find work. Teachers with a master's degree cost more to employ, as districts are required to pay them a higher base salary.
So even those districts that may end up hiring, might look to take on young college graduates because they are cheaper.
Members of the Ann Arbor Public Schools Board of Education expressed at last week's meeting they may want to replace some, if not all, of the district's 32 staff members who are retiring or resigning at the end of the year.
Not replacing them was expected to save AAPS $3.2 million, but Trustee Glenn Nelson and a few others were adamant about keeping class sizes stable and not increasing them further.
Nelson proposed replacing the 32 staff members with all new hires for a savings of about $960,000. He said to hire a new teacher costs the district about $70,000 per teacher, whereas to hire an experienced teacher costs about $100,000.
The number of public teachers in Michigan peaked in 2004-05, at 117,973, according to an article on MLive.com. That number has been steadily declining since, losing nearly 9 percent of teachers or about 10,000 jobs by 2010-11 largely due to budget cuts, according to figures cited by MLive from the Center for Educational Performance and Information.
Washtenaw County school districts are weighing two things right now as they determine how many staff they will either hire or lay off: Budget and retirement projections for 2012-13 and possible reforms to the Michigan Public School Employees Retirement System (MPSERS).
As of early May, a total of 63 teachers in the county had given their retirement notices. Most districts are still in the process of deciding whether to replace those staff members.
"I left a job that I was at for 10 years because I wanted to make this happen, because I felt passionate that (teaching) is what I was meant to do," St. John said. "You have to take those risks in life when you feel compelled to move forward, but sometimes I do question whether it was the right decision."
However, St. John acknowledged she is luckier than most, and especially the young teachers who are right out of college, because she has a husband who can support her as she pursues her dream.
"Those who are single or dating, I imagine have to take any type of job just to get a student loan bill in," she said.
One silver lining is through all of her substitute teaching positions, she has been able to visit most of the school districts in Washtenaw County and has enjoyed meeting a variety of educators.
And while St. John definitely has her favorite districts, she isn't naming names.
Staff reporter Danielle Arndt covers K-12 education for AnnArbor.com. Follow her on Twitter @DanielleArndt or email her at daniellearndt@annarbor.com.