Posted on
Tue, Nov 8, 2011 : 5:44 p.m.
Check here for election results from across Washtenaw County
By AnnArbor.com Staff
Looking for Tuesday's election results? We've got you covered.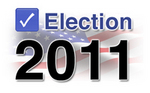 Ann Arbor City Council
Ward 1 (one seat):
Sabra Briere, D, incumbent. 1,149
Ward 2 (one seat); Read story and additional analysis
Stephen Rapundalo, D, incumbent 1,359
Jane Lumm, Independent, 2,079
Ward 3 (one seat); Read story
David Parker, R, 482
Stephen Kunselman, D, incumbent. 1,738
Ward 4: (one seat); Read story
Eric Scheie, R, 1,013.
Marcia Higgins, D, incumbent, 1,488.
Ward 5 (one seat); Read story
Stuart Berry, R, 677
Mike Anglin, D, incumbent, 2,750
Ann Arbor Board of Education Read story
Two seats:
Albert Howard, 854
Ahmar Iqbal, 3,473
Patrick Leonard, 4,181
Simone Lightfoot, incumbent, 5,261
Lawrence A. Murphy, 4,430
Andy Thomas, incumbent, 5,840
Ann Arbor ballot proposals
Proposal 1: street millage renewal. (read story)
Proposal 2: sidewalk millage.

Proposal 3: Ann Arbor city charter amendment restructuring the number of appointed citizen trustee and elected general member trustees on the Ann Arbor city employees retirement board of trustees. (read story)
Ann Arbor Township ballot proposal
Proposal to renew Ann Arbor Township public safety millage.
Chelsea City Council, three seats Read story
Rod Anderson, incumbent 397
Erin Brayton 161
Indira Ghosh 118
Bill Holmberg, incumbent 281
Kent Martinez-Kratz, incumbent 300
Harry Myers 217
Marcia Parker 216
Lincoln Consolidated School Board, two seats Read story
Brad Labadie, 639
David A. McMahon, 704
Kimberly A. Samuelson, 905
Manchester Community School Board, two seats Read story
Christine Fegan 257
Melanie Nau 110
W. Lyndon Uphaus 248
Milan Area Schools Read story
One full term:
Alan Fellhauer 460
Janice S. Kiger 947
Eric Peacock 912
One partial term expiring Dec. 31, 2012:
Sean Duval 475
Diane Hovatter 745
Milan city mayor
Joe Chapin 277
Kym Muckler, incumbent 571
Milan City Council, three seats
Martha Churchill 544
Russell Dotson 399
Candy S. Frye-Hines 363
Brett Moyer 444
Mike Williams 484
Milan city library board director, two seats
Laurence D. Biederman 537
Millard F. Phillips 654
Milan city public library proposal
Milan public library millage proposal Yes 536 No 306
Saline City Council, three seats Read story
John J. Heller 635
Glenn Law 386
Jim Peters 775
James Roth 925
Linda K. TerHaar 688
Saline Area Schools Board of Education, two seats Read story
David Friese, 1,488
David Holden, 1,748
Patti Tanner, 1,634
David Zimmer, 1,663
Sharon Township treasurer
Sharon Township trustee (partial term)
Peter Psarouthakis, R, 89
Sylvan Township proposal (read story)
Willow Run Community Schools Board, full term Read story
Ypsilanti Public Schools Board of Education, two seats Read story
Andy Fanta, 1,097
Linda Snedacar-Horne, 1,038
Eric P. Temple, Sr. 782