Posted on
Thu, Aug 16, 2012 : 2:59 p.m.
Washtenaw County woman is Michigan's first West Nile virus death this year
By Amy Biolchini
Editor's note: this story was updated at 8:45 a.m. Friday.
A Washtenaw County woman has died from West Nile virus, state health officials announced Thursday.
The woman, who is between the ages of 75 and 85, is the first Michigan death from the virus in 2012, according to the Michigan Department of Community Health. Further identifying information would not be immediately released.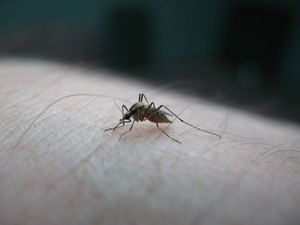 She was hospitalized in early August with
viral meningitis
, which is one of the more severe symptoms of West Nile virus.
As of Aug. 16, 30 cases of West Nile virus have been reported in Michigan this year, three of which were in the city of Detroit, and the remaineder in the following Michigan counties:
Macomb: 8 cases
Wayne: 8
Lapeer: 1
Livingston: 1
Ingham: 1
Kent: 3
Allegan: 1
In July, a wild turkey found near Chelsea tested positive for West Nile virus. Experts stated in July that the hot, dry conditions this summer were "very suitable for an epidemic" of West Nile virus this year.
West Nile virus is carried by birds and is transmitted to humans by mosquitoes through bites. The virus can cause a mild illness to severe illness -- including encephalitis or meningitis, which are inflammations of the brain -- in humans and other animals.
People age 50 or older are more at risk for West Nile virus. Symptoms of severe infection include headache, high fever, stiff neck, disorientation, convulsions, muscle weakness and paralysis.
The Culex mosquito, which carries the virus, is typically active at night and will travel indoors to bite. It thrives in hot, dry summer conditions because it typically breeds in pools of water in storm drain catch basins.
If it were consistently rainy, the catch basins would have a constant flow of water and the mosquitos would not be able to hatch.
Across the country this year, a total of 693 cases of West Nile virus disease in people, including 26 deaths, have been reported to the Centers for Disease Control and Prevention.
This is the highest year-to-date number of West Nile virus cases reported to the CDC through the second week in August since 1999, when the virus was first detected in the U.S.
Last year in Michigan, 34 people were seriously ill from West Nile virus and two people died. The fatalities did not occur in Washtenaw County.
The risk for transmission of the virus remains high throughout the summer and the fall. August and September are the months when most human cases of the virus occur in Michigan.
The Michigan Department of Community Health advised people take precautions to avoid the Culex mosquitos that carry West Nile virus:
Make sure window and door screens aren't broken to keep mosquitos outside
Empty containers with standing water
When outdoors, apply insect repellent that contains DEET or other approved repellent to exposed skin
Wear long-sleeved shirts and long pants when outside
Washtenaw County residents can report dead birds by calling the department's West Nile virus hotline at (734) 544-6750. The department no longer tests birds for the virus.
For more information from Washtenaw County Public Health on West Nile virus, click here.
Amy Biolchini covers Washtenaw County, health and environmental issues for AnnArbor.com. Reach her at (734) 623-2552, amybiolchini@annarbor.com or on Twitter.