Posted on
Mon, Apr 1, 2013 : 5:59 a.m.
Find out where they go: University of Michigan graduates leaving tree city for the big city
By Kellie Woodhouse
New experiences, a nightlife with endless options and a sea of potential jobs: Cities like New York, Chicago and Los Angeles can offer such things to an extreme that Michigan can't compete with.
Claire Ewing didn't have a job when she moved to New York in July, months after her 2012 graduation from the University of Michigan. It would be half a year before she landed a public relations job for a popular fashion designer, but Ewing didn't mind the uncertainty.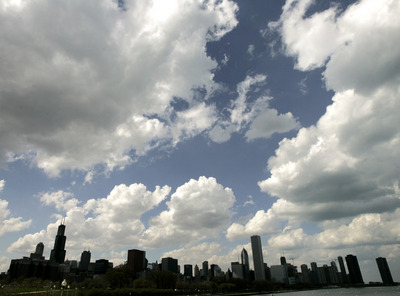 AP Photo
Instead, she thrived on the adventure.
"Most people just want the experience," explained the New Hampshire native, who said she'd rather be unemployed in a big city like New York than employed in Michigan.
"I love Ann Arbor and Michigan, but I just love the metropolitan lifestyle. I thought that there were more opportunities here," she said. "Even if I could have found a job in Michigan, I thought that I could have found a job [in New York City] that I love even more."
Ewing is far from alone. While a large number remain in state, many Michigan college graduates flock to big cities soon after they walk across the stage. Many have jobs, but some don't.
Data box: Where are U-M alumni?
Where the people are: Top 10 states
Michigan: 211,025
California: 41,072
Illinois: 26,374
New York: 25,360
Florida: 16,422
Ohio: 14,136
Texas: 11,908
Massachusetts: 10,632
Virginia: 10,344
Maryland: 9,704
Where the people are: Top 10 foreign countries with the most reported alumni
Canada: 3,883
Korea: 2,135
China: 1,583
Japan: 1,509
India: 1,469
Taiwan: 1,172
Hong Kong: 1,053
Singapore: 883
Thailand: 837
Germany: 715
Where the money is: Top 10 states in alumni giving in fiscal 2012
Michigan: $107.2M
California: $51.4M
New York: $33.8M
Illinois: $13.7M
New Jersey: $11.8M
Ohio: $7.3M
Florida: $6.5M
Pennsylvania: $6.8M
Washington: $5.7M
Texas: $5.2M
U-M/Alumni Association figures
Ewing said that among her friends in college, she can think of just a handful who stayed in state for a job rather than graduate school. Most went to New York or Chicago.
Of U-M's roughly 525,000 living alumni, 40 percent —or 211,000 graduates— live in state. Most are concentrated around greater Detroit (56,600), Northville (28,000), Flint (20,600) and Grand Rapids (9,400), according to figures provided by the U-M Alumni Association.
The other 60 percent are concentrated in major cities. Of the 26,400 alumni that live in Illinois, 88 percent live in the greater Chicago area, according to alumni association figures.
Of the 25,400 alumni that live in New York, more than half —13,200 graduates— live in or near New York City. Of the 41,000 alumni that reportedly live in California, half live in greater Los Angeles and San Francisco.
"As someone in my twenties, living somewhere where there's lots of bars and nightlife and restaurants and shopping is really important to me," said 2012 U-M graduate Megan Duffey, who is working as an executive assistant for a job search firm in Chicago.
Duffey, who hails from a Chicago suburb, said among the things that drew her to the city were family, ease of transportation, friends who had relocated to the area, the abundance of social actives and the prospect of jobs.
"There's a lot more to do, a lot more options here in terms of social life," she said, comparing city life to her experience as an undergraduate in Ann Arbor.
U-M and the alumni club don't track data historically, so there's no way of knowing if graduates are moving out of Michigan and into cities with increasing frequency. It's clear, however, that local business leaders are worried the state's brightest minds are leaving Michigan.
"A lot of the young talent is leaving the state," ForeSee Results CEO Larry Freed said at Gov. Rick Snyder's recent economic forum. "The talented workforce is in high demand, and there's not enough of them."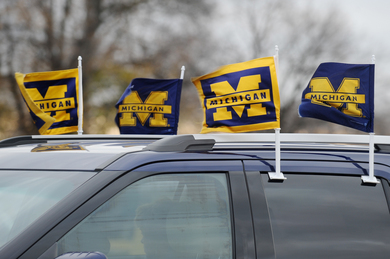 AnnArbor.com file photo
At another recent forum, U-M President Mary Sue Coleman said many students leave the state and "do quite well" after gradating from the Ann Arbor college. At the same forum, Michigan State University President Lou Anna Simon said today's graduates are seeking "cool urban environments" where there are not only jobs, but there is plenty to do socially.
"They will go there without a job in some cases," Simon said of Chicago.
The two presidents emphasized the importance of Detroit's revitalization if graduates are going to remain in Michigan.
This year 42.6 percent of U-M's 6,171 freshmen enrollees hail from outside of Michigan, marking a record number of out-of-state students entering the school. Many of those students return to their home states after graduating, as Duffey did.
U-M also is one of the top educators of international students, which is reflected in the school's alumni base. In 2011, U-M had the eighth-largest body of foreign students among U.S. schools.
"Michigan has become an increasingly international school," said Paras Parekh, director of marketing and membership for the alumni association.
Though alumni are spread throughout all 50 states and most countries, Parekh said the school's largest and most active concentration of graduates live in state. Outside that base, Parekh said alumni residency follows the national trend of where college graduates are settling: near the coasts and in large cities.
U-M's chief fundraiser, Jerry May, has emphasized that "wealth is on the coast" and said the school's next capital campaign, set to begin in the fall, will focus on recruiting donors from such areas.
Kellie Woodhouse covers higher education for AnnArbor.com. Reach her at kelliewoodhouse@annarbor.com or 734-623-4602 and follow her on twitter.