Posted on
Tue, Feb 26, 2013 : 1:41 p.m.
New winter storm forecast: 3 to 4 inches of snow expected in Ann Arbor
By Cindy Heflin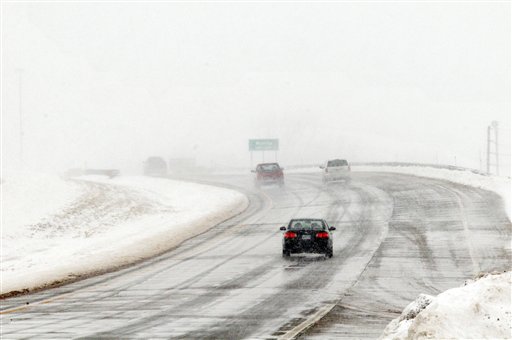 AP photo
Forecasters have lowered the expected total snow accumulation from a winter storm moving into the Ann Arbor area.
With temperatures expected to hover above freezing for much of the day Tuesday, forecasters now say the storm will drop about 3 1/2 inches of snow on Ann Arbor by the end of the day Wednesday. Another inch could fall Wednesday night. Earlier forecasts had called for about 6 inches or more. A winter weather advisory is in effect until noon Wednesday.
The weather service said a minor glazing of ice is possible on elevated and untreated surfaces Tuesday afternoon. The heavy, wet snow expected later could put stress on tree limbs and power lines, causing power outages.
Whatever happens, road crews are ready for it, said Jim Harmon, director of operations for the Washtenaw County Road Commission. Day-shift drivers will stay on Tuesday until 8 p.m., Harmon said. At that point, a four-person night crew will take over to focus on main trunk lines, such as Interstate 94 and M-14. The entire day shift will return at 4 a.m. to salt and plow.
Additional personnel could be called in overnight if conditions warrant it, Harmon said, but the goal is to use resources wisely and deploy drivers when they're most needed for the morning rush hour.
Ann Arbor crews also are ready, said Kirk Pennington, field operations supervisor for the city. The city will have 10 people driving plow trucks from 6 p.m. Tuesday to 6 a.m. Wednesday, he said. They will focus on main thoroughfares in town. Starting at 6 a.m., the 10-person day-shift crew will start plowing and salting throughout the city.
The leading edge of the storm, which caused blizzard conditions in parts of Texas and the Plains states moved into the Ann Arbor area about noon Tuesday, a bit earlier than expected. Mostly rain is expected before 7 p.m., though some periods of mixed precipitation are possible, said Matt Mosteiko, a meteorologist with he National Weather Service in White Lake Township, which does forecasting for all of southeast Michigan.
Little accumulation is expected before 7 p.m., Mosteiko said. After the precipitation begins switching over to snow, about 2 1/2 inches is expected between 7 p.m. and 7 a.m. Almost an inch more could fall during the day Wednesday for a storm total of 3.4 inches, Mosteiko said. Another inch of snow is possible Wednesday night.
After the storm moves on, Ann Arbor will have a cloudy day Thursday with a high around 35. There's a 30 percent chance of snow showers. Friday and Saturday also will be mostly cloudy with highs in the upper 20s. A partly sunny day is on tap for Sunday with a high of 26.
Harmon advised drivers who don't have to go out on the roads Tuesday night to stay home.
"We're gonna be out there, but if they have a choice don't drive," Harmon said. " If they do have to drive, plan ahead; prepare for a longer travel time." He noted visibility will likely be reduced and drivers should leave extra distance between vehicles.
He also requested that people avoid parking their cars on subdivision streets in the county Wednesday to allow snowplows to clear the streets. Keeping garbage cans out of the street will also be helpful, he said.
Ann Arbor is feeling the effects of the same storm system that created blizzard conditions in the Plains and Texas Panhandle. Amarillo got 17 inches of snow Monday, the Associated Press reported. Thousands lost power in Texas and Oklahoma. Winter storm warnings were still posted Tuesday for parts of Kansas, Missouri and Illinois.
For updated forecasts and conditions anytime, check AnnArbor.com's weather page.
Cindy Heflin is associate news director at AnnArbor.com. Contact her at cindyheflin@annarbor.com or 734-623-2572 or follow her on Twitter.