Posted on
Mon, Jul 16, 2012 : 5:30 p.m.
You can't text to end brain freeze, but you can text to end homelessness in Washtenaw County
By Ryan J. Stanton
Got a cell phone? Know how to text?
If you answered yes to both questions, you can easily make a $10 donation to the Shelter Association of Washtenaw County now.
In conjunction with this week's Ann Arbor Art Fair, the association is kicking off its first text-to-donate campaign to end homelessness in the area.
Anyone with a cell phone can send a $10 donation by texting HOME to 20222. Donors can give multiple times a month, depending on their carrier.
Courtesy of Quack!Media
The folks at Ann Arbor-based
Quack!Media
helped the association come up with a creative theme aimed specifically at getting young people to give.
"There are a lot of really annoying and naggy things that happen in their lives," said Ellen Butler Lawson, accounts manager for Quack. "You can't text to end brain freeze or male pattern baldness or Aunt Francine's Christmas sweaters, but you can text to end homelessness."
Those are the kinds of whimsical messages that will be featured on 10 different "text to end" posters soon to be plastered around town.
Volunteers from the Shelter Association will be hanging the posters and handing out postcards during the Art Fair to highlight the campaign. Quack!Media and the Shelter Association are encouraging people to try to track down all 10 different posters.
"I think it's going to be a fun campaign," said Diana Neering, the Shelter Association's chief development officer and communications director. "This is the first time we've tried the text-to-donate campaign, so we're hoping it's a fun way to give."
For the duration of the Art Fair through mid-August, the Shelter Association, located in the Delonis Center in Ann Arbor, will continue to build awareness about homelessness in Washtenaw County while allowing easy donations via text message. Donations are tax deductible and pledges are billed through donors' monthly cell phone bills.
"They're interested in getting a new generation of donors excited about the cause and they really want to build awareness about homelessness," Lawson said of the campaign.
Lawson said Quack!Media is still working with the Shelter Association on a possible name change since its current name is sort of a mouthful.
The Shelter Association's mission is to end homelessness one person at a time through transitional housing services. Its residential program provides temporary housing, while helping individuals identify steps to get income and find a permanent home.
Between 2010 and 2011, the agency reported its residential program, which can accommodate up to 75 people at a time, helped 247 individuals move into stable housing.
In addition, the Shelter Association provides non-residential services, which include laundry, showers, lockers, and access to an onsite free health clinic.
The clinic is staffed primarily through volunteers and is open to anyone experiencing homelessness or in a precarious housing situation in Washtenaw County.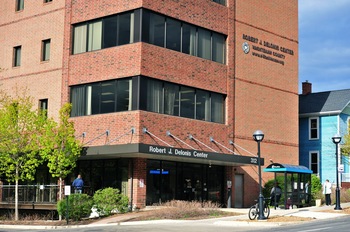 Ryan J. Stanton | AnnArbor.com
Last year, the agency reported those services aided more than 1,400 individuals experiencing homelessness in Southeast Michigan.
"There are tremendous unmet needs," Neering said. "There are probably around 5,000 people in any one year who are homeless in Washtenaw County, and the vast majority are women and children. And about 1,700 of them are adult men and women."
Neering said the Shelter Association does well with fundraising during the winter, but it's hard to get people to think about homelessness during warmer months.
"People kind of forget about this issue this time of year and we never forget about it. We want to get as many people off the streets as we can," she said.
"So we thought we would highlight the problem," she said. "We've just sort of gotten through and are still getting through all the people from Camp Take Notice and getting them housing, but that doesn't solve the whole problem with homelessness."
Ryan J. Stanton covers government and politics for AnnArbor.com. Reach him at ryanstanton@annarbor.com or 734-623-2529. You also can follow him on Twitter or subscribe to AnnArbor.com's email newsletters.