Posted on
Thu, Jul 14, 2011 : 5:55 a.m.
Ypsilanti developers Eric and Karen Maurer say their latest redevelopment project will be their last
By Tom Perkins
The husband-and-wife team responsible for several large, successful downtown Ypsilanti redevelopment projects say their current renovation will be their last.
Karen and Eric Maurer of Maurer Management & Properties are in the middle of a $2.2 million restoration of the Mellencamp Building and neighboring addresses at 120-124 W. Michigan Ave.
Counting the Mellencamp, they will have invested approximately $6 million over three large downtown projects in the last eight years. The Maurers also did the Kresge Building at the corner of Michigan and North Washington, and the Mack and Mack Building at 213 W. Michigan.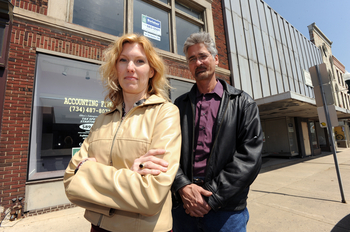 File photo | AnnArbor.com
Karen Maurer listed several reasons for calling it quits. Maurer Management now owns 123 units throughout the city and she said they want to focus on managing instead of restoring.
Additionally, state tax credits and incentives once available are ending under Gov. Rick Snyder's new budget, which will make similar renovations financially impossible, Maurer said.
The Maurers will have received $2.5 million in state, local and federal breaks by the time the Mellencamp Building is complete.
Under the new tax law, which goes into effect Oct. 1, the Michigan Economic Development Corp. will have a general pool of $100 million for a variety of different development incentives.
Mounting debt also played a role in the Maurers' decision, as did financial issues tied to the 200 W. Michigan Ave. building, which has never broken even and has 7,000 square feet of empty commercial space.
Maurer also said high taxes in the city make success tough on investors undertaking large renovations.
As for the Mellencamp restoration, Maurer said they weren't planning to take on the building until they learned that the Mellencamp and two neighboring properties were in foreclosure. The opportunity seemed too good to pass up, but Maurer said they reached their limit.
"We have a lot to manage, and there's only so much we can do," she said. "We have 123 units and that's about the limit on what we can manage — we just can't handle any more work. We're getting older and we need to slowly start paying down some debt."
Even if they wanted to take on some more projects, there aren't a lot of larger spaces left in downtown Ypsilanti, Maurer said.
"We feel we've done our share here," she said.
Additionally, the city's high tax rate is affecting the Maurers' decision. She said the 200 W. Michigan building brings in $10,000 monthly. They currently pay $16,000 in city taxes annually, but once their OPRA tax credit expires next year, Maurer said their yearly city tax contribution will jump to $57,000. Because the former J Neil's Mongolian Grille and Keystone Lounge remain vacant, there's no additional income there. Roughly half of their income off the building would go to city taxes. "The taxes are so high here that it would stop anybody from investing," she said.
The two completed buildings hold a total of 23 Maurer-owned lofts, and the Mack and Mack building is connected to two other loft projects owned by developers Stewart Beal and George Fotiadis. Those buildings have 12 lofts each, and units in all the properties have largely remained occupied since opening.
The Maurers are hoping the Mellencamp building will be ready and occupied by April. Notably, crews are adding a third-floor addition that was approved by the Historic District Commission. Erik Maurer said that addition was approved because it wouldn't affect the character of the front facade.
The units, which are 800 to 1,000 square feet and have 10- to 12-foot ceilings, will largely remain open with the exception of a few walls around the kitchen and bedroom areas.
Maurer said she's proud of everything they have accomplished.
"I think we've done beautiful work and I'm glad we've done it," she said. "We can walk into these buildings now and they're beautiful and that can never be taken away."
Tom Perkins is a freelance reporter for AnnArbor.com. Reach the news desk at 734-623-2530 or news@annarbor.com.