Posted on
Tue, Apr 24, 2012 : 10:08 a.m.
Ypsilanti library's fundraiser to feature illustrator Allan Drummond; Ann Arbor girl named Midwest Galaxy Pre-Teen Queen
By AnnArbor.com Staff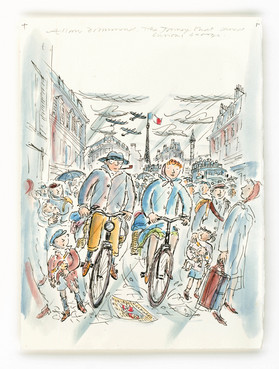 From Ypsilanti District Library's 'Get Inspired!' fundraiser featuring the work of illustrator Allan Drummond to Julia Stager from Ann Arbor being named Midwest Galaxy Pre-Teen Queen, here's a roundup of some of the stories posted on AnnArbor.com's
Community Wall
over the last week:
By: Donna DeButts: Ypsilanti District Library Invites the Community to its Second Annual Get Inspired! Fundraiser
This year's Get Inspired! event features acclaimed illustrator Allan Drummond whose works are the cornerstone of The Wartime Escape: Margret and H.A. Rey's Journey from France, currently on exhibition at YDL.
By: Michelle: Midwest Galaxy Pre-Teen Queen: Julia Stager
11-year-old Julia Stager from Ann Arbor Michigan competed in the Midwest Galaxy Pageant on April 14 in Perrsyburg, Ohio, and won (the title of) Midwest Galaxy Pre-Teen Queen.
By: Dexter Move Forward: Project Fit America teams up with the Chelsea Area Wellness Foundation, Chelsea Community Hospital, and the Dexter Community schools to help families get healthy.
By: Catholic Social Services: Chip-in Fore Children Golf Outing ~ Monday, July 23
By: kjdds1: Can Dental X-rays Cause Brain Cancer?
By: Janet Hawkins: WCC Gets Slimed By Enthusiastic Fourth Graders and There Is Still Time To Register For WCC Spring Classes
By: Interfaith Volunteer Caregiver Program Coordinator: Become a respite volunteer
By: Chef William Collins CEC: Local Chef awarded position to judge in National Skills USA Competition
By: SOS Community Services: Chili's Benefit to Help Families in Need
By: Michael Armitage: Greater Milan Area Community Foundation to accept grant applications
By: Dawn Farm Education Series: Jewish Spirituality and Recovery from Addiction
By: Count de Monet: Drivers Education - The Devil Merge!
By: William: Rhapsody in Blue With Louis Nagel and The River Raisin Ragtime Revue
By: Emma Jackson: Preschool & Kindergarten Registration
By: Debra Johnson: Violin Concert at Pease Auditorium Sunday, April 29
By: U-M Health System: U-M Cancer Center to offer free throat cancer screenings April 28
By: Ypsilanti Jaycees: Mom 2 Mom Sale
By: Nathan Hobson: Glacier Way Cooperative Preschool
Arbor.com's Community Wall is a spot for local people to post local stories, news and announcements. To post a story, sign in to AnnArbor.com, then go to www.annarbor.com/community and use the Got News? Tell Us function at the top to submit your news. If you have a photo to add, e-mail it to us at community@annarbor.com, and we'll insert it into your story.