Posted on
Mon, Nov 21, 2011 : 5:57 a.m.
After multiple shootings near Ypsilanti Township In & Out, neighbors express frustration
By Tom Perkins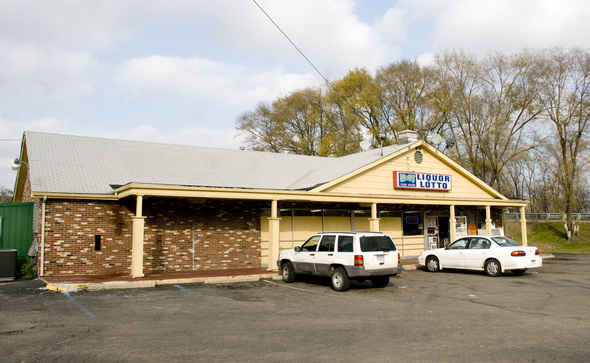 Tom Perkins | For AnnArbor.com
On Nov. 5, a man shot near an Ypsilanti Township In & Out and fled into the surrounding neighborhood to escape his attackers.
The assailants didn't pursue the victim, but neighbors fear what nearly happened — a shootout in their neighborhood.
Now, those residents are upset with the party store, which is located at 1100 Share Ave. at the corner of North Harris Road near the I-94 Service Drive, and say problems caused by its clientele are spilling over into the Gault Village neighborhood and impacting their quality of life.
Steve Stencel, who heads the Gault Village Neighborhood Watch, said the store caters to people who are causing issues.
"It's a intimidating scene for most of your families to go there," he said. "They're afraid to take their kids there to get an ice cream, so if they need a gallon of milk, then they go somewhere else.
"Very few people in the neighborhood patronize the store and I think the general feeling is it tends to draw people and problems to the edge of the neighborhood, and from time to time it will spill into the neighborhood."
Arndola Charles Lewis, 39, of Ypsilanti Township was charged last week in the shooting, which was the second at the In & Out this year. Sheriff's deputies have no suspects or victims in a January shooting caught on video at the store. According to a police summary, four people exited a vehicle, produced handguns and started shooting at another vehicle in the parking lot at 6:50 p.m.
By the time police arrived, everyone involved had fled, and no victims came forward.
Mike Radzik director of the township's police services, said he has reviewed crimes that have occurred around the party store and didn't find any "deep issues" outside of the two shootings. He also said it didn't appear that the shootings were linked to anything that was happening inside the party store.
"This latest shooting does not appear to be related to the store; just happenstance where the combatants met," he said.
In 2010, a problematic party store on MacArthur Boulevard in Ypsilanti Township was shut down after police were repeatedly called there and were fired at on one occasion.
Township and police officials also nearly had the liquor license of a Dairy Mart that sold to minors on five different occasions revoked, but the owner was able to evade revocation on a technicality.
And in Ypsilanti, a judge ordered Brandy's Liquor Shoppe near downtown closed for a year after a similar incident to that at the In & Out. Residents mounted an intense campaign with city council to take action, and the store was eventually closed over multiple issues.
Radzik said township officials are meeting with In & Out's owners to discuss the issues and will be inspecting the property for any code violations. Beyond that, no action is planned.
While there isn't a long log of serious problems like at other party stores, Stencel said neighbors witness regular loitering, occasional drug dealing and other minor issues. And the shooting has rattled residents.
"If it happens once a year outside your house, then it's a really big deal," he said.
He said many of the customers appear to be coming from the Village Grove Apartments across North Harris from the store.
The sheriff's department also recently made an arrest in a double shooting there, and another shooting was reported on Wednesday.
Stencel said he understands the Sheriff's Department is stretched thin and can't regularly monitor the store. He said the solution neighborhood residents would prefer to see is a store that caters to families instead of people buying alcohol.
"As citizens we're handcuffed on what we can do besides reporting what we can," he said. "We can just keep relaying our frustration that something needs to be done. We're willing to be work with everyone. I guess we need a little leadership on what would be the best avenue."