Posted on
Sat, Feb 9, 2013 : 5:58 a.m.
Blight Beat: Ypsilanti Township awaits verdicts on Liberty Square, abandoned trailer parks
By Tom Perkins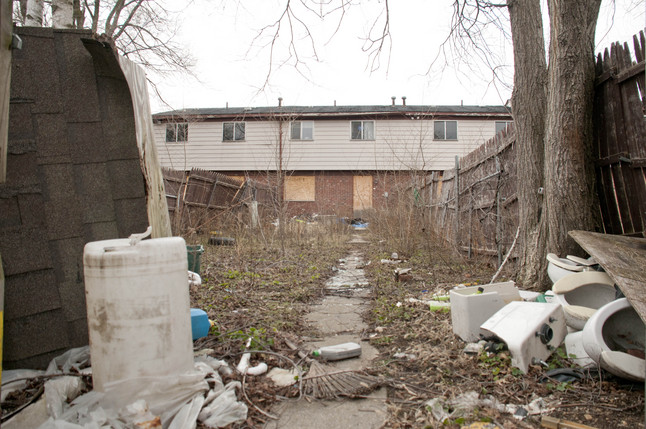 Tom Perkins | For AnnArbor.com
Two significant, ongoing blight abatement efforts in Ypsilanti Township could reach a legal conclusion this month.
In late January, township attorneys made their case to the Michigan State Court of Appeals to uphold a Washtenaw County Circuit Court judge's order to demolish the abandoned Liberty Square townhome complex. The township will also learn whether a Circuit Court judge agrees that it should be paid back nearly $100,000 for clearing two abandoned trailer parks a local company walked away from.
Although the Court of Appeals decision on Liberty Square could bring an end to the nearly three-year legal battle over the 151-unit-complex, Ypsilanti Township officials still are trying to find the funds to complete the demolition should the lower court's decision be upheld.
Washtenaw County Circuit Court Judge Donald Shelton declared Liberty Square a public nuisance and ordered the 25-acre,17-building complex vacated and demolished in August 2011.
Shelton made the rare move of visiting the complex to see firsthand the conditions. He wrote in his decision that the "dilapidated and crumbling conditions at Liberty Square present a continuing, impending danger to the general public and to the legitimate property or personal rights of any person living or even entering upon the complex."
Among other issues township officials alleged and Shelton found were extensive water damage inside the units, mold infestations, failing roofs, rotting fascia, rotting subflooring and fire damage.
But several homeowners in the complex, represented by attorney Don Darnell, disagreed. Darnell said none of the issues the township testified to were present in his clients' townhomes, and the decision violated his clients' 2nd and 4th amendment rights.
Ypsilanti Township Attorney Doug Winters said Shelton issued a detailed 20-page opinion of all his findings on the condition of the property.
"The court came to the only conclusion I believe they could, which is that this whole complex - given its vacancy, its deteriorating condition - it simply has to be demolished," Winters said. "I believe the Court of Appeals, at least by their questioning, seemed to understand this was a blighted complex suffering from years of neglect."
The township also made the case to Shelton at a January 24 hearing that it should be repaid for a $92,000 cleanup effort at two abandoned trailer parks.
In February 2012, the parks' owners, WOC Realty, walked away from the two properties at 2590 E. Michigan Ave. and 117 S. Harris Road, just south of the Ford Boulevard bridge over East Michigan Avenue.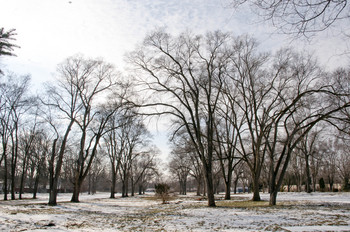 Tom Perkins | For AnnArbor.com
WOC lost its properties to tax foreclosure, and the township eventually bought them in a tax auction for a total of $8,500.
Winters said the township argued that WOC should be responsible for clearing its personal property from the real property.
"What they did was simply leave their parks in garbage dump conditions," Winters said. "We had all kinds of problems that go with trying to clean up a abandoned mobile home park - fires, people stripping units, people doing illegal things. What was occurring at both locations was a very unsafe situation."
Many of the mobile homes were stripped of scrap metal and provided shelter for vagrants. Several fires were started at the parks and many of the trailers faced serious issues ranging from collapsing porches to leaking roofs. Several of the homes were packed with garbage.
The Harris Road mobile home park has been totally cleared of structures and already resembles a recreation park. It will be fully converted into a park that is adjacent to the Harris baseball diamonds.
The East Michigan Avenue property is being cleared of its remaining infrastructure and will be converted into commercial real estate and put up for sale.
Tom Perkins is a freelance reporter for AnnArbor.com.