Posted on
Thu, Dec 13, 2012 : 5:25 p.m.
2 candlelight vigils planned to remember EMU student Julia Niswender
By Katrease Stafford
Editor's note: This article has been updated with information about a second vigil planned.
Eastern Michigan University students have organized a candlelight vigil in remembrance of the EMU student who was found dead in her apartment Tuesday night.
The vigil for Julia Niswender will take place Friday night at 8:30 p.m. on campus at Big Bob's Lakehouse.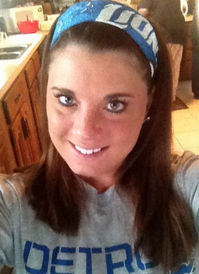 Photo from Facebook
The lakehouse is located at 900 Oakwood St., near the EMU student center.
The student organizers are asking attendees to bring their own candles. The students will be accepting donations for the Julia Niswender Fund, which has been opened to help the family with expenses.
A second vigil is planned in Niswender's hometown of Monroe. That one will be held at 6:30 p.m. Friday at Munson Park located at 2770 N. Custer Road.
EMU student Rachel Weyhing is organizing the event to remember Niswender. University officials are expected to attend the candlelight vigil as well. EMU President Susan Martin has indicated she will attend.
Weyhing said Niswender's twin sister, Jennifer, was her suite mate when they lived on campus together. In addition to Jennifer, Weyhing said Niswender leaves behind a younger sister.
"She is one of my best friends." Weyhing said. "Julia came with the package and was a very close friend of mine. When I heard the news it was heart wrenching and I've been in touch with Jennifer and the family. They're not getting any information either."
Weyhing said Niswender was a bubbly individual, with many dreams and aspirations.
"She was one of a kind," Niswender said. "She always had a smile on her face and she was so outgoing and loved life. Even when things may have gotten hard, she had a positive attitude... She was on track to graduate next year."
The campus community has banded together to show its support for Niswender, Weyhing said, and are all hoping answers will be given soon.
"We're very much in shock at this point," Weyhing said. "A bunch of us got together last night and we just want to know what happened."
Weyhing said she decided to hold the vigil to allow the community to pay respects to Niswender.
"We're hoping for a pretty large crowd," Weyhing said. "Even if Julia didn't know them or did, it kind of gives back to the family."
Weyhing could not confirm whether family members will attend the vigil because another vigil is being planned in Niswender's hometown of Monroe for Friday night as well.
Niswender, 23, a junior at EMU, was found dead in her apartment about 9:30 p.m. Tuesday in Peninsular Place apartments in the 1000 block of Huron River Drive, across the street from the campus in Ypsilanti. Police were dispatched to the address to conduct a welfare check of Niswender after family and friends had not heard from her in a couple days.
Police announced Wednesday they were investigating Niswender's death as a possible homicide.
EMU spokesperson Walter Kraft said in an email to the campus community late Thursday afternoon that the university has "moved quickly to expand" its campus safety and security efforts.
Katrease Stafford covers Ypsilanti for AnnArbor.com.Reach her at katreasestafford@annarbor.com or 734-623-2548 and follow her on twitter.