Posted on
Tue, Nov 13, 2012 : 12:37 p.m.
Donations save 18th annual Ypsilanti pre-Thanksgiving dinner
By Katrease Stafford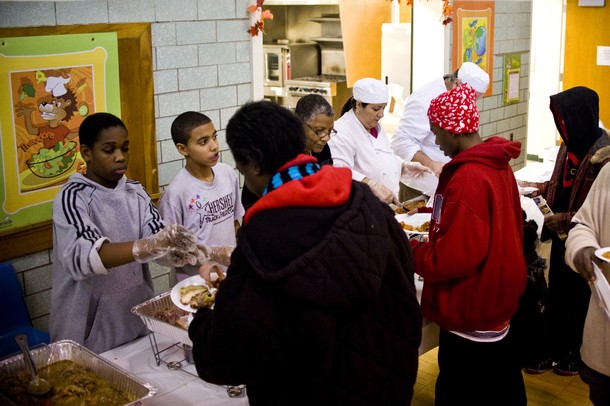 Joseph Tobianski I AnnArbor.com
An outpouring of support and donations from the local community will allow the 18th Ypsilanti annual pre-Thansgiving dinner to go on as scheduled Thursday.
A lack of funds threatened the annual Behavior Workshop pre-Thanksgiving dinner, organizer Tyrone Bridges said.
Bridges, who is a community activist and director of the Behavior Workshop, said after an initial AnnArbor.com article ran about the dinner being in danger, he received several inquiries from individuals interested in helping.
"I'm overjoyed about that," he said. "That's phenomenal. This is the most support we've ever had for this dinner."
Bridges said Ypsilanti Public Schools which owns the Perry Child Development Center, where the dinner is usually held, used to waive all of the administrative fees, but no longer does.
Bridges said the district charged $135 to use the gymnasium, $75 to use the kitchen and $84 for a food service worker. Bridges said the district required him to get liability insurance as well.
Due to the donations, which ranged from $25 to $300, the entire dinner and insurance is now covered. Altogether, including what was owed to the school and food, Bridges said the event costs close to $1,000.
Bridges said he is still getting emails and phone calls from local residents, organizations and business owners.
"The majority of emails from people were saying this is an excellent thing you're doing and I'm still receiving those types of contacts," he said. "We were able to add a couple extra food items and buy some tablecloths."
President and CEO of the Washtenaw Federal Credit Union Greg Gurka said they also would be helping out. He said the credit union had been discussing what group it could assist this Thanksgiving, and after Gurka read the article about the dinner, "things fell into place."
"We were not able to cover all the expenses, but did donate $300 to help the dinner move forward," Gurka said. "The credit union is locally-owned, governed and staffed by members of this community. We feel it is important to assist the residents of the community we serve. It ties back to the old credit union philosophy of "people helping people."
Although this year's dinner will take place, Bridges said unless a sponsor is found next year, this dinner could be the last.
"It's a sad thing and it's going to be a hard thing to tell them unless a sponsor picks it up and the school be more willing to be flexible, next year we might not have it," he said.
Despite this, Bridges said right now his focus is on this year's dinner, which has the capacity to feed up to 300 people.
"When people come, they feel good when they leave," he said. "That's what the spirit of the dinner is for, it makes people feel good. We're going to make sure they get the best dinner they've ever had."
The event is from 4:45 to 7:45 p.m. on Thursday at the Perry School Gymnasium, located at 633 Harriet St.
Katrease Stafford covers Ypsilanti for AnnArbor.com.Reach her at katreasestafford@annarbor.com or 734-623-2548 and follow her on twitter.