Posted on
Thu, Nov 1, 2012 : 5:57 a.m.
Ecorse Road: Main 'artery' of Ypsilanti area sees start of economic revival
By Katrease Stafford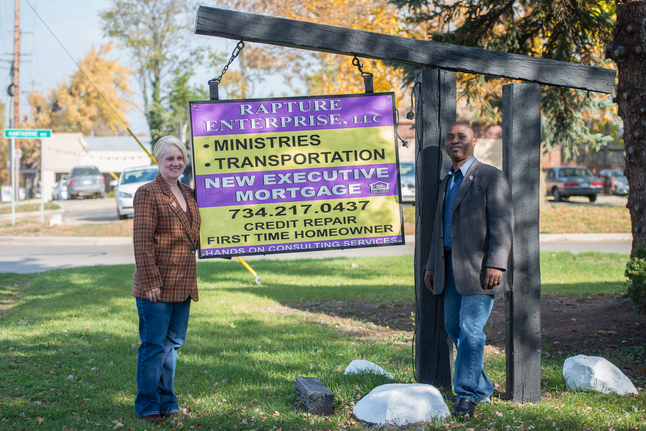 Courtney Sacco I AnnArbor.com
After years of little development along the Ecorse Road corridor that runs through Ypsilanti and Ypsilanti Township, new businesses opening may signal the beginning of an economic revitalization in the area.
Over the past several months, Swisher Realtor Dave Hamilton said he has seen once-vacant buildings go back into use, with at least five inhabiting new businesses.
"Whenever you take vacant buildings and put them back into use, it reflects on the area as being prosperous," Hamilton said. "It breeds good will and it's the same thing for the city and township."
Hamilton said the first sign of the revival was when the closed Acme Glass site at 93-95 Ecorse Road, near Emerick Street, went back into use.
"Acme Glass had been there forever," Hamilton said. "It was a longtime business. That was the place to get your windows fixed and next to it was a drive-thru car wash."
Hamilton said Acme Glass fell on hard times and the buildings were acquired by the Bank of Ann Arbor.
Hamilton said the Bank of Ann Arbor removed the underground gas tanks to clean the site and sold off the old car wash to the present automotive garage, Quality Automotive Repair, at 95 Ecorse Road.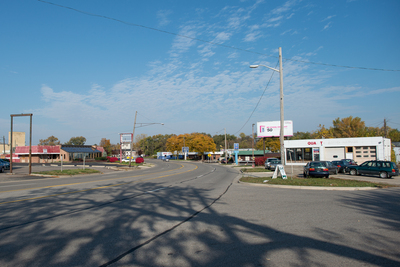 Courtney Sacco I AnnArbor.com
"I sold the car wash off to an automotive guy and that building got back to a functional use through the sale of the property," Hamilton said.
Hamilton sold the other two buildings, 93-94 Ecorse Road to Mike Eller, co-owner of Populist Cleaning Company.
Eller uses half of the back building for his cleaning business and rents the other half to the company Unity Vibration Living Kombucha Tea, LLC.
"He bought that building and spent some money," Hamilton said. "Both owners have put new parking lots in and new siding and parking lots. It looks really nice and these buildings give new life to the area."
Ypsilanti Township Planning Director Joe Lawson said although Ecorse Road has been "hit or miss" over the years, any new investment in the corridor is a plus.
"Between Ecorse and East Michigan Avenue, we've been trying to focus our attention to further incubate those startup businesses," Lawson said.
At its peak, Lawson said nearly 14,000 people came through the corridor each day because of the area auto plants and suppliers. As those closed, so did local businesses because the traffic decreased as well.
"We no longer have that so we have to re-invent it," he said. "The corridor has become a commercial corridor to service residents that live there."
Further down the corridor at 141 Ecorse Road is Rapture Enterprise, a non-emergency medical transport business, and New Executive Mortgage. Both are owned by Clyde and Vicki Montgomery and opened Aug. 31 at the 1,900-square-foot location.
"It's a house that's been there since the 50s," Hamilton said. "It was a real estate office."
The Montgomerys aren't first-time Ecorse Road business owners. They previously owned a building at 326 Ecorse.
"We had an office there four years ago that burned down and since then we've been trying to get back," Clyde said. "Our business is very successful."
According to the township city assessor site, the Montgomerys purchased the property for $30,000 at the beginning of August.
Clyde said he and his wife wanted to get back on Ecorse because it's one of the main "arteries" coming into the Ypsilanti area.
"It is probably the growing area in the city right now," Clyde said. "People like myself and my wife believe in Ypsilanti and there's a diversity of businesses on Ecorse. I feel like with the plants closing down, a lot of people struck out and started their own business."
The transportation business has 14 employees, while the mortgage business has three. Clyde said on average, he services between 90 to 100 clients a day at his transportation business that takes people to and from doctor appointments.
Clyde said he has also noticed the "revival" along the corridor.
"What I'm noticing is a lot of new businesses are opening on Ecorse and a lot of old businesses are starting to do cosmetic changes to keep up, which is enhancing everything," he said.
Yet another sign of the revival is the recent opening of the Phlebotomy Career Training, run by Nancy Kimmel, at 1145 Ecorse Road.
"I like the location," Kimmel said. "It's a small, local community that's easily accessible by all the surrounding communities. Technically it's pretty centrally located and the property cost was in our price range as well."
Although not familiar with the area, Kimmel said she realized the corridor must have been rebounding when she was looking for a location.
"When we were scoping out the area, we didn't find many spaces available for lease and everything was pretty well-taken which was a good sign for us that businesses were opening," Kimmel said. "The fact that there was a new infusion of businesses and of well-known names gave us a good feeling to settle in the Ypsilanti location."
Ypsilanti City Council Member Ricky Jefferson represents Ward 1, which encompasses the Ypsilanti portion of Ecorse Road.
Jefferson said any sort of return of businesses to the area is a positive thing for both the township and city.
"A lot of the businesses used to get traffic from plant workers," he said. "That is definitely a plus for the city and the township, whether it's a small increase or not, we're happy about it."
Jefferson said the types of businesses returning the area are indicative of the housing market returning, as well as the economy.
"Most of all, it gives us hope," he said.
Mayor Paul Schreiber said the return of business is good for the tax base as well as attracting people to other local businesses.
"Maybe they'll go get a bite to eat downtown and go past Model Cave or The Rocket," he said. "Any action there is going to help the surrounding communities."
Katrease Stafford covers Ypsilanti for AnnArbor.com.Reach her at katreasestafford@annarbor.com or 734-623-2548 and follow her on twitter.