Posted on
Wed, Dec 12, 2012 : 2:40 p.m.
EMU officials to hold campus safety forum following death of student
By Kyle Feldscher
Eastern Michigan University officials will hold a campus safety forum at 4 p.m. Wednesday in the Student Center Auditorium after the death of Julia Niswender Tuesday.
EMU spokesman Walter Kraft said the meeting is another part of the university's efforts to keep the community up to date on Niswender's death. The Ypsilanti Police Department said Niswender was found dead of an apparent homicide in her Peninsular Place apartment Tuesday night.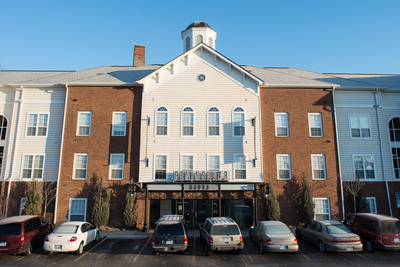 Courtney Sacco | AnnArbor.com
"We continue to provide them with information on email, Twitter, our website and now a campus forum where people can offer any questions and we can address those," Kraft said, "along with providing an update on where it's all at."
Niswender was found dead in her apartment at 9:30 p.m. Tuesday. Police have stated they're treating the case as an apparent homicide. However, details on the circumstances around her death are still unclear at this point.
The cause of death is not known at this point. If police determine Niswender was the victim of a homicide, it will be the second such death in a week in the city. Police allege Keith Walton, 45, was killed by his girlfriend in the 400 block of South Huron Street on Dec. 4. Donna Turner, 47, is charged with open murder in the case and is being held at the Washtenaw County Jail.
Kraft emphasized the university would only be able to release information approved by Ypsilanti police investigators. University officials have set up a dedicated web page to provide updates on Niswender's death.
EMU Police Chief Bob Heighes and university President Susan Martin are expected to address the community at the forum. Kraft said they will be going over safety tips for students and other university community members to make sure everyone takes proper precautions.
"This is an important reminder at a time like this that there are things students and faculty members can do to protect themselves," he said.
The public statements from the university and meeting with students are a marked contrast from the way the university handled an investigation into the death of student Laura Dickinson almost exactly six years ago.
Dickinson's body was discovered in her dorm room in December 2006 nude from the waist down, with evidence of a sexual assault. Despite that, officials did not warn EMU students that Dickinson was murdered until they arrested Orange Taylor III for the crime two months later. Taylor was eventually convicted of the crime.
The failure to inform students was a violation of the federal Cleary Act. The federal government issued a $350,000 fine against the university. Three top administrators, including university President John Fallon and Public Safety Director Cindy Hall, lost their jobs in the ensuing fallout.
Police continue to investigate Niswender's death and anyone with information is encouraged to call Detective Sgt. Thomas Eberts at the Ypsilanti Police Department at 734-482-9878 or Crime Stoppers at 1-800-SPEAKUP (773-2587).
Kyle Feldscher covers cops and courts for AnnArbor.com. He can be reached at kylefeldscher@annarbor.com or you can follow him on Twitter.