Posted on
Fri, Jun 3, 2011 : 6:32 p.m.
Eastern Michigan University President Susan Martin asks unions to forgo raises for next year
By Cindy Heflin
As Eastern Michigan University struggles to close a yawning budget hole, President Susan Martin has asked all unions to give up pay increases already negotiated for next year.
Martin's request was contained in a budget update email she sent to the campus community earlier this week. In that email, she also said the university will likely cut 70 positions in the next fiscal year.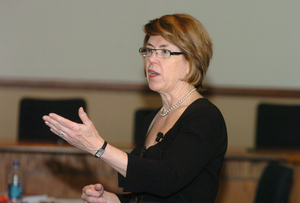 File photo
In the email, Martin said the university faces a likely $23 million to $24 million budget shortfall for the next fiscal year, based on the expected $11.4 million cut in the state appropriation and a projected $12 million increase in expenses. If all employees forgo pay raises, it would save the university about $3.2 million, Martin wrote in the email.
Martin announced in April that non-union employees would not receive raises next year and that most cell phone allowances would be eliminated.
In an interview today, Martin said the university might have to cut more than 70 positions, especially if employees are not willing for forgo raises. "With the size of this cut from the state … we're facing a very large number to try to deal with,'' she said. "Eighty percent of our costs in our budget are people."
Martin emphasized that the university is working to cut areas that will not affect students and is looking to take as much out of administration as possible. Faculty positions will not be cut, she said. In fact, the number of faculty positions will probably increase slightly, and the university expects to add 11 additional lecturers.
Cutting the 70 positions would save about $4 million to $5 million, Martin estimated, but she said it was too early to determine an exact number.
The general fund budget for the current fiscal year is $280.9 million The $11.4 million cut from the state represents 15 percent of the university's appropriation.
Leaders of the university's faculty union, whose contract calls for a 2 percent increase effective in September, reacted angrily to Martin's suggestion of pay givebacks. "We find these actions all appalling; there's no justification to this whatsoever," said Howard Bunsis, a professor of accounting at EMU and secretary of EMU's faculty union.
Bunsis said he helped compose an email that Susan Moeller, president of the EMU chapter of the American Association of University Professors, sent to union members in response to Martin's email. Moeller wrote that the administration is grossly over-estimating the size of the budget problem. She wrote that the administration consistently understates revenues and overestimates expenses and that 23 percent of revenues were left out of the current budget analysis.
"Giving back our modest raises, as well as the layoffs of union workers is completely unacceptable. By putting out the email she did, President Martin is threatening employees with layoffs, causing worry and anxiety among all the bargained for EMU employees, and trying to turn employees against each other. That is not what good leaders do, they lead, and they treat their employees with respect."
Instead, Moeller suggested EMU cut the number of administrators, cut their salaries and budgets and cut athletic spending as well as other non-core expenses and use cash reserves.
Martin said the university plans to make administrative cuts and cuts to the athletic department, and she rejected the suggestion that the university's financial projections aren't accurate.
"I am an accounting professor. I've written two textbooks," she said. "This is my area of expertise, and I'm very confident in the numbers."
Moeller and Bunsis also complained that administrators have left faculty members out of the budgeting process.
Martin also rejected that criticism. "I can't really understand that given that they have 8 seats on the university budget council," she said.
In the e-mail, Martin wrote that the university was not taking the easy way out in the budgeting process. "While it would be easy to recommend across-the-board reductions to balance the budget or a 7 percent tuition increase, … we have undertaken a much more difficult task. The economic situation in Michigan continues to place a hardship on many of our students and their families to afford college."
Raising tuition by 7 percent would generate about $13 million in revenue, administrators estimate. EMU kept tuition, fees and housing rates flat for this school year. EMU freshmen living on campus this year paid about $8,000 per semester for tuition, fees and housing.
EMU needs to keep any tuition increase under 7.1 percent or a provision in the budget appropriation allows the state to impose additional cuts beyond the 15 percent the university already must accept. Martin said today a tuition increase of some sort is likely but she could not predict a number.
The Eastern Michigan University Board of Regents is expected to approve the budget and tuition for next school year at its June 21 meeting.
Contact Cindy Heflin at cindyheflin@annarbor.com or 734-623-2572.