Posted on
Mon, Jul 15, 2013 : 2:59 p.m.
Five hoops confiscated just more than a week after Ypsilanti Township bans street basketball
By Tom Perkins
A week after Ypsilanti Township enacted an ordinance prohibiting basketball from being played in the streets or otherwise in the public right-of-way, five basketball hoops have been confiscated after their owners violated the ordinance.
The owners now have 30 days to pay a $100 and find their own means to transport the hoops out of impound, or the hoops will be scrapped.
The ordinance went into effect on July 4, and Mike Radzik, director of the township's office of community standards, said complaints about hoops in the street in the Greene Farms subdivision came in immediately.
Radzik stressed that ordinance officers are not driving around looking for hoops.
"We received a flurry of complaints in Greene Farms, among other places," he said. "We gave out around nine to 10 courtesy warnings, and ended up confiscating five hoops on Friday morning.
"All of these were complaint-based, so we were responding to complaints from people in the neighborhood."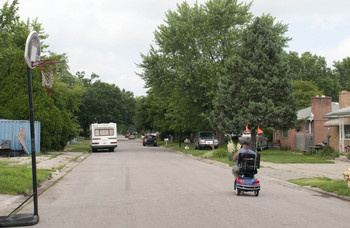 Tom Perkins | For AnnArbor.com
The township didn't immediately respond to complaints in an effort to allow residents some time to learn about the new ordinance, but ordinance officers placarded nine hoops after the continued complaints on Thursday, Radzik said.
The brightly colored placards are posted on the hoop pole and state that the hoop is in violation of the ordinance and must be moved immediately. Radzik said ordinance officers also post placards on a house or make contact with an owner, if possible.
Residents have 24 hours to remove the hoops before ordinance offers check back to see if they have been removed. A local tow company is contracted to remove the hoops and charges a $100 fee, which is passed on to the owner.
The other four hoops' owners removed their placarded hoops voluntarily.
The Ypsilanti Township Board of Trustees approved the new ordinance at its June 24 meeting.
Residents and neighborhood groups have been complaining to Washtenaw County sheriff's deputies and the township that kids — as well as some adults — are pulling hoops to the end of their driveway or lawn extension and playing basketball in the street.
Residents have complained that these groups aren't moving out of the way for motorists, and officials say that creates a dangerous and frustrating situation.
Residents playing basketball in streets, culs-de-sac, or with hoops on lawn extensions or otherwise in the public right-of-way, are now given a warning to pull their hoop back onto private property.
Clerk Karen Lovejoy Roe previously said Washtenaw County Sheriff's Office Lt. Jim Anuszkiewicz recommended the township develop an ordinance because there is no good way for officers to order games out of the street.
Tom Perkins is a freelance reporter. Contact the AnnArbor.com news desk at news@annarbor.com.