Posted on
Tue, Apr 9, 2013 : 6:30 p.m.
Family: EMU student Julia Niswender was drowned in bathtub
By Katrease Stafford
Eastern Michigan University student Julia Niswender was found drowned in the bathtub of her off-campus Ypsilanti apartment, her family confirmed Tuesday.
The 23-year-old's cause of death is asphyxiation associated with drowning, said Jennifer Niswender, Julia's twin sister. Police had ruled the Dec. 11 death a homicide in January, but have not released many details about the case, including the cause of death.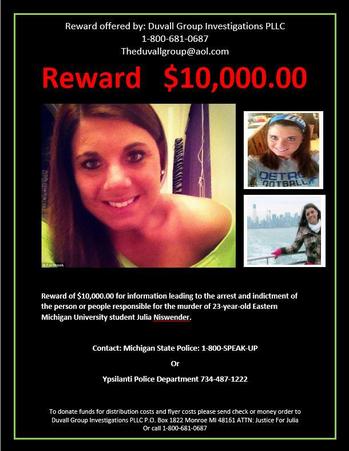 Courtesy photo
Jennifer said Julia's bedroom was found in a disarray and "a couple of things were missing."
"They (investigators) have polygraphed over 100 people and everyone has passed," Jennifer said. "Homeland Security and State Police are working together on this case. They have been conducting interviews with people in Ohio up to the Upper Peninsula."
AnnArbor.com is working to confirm the involvement of federal agencies. Ypsilanti police could not be reached for comment Tuesday evening.
Niswender was found dead in her apartment on Dec. 11 in Peninsular Place Apartments.
Jennifer said she hopes with the cause of death being released and the recent announcement of the $10,000 reward will spur people to come forward with information.
"We have known just for a little bit of time but it's now being able to be released," Jennifer said. "It's a weight off of shoulders because people ask all the time. Now that people will know, we'll have answers. We'll never know why this person did it but we're hoping the reward will jog people's memory."
Katrease Stafford covers Ypsilanti for AnnArbor.com.Reach her at katreasestafford@annarbor.com or 734-623-2548 and follow her on twitter.