Posted on
Tue, May 29, 2012 : 5:57 a.m.
New EMU police chief has seen a lot of changes in 28 years
By John Counts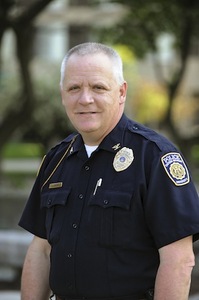 Courtesy of Eastern Michigan University
Bob Heighes was no stranger to Eastern Michigan University when he was appointed chief of police and executive director of the department of public safety last month.
Heighes, 57, was interim chief twice during his 28 years on the university's police force before the December suicide of Chief Greg O'Dell thrust him into the role for the third time. Following a national search for a replacement, Heighes was appointed to the permanent position on April 19.
University officials had nothing but praise for Heighes.
"This is a very important position for Eastern Michigan, and we feel strongly that Bob Heighes will continue the excellent work he's done in overseeing our public safety efforts," Roy Wilbanks, chairman of the EMU Board of Regents, said at the time of the appointment.
EMU President Susan Martin also thought Heighes was the right person for the job.
"I am delighted with the selection of Bob Heighes as our chief of police," she said. "Bob knows and loves the campus, and our police force team has done great work."
The appointment is the culmination of a long career that spans three decades and the Straits of Mackinac, beginning as a small-town deputy in a five-member sheriff's office in the Upper Peninsula to the chief of police in a department of 33 sworn officers that covers a campus with 23,000 students.
Flying in
Before coming to EMU, Heighes was a deputy for the Baraga County Sheriff's Office in L'Anse, a tiny town of 2,000 at the base of the Keweenaw Peninsula in the U.P.
It's about as northern and remote as any area in Michigan.
"You talk about a small department," said Heighes, who now lives in Pickney with his wife.
At the time, the sheriff's office consisted of three deputies and an undersheriff and sheriff who were husband and wife.
Heighes started at the department after earning a degree from nearby Michigan Tech in 1975 and working for a lumbering company in the forestry industry for a few years.
The switch in careers stemmed from a desire to serve the public, according to Heighes.
"You want to help people. I know it sounds corny, but I still do," he said. "You have to have that desire. If you don't, you have no business being the chief. Or being a lieutenant. Or being a sergeant. There's got to be some inner desire."
Heighes worked in Baraga County from 1977 to 1984, when he saw an advertisement for a police officer job at EMU in a Detroit newspaper. He applied and soon heard back.
"They flew me in," Heighes said. "I'm probably one of the only officers in the department's history that they actually flew in for an interview."
There was a fair amount of culture shock when the U.P. native arrived in southeastern Michigan for the interview. Where Heighes was coming from it was a 140-mile round trip drive just to grab a burger from the nearest McDonald's in Marquette.
It was a bit different in Ypsilanti, he instantly noticed.
"When I flew in, two sergeants met me at Metro Airport," Heighes remembered. "They brought me to campus and showed me around. They showed me the Rec/IM and the Olympic-sized pool. I thought that was pretty cool."
Then they took him down Washtenaw Avenue.
"Washtenaw had all these fast food restaurants, Kroger stores, all this kind of stuff they don't have in the U.P.," he said.
Heighes got the job and started his long career at EMU. He moved up the ranks, becoming a sergeant in 1997 and a lieutenant in 2006. During his time on the force, things have changed, he said. New buildings popped up on campus. Card swipes replaced key locks on doors. But most notably, technological advancements have altered the way crimes are committed - and investigated.
From five cameras to 500
When Heighes started in the department, he remembers there was a five-camera surveillance system that recorded activity on campus on eight-track tapes. Now, there are around 500 cameras that have been very successful in helping to solve crimes, according to Heighes.
"It's a much more elaborate system. We continue to grow that program," he said. "The university has (also) made huge investments in the emergency notification system."
The types of incidents are different, too.
"Crime has changed because of technology," Heighes said. "In the past, you didn't have people threatening other people over cellphones. You didn't have Facebook."
Laptops, which are more expensive and easier to steal than typewriters, are now a target for thieves on campus. These kinds of thefts are at the top of the department's list. Heighes specifically said people should not leave laptops sitting on a table at the Student Center or library unattended and expect it to be there when they return.
"The No. 1 issue for us is larcenies," he said. "It's a constant educational process: trying to educate our faculty and students and staff not to leave doors unlocked or unopened or areas unattended."
What hasn't changed over the years is the department's commitment to the university and Ypsilanti communities, according to Heighes.
"We're all sworn police officers," he said of his department. "Our goal is to maintain the safety of the campus area, but we are out in the city of Ypsilanti. We try to make sure that our students, the faculty and staff feel that they are in a safe environment. We're cross-sworn, which is a huge plus."
Customer service policing
Heighes oversees a force of 33 sworn police officers, 10 dispatchers and two clerical support staff.
But the EMU Department of Public Safety is more than just the police department. There is also the Environmental, Health and Safety division, which has a director, Kathryn Wilhoff, and an assistant. There is also a division of Emergency Management, which employs a director, currently Mark Wesley.
Heighes is quick to offer acclaim for his staff.
"I can't say enough about the work our people do in the department," he said.
Policing a campus is not the same as a city or county, according to Heighes.
"University policing is different in a lot of ways than a municipality," he said. "You have to be much more customer service-orientated. You're generally dealing with people who are here for an educational purpose and have had very little contact with police. You're more in tuned with being in a helpful mode."
This allows the department to build a more positive relationship with the university community, which is not always the case in a municipality where officers are rapidly going from call to call and there's not time for much interaction.
Hopes for the future
Since taking over in April, the transition has been pretty smooth.
"Knock on wood, things are going along pretty well," Heighes said. "Every day is different. Things are slower for us spring/summer semester because the population decreases. My goal is to keep the university as safe as we possibly can."
As far as the future is concerned, Heighes hopes to maintain staffing levels and update equipment as needed.
"You're always looking for new ways to do things better," he said. "You don't want to get your head buried in the sand and not address issues as they come up."
Heighes also wants to continue to keep the department as transparent. Along with the president and the board of regents, Heighes said he hopes to continue to work hard at being open and approachable.
As he goes into his 29th year on the force, Heighes said he's grateful to be serving the EMU community in his new capacity.
"I'm happy to be the chief," he said. "I feel very fortunate. The support that came from everybody here at the university was tremendous. I could not have done it without their help."
John Counts covers cops and courts for AnnArbor.com. He can be reached at johncounts@annarbor.com or you can follow him on Twitter.