Posted on
Mon, Dec 31, 2012 : 5:55 a.m.
Statistics show drastic drop in crime in Ypsilanti's West WIllow neighborhood
By Tom Perkins
Over the last several years, Ypsilanti Township's West Willow neighborhood endured one of the higher crime rates in the county, prompting neighborhood residents, the Washtenaw County Sheriff's Department and township staff to work together to eradicate crime.
Now, data shows that residents are enjoying a marked decrease in the number of home invasions and assaults from a year ago, and are generally calling Sheriff's Department deputies less than in previous years.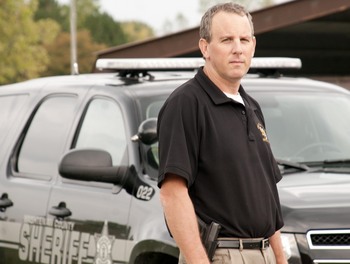 Tom Perkins | For AnnArbor.com
From the middle of October through the end of November in 2012, West Willow saw three home invasions compared to 13 during the same time period last year.
Through the end of November, there were 42 home invasions reported compared to 52 in 2011, and calls for service have dropped by 28 percent from 197 to 140.
Police officials and members of the New West Willow Neighborhood Association attribute the decrease to several factors.
In September, two juveniles linked to eight home invasions in the area were arrested, which had an immediate impact on home invasion statistics.
But Lt. Jim Anuszkiewicz said those arrests and others contributing to West Willow's crime decline were made possible by the work of the Sheriff's Department Community Action Team working together with neighborhood residents and the township.
The CAT team was assembled to target violent crimes or problematic situations throughout Ypsilanti Township's neighborhoods, and collaborates with neighborhood watch groups to gather information. The New West Willow Neighborhood Association is one of the oldest and strongest in Ypsilanti Township.
The township also installed security cameras in the neighborhood, which officials on all sides of the issue say has played a role in pushing out crime.
"You can't pinpoint one thing — there are a variety of factors that made a significant impact on crime in West Willow," Anuszkiewicz said. "There's everything from the CAT team and neighborhood deputies who have done a lot of work and investigations there to the cameras.
"I also think our close relationship with West Willow executive board helps us work with the community a lot better."
Angela Barbash, who is active in the neighborhood association, highlighted residents' role in addressing crime. The group has established a citizen patrol team and canvassed the neighborhood with information.
"In addition to the Township installing the cameras, and the deputies increasing their patrols along with establishing the CAT team to work on the east side of the county, residents stepped up their patrols and vigilance," she said. "About 30 different residents have come forward to help this year."
Assaults are also down. In the summer of 2011, West Willow made headlines for what police officials described as a "fight club."
This year, assaults have decreased by 52 percent from 84 reported incidents to 40. Another angle the township and police have taken is approaching landlords over renters who are regularly on officials' radar. Officials developed a program in which they notify landlords of problem tenants and meet with them to discuss issues.
West Willow used to be a neighborhood where most people owned homes, and Anuszkiewicz said the township and Sheriff's Department have found problem renters are increasingly an issue as the neighborhoods demographics shifted over the last several years.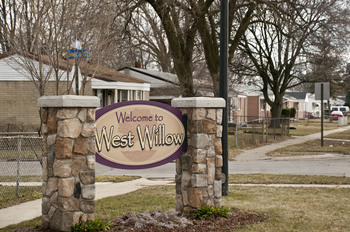 Tom Perkins | For AnnArbor.com
For example, the mother of the youths arrested for the eight home invasions was receiving government assistance, and has since lost her housing assistance because of her kids' criminal activity.
Sheriff's Deputies and township officials alerted the Ann Arbor Housing Commission to the tenants' crimes.
"That was an example of cooperative interaction between the township staff, neighborhood association, Sheriffs Department and landlord — we all worked together," said Mike Radzik, director of the township's office of community standards. "I honestly think the word is out that if you're a tenant in the township — especially receiving assistance — you have to follow the law and keep your house in order. If not there are quick and sure consequences."
Radzik said the rental oversight program and other programs requiring partnership between multiple groups and agencies have benefited West Willow residents.
"There's no entity or agency that pulls this off on their own. Everyone had a role to play to make this work," he said.
Alisa Doddie recently moved to West Willow and had someone attempt to burglarize her home, but she said the police response was much quicker than where she previously lived in Redford Township. She said the neighbors are vigilant and she feels safe because of the community investment in West Willow.
"We've got to know all our neighbors and we all look out for each other," she said. "It's a strong community, it really is. I think it's great to have a sense of community here."