Posted on
Wed, Dec 8, 2010 : 5:59 a.m.
Ypsilanti City Council reconsiders fee on summer festival ticket sales
By Tom Perkins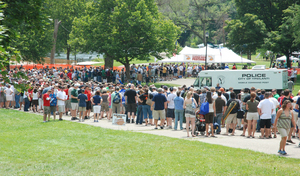 The
Ypsilanti City Council
is reconsidering a tax on festivals' ticket revenues following an outcry from the events' organizers. Instead of the tax, festival organizers and council members are exploring alternative ways to generate revenue for the city's parks.
Council voted at its last meeting to impose a 5-percent tax on festivals' ticket sales over the next two years and a 10-percent tax starting in 2013. At their Tuesday night meeting, council unanimously chose to reconsider that move, and subsequently tabled the issue.
City Manager Ed Koryzno offered to coordinate a meeting between council and invested parties, but he was instructed to wait until Mayor Paul Schreiber and Council Member Pete Murdock can meet with Michigan Brewers' Guild Summer Beer Festival organizer Scott Graham.
Council is hopeful to have a new resolution ready for its Dec. 21 meeting.
The fee's purpose was to generate funds for capital improvements in the city's parks. Those upgrades would include projects like improving lighting, resurfacing the blacktop trail or repairing buildings. The funds would not be used for regular maintenance and upkeep, such as mowing.
The city's park budget has shrunk by roughly $35,000 over the last three years, and while organizers say they understand the city's need to raise money, they've asked to be part of the process in deciding how that happens.
"We all want to help. No one is saying 'We don't want to pay,'" Heritage Festival co-coordinator Cathy Bennett said.
Council Member Dan Vogt asked council to reconsider the tax after a meeting he ran last week attended by several council members and event organizers to discuss the new fees. He said he received a considerable amount of e-mail and had multiple conversations after the last council meeting which led him to begin considering other options for raising money.
"I believe that many of the things that have been expressed as concerns need to be explored further," he said. "I think we need to take a little more time with it; we should consider how the different groups are affected and how it affects the city's broader or long-term budget."
Council has not yet offered a solid figure on how much money it would like to generate.
Festivals already pay usage fees that go towards items like cleanup, utilities and increased police presence, but not toward capital improvement costs. Andy Clock, a volunteer coordinator with the Michigan Roots Jamboree, suggested doubling the usage fees. He said the tax put an unfair stress on ticketed events. Free events, such as the Heritage Festival, wouldn't have been subject to the fee.
He said none of the organizers understands why they weren't contacted and why there wasn't more discussion before council voted on the resolution.
"We would like to suggest recalling (the tax); we would like to double all use fees for the park and convene a commission with all the festivals' stakeholders involved so we can come to a solution to end this problem," he said.
Erik Dotzauer, director of the Depot Town Community Development Corporation and one of The Jamboree's founders, expressed similar thoughts.
"The stakeholders I spoke with were absolutely supportive of higher fees for parks, and we all expressed a willingness to work with council for a solution that everyone can live with," he said.
He also asked City Council to more clearly spell out how funds would be used.
Kevin Hill, who is involved with the Ypsilanti Crossroads Summer Festival, said he is opposed to council raising the fees any higher.
Council Member Mike Bodary said that the idea of a tax had been discussed for more than six months, but he understands that some people might not have heard about it.
"Perhaps more discussion and more time is needed to work on this issue," he said.
Schreiber praised Vogt's efforts to resolve the matter.
"There was outcry not only from sponsors but on the internet," Schreiber said. "I think reconsidering this is a good move and I appreciate Mr. Vogt's attentiveness to it."