Posted on
Mon, May 6, 2013 : 5:59 p.m.
Ex-NFL player Lamanzer Williams is Ypsilanti schools 1st external hire
By Danielle Arndt
A former NFL player and Willow Run and Eastern Michigan University graduate is the first external candidate to receive a job offer from the Ypsilanti Community Schools.
Lamanzer Williams will return to the Ypsilanti area to help build the new athletic tradition at the consolidated district as YCS athletic director and high school assistant principal.
The move surprised current athletic directors, they said.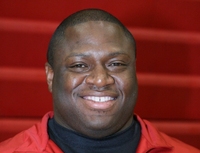 Ypsilanti Community Schools will formally hire Williams on July 1, the official launch date of the consolidated district. Legally, employee contracts for the new district cannot be entered into until that date. Voters authorized merging the existing Willow Run Community Schools and Ypsilanti Public Schools in the November general election.
Intent-to-hire letters also were extended to 171 Ypsilanti and Willow Run teachers Friday. Williams is the first external candidate the new district has offered a position to.
Four internal candidates, including current Ypsilanti High School Co-principal Aaron Rose, YHS Athletic Director Jon Zajac and Willow Run High School Athletic Director Matt Seidl, applied for the position and were interviewed by a two-member team before being turned down for the job.
Washtenaw Intermediate School District Superintendent Scott Menzel, who also will serve as the YCS superintendent until July 30, 2015, and current Ypsilanti Superintendent Dedrick Martin both interviewed the internal candidates.
"We decided to do a targeted recruitment for an external search," Menzel said.
"We had many fine candidates for the position, but we felt Mr. Williams possessed an edge with his education and experience, that spans from being a professional athlete to a high school dean," Menzel said in a statement.
"He has many strong qualities that will make him a good fit for the type of athletic program we plan to build at Ypsilanti Community Schools."
Menzel said a salary for Williams has not been finalized yet, but it will be similar to the base salary the Board of Education set for assistant principals in the new district: $83,000.
When asked about the reasons the internal candidates were not selected, Menzel told AnnArbor.com he would not speak to the individual strengths and weaknesses of the internal candidates, but said the decision was made based on a set of criteria established for the position.
He said among the criteria were evaluating how the candidates would carry out the strategic plan and vision for co-curricular activities and athletics that was developed by the various advisory committees for the new district.
Menzel and Martin also looked at things such as processes for evaluating coaches and measuring coach effectiveness, reaching cultural diversity among the athletics program and engaging the community in partnerships to make the athletics program strong.
Menzel said there was no rubric or hiring guidelines created for the athletic director/assistant principal position like there was for the teachers and principals positions for the new district.
"It wasn't as structured as that," Menzel said of the AD/AP position compared to the teachers and principals. "The volume was really small. It was only a handful of interviews so it was a more conventional interview process… It was a formal process. The questions were the same for each candidate."
He explained that Martin, who will serve as one of YCS' two associate superintendents under Menzel, was included on the interview team because organizationally, Menzel anticipates the athletic director will report to Martin in the consolidated district.
Menzel said he is close to being able to release details on how YCS' central administration will be structured, including the roles Martin and current Willow Run Superintendent Laura Lisiscki will play as associate administrators. Menzel said officials are waiting on confirmation from school attorneys on contract language. He said he expects to be able to reduce expenses in central administration by about $500,000 under the soon-to-be announced organizational structure.
Current Ypsilanti and Willow Run athletic directors Zajac and Seidl were surprised by the decision to hire Williams. Zajac said about 10 days after he and the other internal candidates interviewed, they were told they did not meet the new district's qualifications and officials would be doing a targeted search.
"I was kind of shocked," Seidl said. "When I went into the office, I kind of expected to get that position, to be honest. And I'm sure the other three did, too. But I was pretty confident that it was going to fall my way.
"Not to be cocky, I just did, and then I didn't get it, and I didn't ask a lot of questions. I just respectfully said OK, and kept doing what I'm doing."
Mezel said Williams and one other external candidate, whom he declined to name, had submitted a resume and other application materials to Ypsilanti Community Schools earlier this year, even though a formal job posting was never advertised. Menzel said these candidates were interviewed and Williams stood out due to his experience at the high school level and his commitment to being a life-long learner.
Zajac and Seidl both have been actively involved in the planning process for the new district's co-curricular activities and athletics programs. They served on the advisory committees that developed the strategic plans for both of these areas, as well as served on the mascot and naming advisory committee.
"It's frustrating and disappointing for sure," Zajac said. "There's not much you can really say about it. I thought between myself, Matt and Aaron, they had three really solid, good candidates."
Zajac has worked for Ypsilanti Public Schools for 10 years, primarily as an elementary physical education teacher. He also applied to be a teacher in the Ypsilanti Community Schools district, but received a "no" letter. So he will be job-hunting, he said.
Zajac and Seidl have been interviewing candidates for various coaching positions throughout the past couple of weeks, despite knowing they would not be hired as the athletic director for the new district.
"We've kind of gone above and beyond in that regard. It hasn't been easy," Zajac said.
The coach recommendations will be given to Williams, and Williams will have one last interview with the finalists to make sure that working relationship will be a good fit for the district, Menzel said.
"If what they're trying to do is trying to find the best person, maybe going externally is OK. You want to find the best person. If it's not one of us four, then all the power to you," Seidl said.
Sports reporter Kyle Austin contributed to this report.
Danielle Arndt covers K-12 education for AnnArbor.com. Follow her on Twitter @DanielleArndt or email her at daniellearndt@annarbor.com.