Posted on
Fri, Jan 11, 2013 : 5:53 a.m.
Ypsilanti Housing Commission director search narrowed to 3 finalists
By Katrease Stafford
The search for a new Ypsilanti Housing Commission director is one step closer to being completed now that the pool of applicants has been narrowed to three finalists.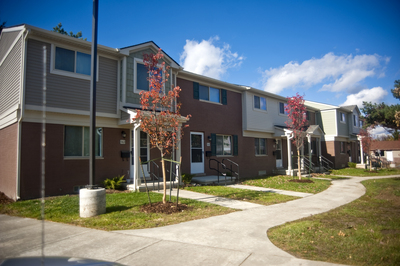 Joseph Tobianski | AnnArbor.com
The search for a new director follows several financial and mismanagement issues found within the commission by the U.S. Department of Housing and Urban Development. The commission received 39 applications for the position.
Previous director Walter Norris retired on Aug. 4 and Eric Temple was appointed interim director.
According to the HUD recovery plan agreement, a new director was supposed to be in place by Jan.1. The board of commissioners previously expressed concern over what they said was a "very tight" deadline.
The previous director, Norris, had an annual salary of $105,686.88.
Interviews will be held for the candidates Friday at the Eastern Michigan University School of Business.
The interview process will take place from 9 a.m. to 3 p.m.
"I noticed many of the applicants have experience," said Mayor Paul Schreiber. "I'm looking forward to meeting them. I know that the housing commission board has been working very hard on this. I think they're doing a good job for all they've been through. When they get all of the information, I believe they will pick the best person for the job and bring the Ypsilanti Housing Commission back from troubled status."
Here's a look at the finalists:
Zachary Fosler
Fosler currently serves as the executive director for the Gallia Metropolitan Housing Authority in Bidwell, Ohio.
Fosler oversees and directs all housing authority personnel and operations, including public housing and housing choice vouchers.
As director, Fosler prepares and manages an annual agency budget of $1.5 million. During his time as director, Fosler closed a $150,000 annual budget gap and ended the following fiscal year with a $40,000 surplus.
Fosler has been the director since 2009. Fosler received his bachelor's degree from Northern Michigan University and his master's from Ohio University.
Eboni Nugin
Nugin, who lives in Detroit, is the executive director of the Clinton Township Housing Commission. Similar to Fosler, Nugin supervises the public housing and housing choice vouchers.
While at Clinton Township, Nugin maintained a 98 percent occupancy rate.
Nugin worked for the Detroit Housing Commission as a contract administrator in July 2009 through July 2011. Nugin also held several other positions within the Detroit commission.
Nugi received a bachelor's degree from the University of Detroit Mercy.
Anthony Strum
Strum, has more than 30 years of public housing and affordable housing experience. Strum serves as a consultant to various agencies and specializes in bringing them out of troubled status. Strum, the president and CEO of MDStrum Housing Services, Inc., helped remove four developments in Detroit from troubled status within the Detroit Housing Commission.
He also provided recovery assistance for HUD during Hurricane Katrina, Rita, Gustov and Ike.
Strum received a bachelor's degree from the University of Maryland.
Katrease Stafford covers Ypsilanti for AnnArbor.com.Reach her at katreasestafford@annarbor.com or 734-623-2548 and follow her on twitter.