Posted on
Sat, Feb 9, 2013 : 10:03 a.m.
Ypsilanti police investigate catalytic converter theft
By Paula Gardner
Ypsilanti police are investigating the theft of a catalytic converter from a vehicle parked in the 800 block of Green Road.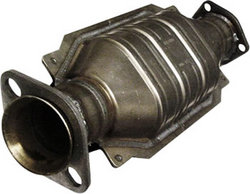 Officers were called to the address - an apartment complex located west of LeForge Road - at about 11 p.m. Thursday.
While there, they learned that the catalytic converter had been removed from a vehicle.
Details on that incident were unavailable.
Catalytic converter thefts have been a concern over recent years as thieves targeted them.
Last fall, Pittsfield Township police investigated the thefts of seven of the devices from vehicles parked in township apartment complexes during a two-week period.
That investigation followed several others across Washtenaw County. Last March, four Detroit-area men were arrested in connection to 16 catalytic converter thefts in the area.
New catalytic converters range in price from about $100 to more than $400.