Posted on
Mon, Nov 8, 2010 : 9:28 p.m.
Ypsilanti school board votes to spend up to $180,000 for additional bus services from private company
By Kyle Feldscher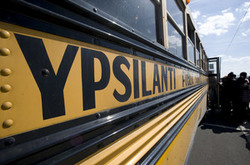 After joining a countywide busing system to save money, Ypsilanti Public Schools will spend up to $180,000 on additional transportation services through a private company.
The Ypsilanti Board of Education approved a contract with Trinity Transportation Inc. to direct additional resources to elementary bus routes. The addition of the transportation service will free up two or three district buses from schools of choice routes to secondary and elementary district students.
Board President David Bates said the district's depleted bus stock and complication with door-to-door services made the supplemental service necessary.

"We currently do not have the rolling stock or capacity to deliver our transportation needs," Bates said. "That's why students are being delivered 20 minutes late on seven or eight routes daily."
The cost for Trinity Transportation's services is estimated at between $50,445 and $58,410 per route, with up to three routes being considered. The resolution approved by the board requires the amount spent on the contract to be no more than $60,000 per route.
The contract is slated to run for one year — until next November — but includes a clause allowing a termination of the contract with a 30-day written notice.
The routes the Trinity Transportation buses will serve haven't been determined. The Washtenaw Intermediate School District will work with administrators to decide which routes will be dropped from consortium service and picked up by the company. The routes will only be ones that take out-of-district students to district schools.
Trustee Andy Fanta took issue with the district's current practice of borrowing two buses from neighboring districts without finding out what the cost will be to the district. He said the administration didn't do enough to find alternatives to contracting with Trinity Inc.
"I'm aghast at the lack of effort administration has put in weighing alternatives," Fanta said. "It's a wedge to start privatization."
Fanta was the only trustee to vote against the contract.
The district agreed to join the Washtenaw Intermediate School District-run bus consolidation earlier this year, and the service began at the beginning of the school year. Ypsilanti parents and staff have been vocal about their displeasure with the service, which has been marked by delays and communication problems since its outset.
Trustees who supported the contract pointed to students getting to school on time and safely as the most important factor in their decision.
Trustee Sarah Devaney said the contract is hopefully a quick fix that can lead the district to a solution to a long-term problem.
"This is a privatization of services. We are realizing less savings than we thought," she said. "I'm going to assume this will act as a Band-Aid and we are working on a permanent solution. The important piece is making sure students are in the classroom on time."
According to information supplied by Trinity Transportation, the services will cost the district $285 per bus per day, plus an additional $45 per bus per day since the district elects to add a second tier. Bus attendants will cost the district $85 per day, and field trips on a regular school bus will run the district $46 per hour, with a four-hour minimum.
Kelly Powers, president of the Ypsilanti Education Association, said she was disappointed with the switch to the WISD consolidation.
"This shouldn't be happening," she said. "We shouldn't be spending another $60,000 on transportation."
Superintendent Dedrick Martin also hinted at ending the door-to-door service for kindergarteners that is traditionally offered by the district.
He said the customization of bus routes will use more and more of the district's general fund as drivers and buses become maxed out.
"We are going to have to address our transportation guidelines," he said.
Board members said they would be uncomfortable ending that service this year, but it would be something revisited in the future.
Trustee Kira Berman said the WISD and the district promised parents the door-to-door service would at least last the year.
"I understand we may need to make some cuts, but I'd like to see equity across the district," she said.
Kyle Feldscher covers K-12 education for AnnArbor.com. He can be reached at kylefeldscher@annarbor.com.