Posted on
Fri, Aug 26, 2011 : 3:29 p.m.
A King Salmon fishing trip with kids is one to remember
By Rick Taylor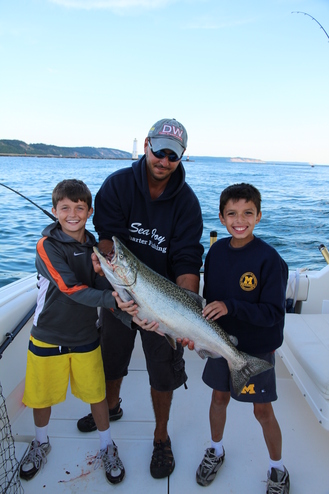 Rick Taylor | AnnArbor.com contributor
There are some things in life that are just meant to be together. Apple pie and ice cream, beer and pizza; and finally kids and fishing.
I still can't explain the allure of fishing at the age of 42. However, I can say that I love fishing every bit as much now as I did as a kid. Indoctrinating a child into fishing is arguably one of the coolest things a parent can do for his kids. You don't have to be a parent, though, to put big smiles on the faces of little kids when it comes to fishing.
You can be a mentor to many kids who've never held a fishing rod before, as sad as that sounds. May this story inspire you to take a child fishing; that may include the child within yourself.
Our family was on vacation last week in northern Michigan. We were having a great time competing at archery, sailing and playing on the beach. I had an unexpected opportunity to take Ricky and my stepson Joseph salmon fishing out of Frankfort on Lake Michigan.
Joseph and Ricky had never been on the Great Lakes before, and I felt so privileged to be taking them out on the big water for the first time. I also knew they were going to catch the biggest fish of their lives on this trip making it even more special.
Captain Greg from Sara K II Charters was waiting for us as we finally pulled into the marina. The boys were jumping for joy when they saw boat we'd be fishing on. They couldn't believe our boat had a bathroom, kitchen area and bed below deck. Joseph and Ricky asked if I could buy this boat and I laughed when I thought of the numbers.
How many homes would I have to sell to buy this 34-foot Tiara?
We put our snacks below deck and watched the captain and his first mate prepare the rods and reels.
Cold weather had brought the salmon in from the depths of Lake Michigan. They were preparing for spawning which had the local charter captains worried — it was way too early for the salmon to stage into the rivers this time of year.
We trolled for two hours before we had our first hit. "Fish on!" yelled Captain Greg while the first mate jerked the rod from the holder. But, the fish got off after a brief time on the line. I was relieved we finally had some action, because the boys were getting a bit anxious. I must give credit to the first mate for playing with the boys while the captain worked hard to get us on the fish.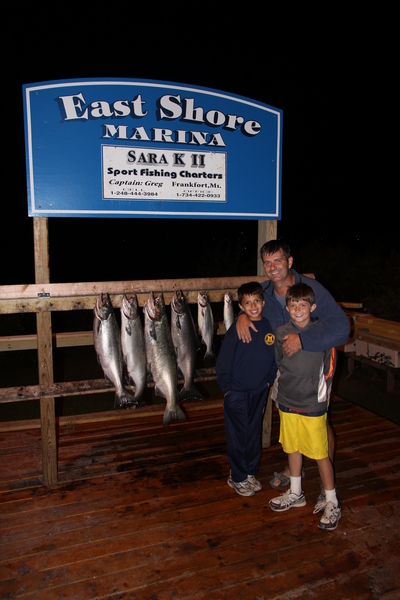 In just a matter of two minutes another reel started screaming and another fish got off. I was so excited deep down because I knew we'd have a fish on at any moment.
That moment came to fruition when we heard unmistakable sound of a screaming reel. "Fish on!" yelled the captain and Ricky, and I approached the rod and reel.
The first mate handed us the rodm and Ricky immediately went to work pumping the rod while reeling in his salmon on the other end. I stood behind Ricky and helped him reel when he needed some help. He did most of the reeling and did a fantastic job of bringing in a 17-pound king salmon.
We took some pictures, and before you knew it, the captain yelled "fish on" again. Joseph ran to the fishing rod and put a death grip on his reel. Joseph began reeling without hesitation and took no time in hauling in another gorgeous king salmon.
The fishing continued for another two hours, and each of us caught two king salmon apiece; we even caught a white fish. The largest catch of the day came when I hauled in a 24-pound King toward the end of the evening.
Captain Greg and his first mate had so much fun watching the boys light up from the time they got on the boat to when we finally departed.
We took a few pictures, gave high fives and called it a night.
Your comments and story ideas are warmly welcomed. Rick Taylor can be reached at 734-223-5656 or by email at rtaylor@reinhartrealtors.com.