Posted on
Mon, Apr 25, 2011 : 10:40 a.m.
Make sure your child is emotionally prepared to ensure a good first hunting experience
By Rick Taylor
I've always dreamed of the day when my son would be old enough to hunt with me. It's a dream that most hunting fathers have; to promote a hunting heritage way of life. But, I've always known that age only plays a partial role as to when that day comes.
Is he old enough, mature enough, safe enough and mentally prepared? Does he understand that he's taking the life of another living creature? These are painfully difficult questions to put upon oneself — even harder to answer honestly.
A part of me says that he's just a kid; that he can wait for a few more years. Doubt and a loss of his innocence are something I wrestle with internally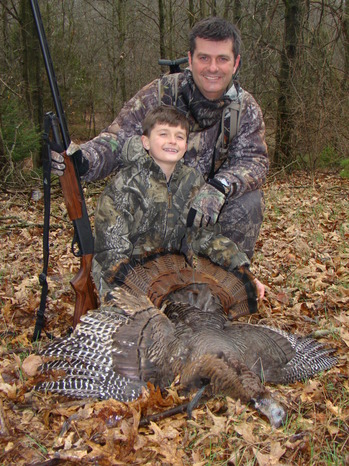 Rick Taylor | Contributor
But, there are many arguments that indicate Ricky is old enough to hunt. First and foremost; he's been by my side in hunting blinds since he was 2 years old.
More importantly, Ricky has a strong knowledge base of wildlife behavior. In other words, he knows more about wildlife habitat and behavior than many adults. He can tell you when and where deer sleep, where and what they feed on and about anything else you'd want to know.
And, that's just deer. He has an elaborate knowledge base of most wild animals in our geographic location.
Unlike most kids his age, Ricky knows that the hamburger meat and chicken breasts from the grocery store come from farm animals that are eventually slaughtered. He also knows that we've eaten every deer and turkey I've ever killed. He loves venison and doesn't think twice about asking for seconds.
Ricky has been counting down the years to when he can go hunting. He pesters me; I mean reminding me of the "Apprentice Program."
The Apprentice Program is through the Michigan Department of Natural Resources (DNR). This program allows kids who are 10 years old and over to go hunting with a parent, legal guardian or adult hunter.
I recently purchased a 20 gauge shotgun for the expressed purpose of allowing my kids to hunt wild turkey or deer. I removed the butt stock recoil pad and replaced it with recoil reducer pad; this reduces the recoil of the shotgun, making it very easy to shoot.
I had Ricky practice shooting with the 20 gauge for two months, and he quickly grew proficient with his shooting ability. You should know a few things I've done to help prepare Ricky for hunting.
I've helped teach Hunter Safety courses; therefore I'm acutely aware and promote safe hunting practices. Ricky has also participated in shooting .22 caliber rifle classes at Camp Michigania. These classes are taught by camp staff; they're professional instructors. Furthermore, Ricky has spent years watching as I sighted in various firearms.
I took Ricky turkey hunting on the second day of the season, just last week. I brought my compound bow and the 20-gauge shotgun to our hunting blind located on the edge of a meadow. I told Ricky that I might go with the shotgun or compound on that particular day.
We went into the blind and I loaded the 20-gauge with turkey loads. I then got my compound bow ready and put the video camera on the tripod.
We weren't there for 20 minutes when I caught movement to my immediate left. I could see the turkey walking into view; it had a six-inch beard. I turned on the video camera and started recording the bird.
I quietly grabbed the 20 gauge shotgun and asked Ricky if he'd like to try getting his first turkey? His eye's got as big as saucers and he said "yes, yes, yes!"
I handed Ricky the shotgun and help place the barrel on the bipod; a bipod is used to rest the barrel of the gun making it a steady rest.
I turned my attention back on the turkey as it crossed just 25 yards in front of us from our left to right. I zoomed in on the turkey a bit more and asked Ricky if he was comfortable and ready to shoot. He said yes, and I told him to shoot whenever he was ready.
About three seconds went by when Ricky touched off the trigger. The turkey immediately fell to the ground after Ricky made a perfect shot. It's rare to see a turkey drop like that, and I couldn't have been prouder of Ricky.
Ricky asked if he hit the turkey because he couldn't see it drop down so fast. I told him he got it, and we were both elated at Ricky's success.
And just like that Ricky's very first hunting experience happened and was soon over. All those years of hoping he'd do well came to fruition. I'm so relieved and elated that Ricky acted like a mature hunter and conservationist.
I'm already preparing a brine for the turkey and we're looking forward to having some friends over for dinner. It's hard to believe Ricky is hosting this dinner; it leaves me speechless.
I'd like to wrap up this column with the following statement: Every parent who decides to take his or her kid hunting must make a determination as to whether or not the child is ready.
My decision was based on many factors. Ricky's behavior, ability and mental awareness were just a few of many things I took into making that decision.
Furthermore, I strongly believe that not all kids are ready at a specific age. Please take the time to make sure your child is emotionally prepared to hunt at any age.
Our hunting experience was captured in a YouTube video you can see by clicking here, and it will be aired on Michigan Out of Doors TV in the next few weeks on your local PBS station. I hope you enjoy the video as I did making it.
Your story ideas and comments are warmly welcomed. Rick can be reached at 734-223-5656 or by email at rtaylor@reinhartrealtors.com.