Posted on
Wed, Sep 21, 2011 : 11:34 a.m.
Cats on Deck offers pet owners a safe choice to indulge their cats outdoors
By Lorrie Shaw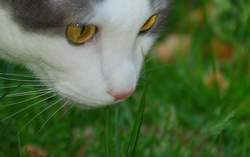 flickr photo courtesy of DW Rose
Most
cats
are eager to scoot outside if given the chance, especially with comfortable temperatures and enticing activity going on beyond the glass that separates them from all of that.
And, why not? Cats know what's good!
As I wrote several months ago, researchers have established that mental and physical activity is crucial in keep a cat's senses and body in good shape, extending their healthy years.
The outdoors is a superior environment for a cat, no doubt — there's so much to see and do.
But, for a lot of reasons, it's just not safe for the felines. And bird lovers are emphatic that cats are bad news where feathered wildlife are concerned.
And, sure, cat harnesses are great; they're inexpensive and easy to use, but on the downside, cats must be attended while outdoors while wearing one. Not always practical, right?
While a lot of cats have the luxury of having a screened-in porch or the like that they can spend time on to get some of the benefits of the outdoors while staying safe, some households just aren't lucky enough to have that.
For those families living in condominiums and apartments, it's especially challenging.
Pet owners in second-story-and-up units are warned of the dangers of their cat's curiosity and fearlessness of heights when unscreened windows or sliding doors are left open in these situations: High Rise Syndrome can cause serious injury or death. Named so by veterinary clinicians because of the injuries that cats sustain in a fall from high-rise windows, fire escapes and terraces, it's totally preventable.
One company has stepped up to the plate to create a system that can help get cats the stimulation that they need, while keeping them — and birds — safe, at a more affordable price while offering flexibility.
Cats on Deck has designed an enclosure that they tout as easy to assemble and to clean and easy to break down if need be. Available in several designs and sizes, there is a configuration for any household.
Made from furniture-grade PVC and galvanized wire that is coated in vinyl, the enclosures are meant to be set up on a deck or indoors, even connected to a home's indoor environment with a kitty door to integrate indoor and outdoor use.
Priced from around $500 to more than $2,000, the enclosures can be ordered online.
Lorrie Shaw is lead pets blogger for AnnArbor.com. Catch her daily pet adventures on the web or email her directly.