Posted on
Fri, Mar 11, 2011 : 6 a.m.
Mentoring today to help train the next generation of veterinary medicine providers
By Ronald J Wiedbusch
My assistance dog, Storm, and I truly enjoy working with local high schools students who have the desire to become involved with pet care as a profession. On March 4, we participated and judged at the 2011 Health Occupations Students of America (HOSA) Regional 3 Veterinary Assisting Scenarios held at Washtenaw Community College. This event is for students who want to one day go into the field of veterinary medicine.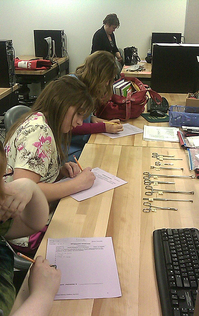 Ronald Wiedbusch | Contrubutor
This HOSA event involved more than 350 high school students from 10 different counties competing in more than 40 animal care related events. Each student's task is to demonstrate to the judges their mastery of specific occupational skills in a specified field of study. This event is a chance for them to showcase their abilities in hands-on scenarios.
This HOSA Regional event is coordinated by the LISD TECH Center in Adrian.
Those students with the highest ranking scores in each specific occupational area not only take home bragging rights, but are now are eligible to compete at the states HOSA event held later this spring.
The majority of these high school age veterinary assistance students have spent up to two years of their lives learning topics such as veterinary vocabulary, instrument identification, emergency room procedures and more.
The one thing missing, however, is that they have had very little direct contact with live dogs. All of their textbook knowledge about canine bodily systems is wonderful to know, but being able to display this knowledge and then apply it in a real life scenario is very different.

Ronald Wiedbusch | Contributor
I also asked Ypsilanti Police Department K-9 Officer
Tony Schembri and his K-9 partner Buky
to assist at this event.
These students learned how, through good veterinary care given to K-9 Buky, both digestive and hair-skin concerns he once had have been resolved. The students then had time to interact with Buky for a little fun time before taking their veterinary assistance instrument identification test.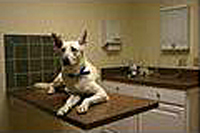 Ronald Wiedbusch | Contributor

The Americans with Disabilities Act was covered, and we highlighted the difference between assistance, therapy and facility dogs for the students and fielded questions about what it's like to work with a K-9.
The capacities of specialized canines, including facility, search and rescue recovery and cadaver dogs were showcased, as were chemical and pollution and even bedbug K-9s.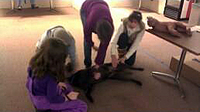 Ronald Wiedbusch | Contributor

The list of veterinary assistance scenarios the students have to go though changes each year, and each student has to be prepared to complete any assigned medical trauma task to the best of their ability.
They are then judged by scores on each task, then by adding the points earned both from the instrument identification area and then the K-9 Emergency Trauma Scenario given a final score. The highest scoring contestants now have the distinction of competing in this year HOSA's statewide competition.
At the end of the day, both Officer Tony and I had the opportunity to review the day's activities and where asked to make comments so the event's organizers could continue to make changes to improve this regional level occupational skills event.
To learn a bit more about the different dog medical care topics that the participants deal with, refer to the links below:
K-9 Heat Stroke at workingdogs.com
K-9 Dehydration at vetinfo.com

K-9 Frostbite from the RIchmond K-9 Klub

Finding a canine that is not breathing and does not have a pulse (K-9 CPR Skills) from bestfriends.org

What items are needed in a homemade K-9 first aid kit that you take on vacation from k9forensic.org

Ron Wiedbusch is a regular contributor to AnnArbor.com's pets section and works in the community to raise awareness about Assistance and Therapy Dogs and the Americans with Disabilities Act with his certified Assistance, Service, Rescue and Therapy Dog, Storm. The pair can be found at various places in the community throughout the week, and each day patrolling the area around Ypsilanti Public Schools as part of the Safe Schools Program.