Posted on
Thu, Oct 20, 2011 : 7:22 p.m.
Big Ten predictions: Can Wisconsin finally win at Michigan State?
By Nick Baumgardner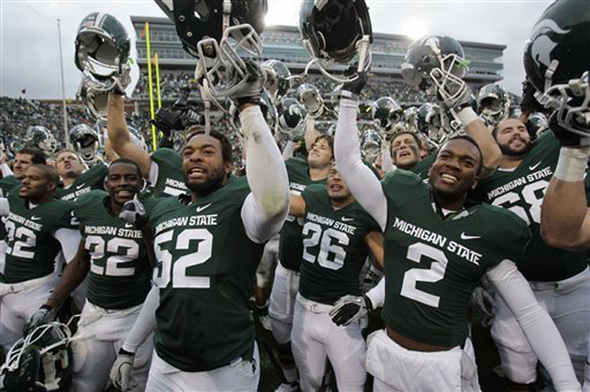 AP photo
Wisconsin football coach Bret Bielema won't call a road loss to Michigan State in 2008 the low point of his coaching career.
But it was a very valuable one.
"It proved to me at that point how difficult it is to win on the road." Bielema said. "You have to play disciplined football and you have to recruit the type of athlete that can play disciplined football, and I don't think you can teach that."
Sitting at 4-4 entering that game, the Badgers blew an 11-point second-half lead in East Lansing before falling 25-24. It was the low point in a disappointing 7-6 season for Wisconsin.
A year ago, the Badgers' 34-24 loss at Spartan Stadium was the team's only regular season blemish on the way to a Rose Bowl appearance.
Bielema and No. 4 Wisconsin will venture back into East Lansing on Saturday (8 p.m., ESPN) for a nighttime date with the No. 15 Spartans (Preview). He says his team has learned from its past mistakes, and Bielema and company will get a chance to prove it in front of a national, prime time audience.
"It's a very difficult environment to win in," he said. "Especially when Michigan State's rocking and rolling."
The winner of this one likely grabs the wheel for the Big Ten regular-season title race.
The Badgers are perfect on the year, and have steamrolled everyone in their path -- outscoring opponents by more than 40 points per game.
However, Wisconsin hasn't played a true road game yet.
Michigan State? Well, the Spartans are one week off a physically dominating performance over rival Michigan. In Spartan Stadium, of course.
"When you play at home you have a lot of things going for you," Michigan State coach Mark Dantonio said. "We don't play many night games here so that's always a live atmosphere, and those two things will weigh in our favor."
The contest features two of the country's top defensive units. Michigan State is ranked No. 2 nationally in total defense, giving up just 186.17 yards per game. Wisconsin isn't far behind, ranked No. 7 with 268 yards allowed per contest.
The Badgers have the makings of a national title contender, and quarterback Russell Wilson is a Heisman Trophy candidate.
But before anyone starts getting into those topics, Wisconsin will have to survive one of its biggest road obstacles in recent years.
""When you have your family here and the people you care about watching the game," Dantonio says, "you tend to play a little bit harder."
B1G Predictions

The AnnArbor.com sports department is picking the winners of Big Ten football games this season, with bragging rights in our corner of the newsroom at stake. Check out last week's results below, after you play along with us by choosing your own winners.

No. 23 ILLINOIS (6-1) AT PURDUE (3-3)
Noon, ESPN2

Nick Baumgardner: If Purdue was any good, it would be able to take advantage of a shaken Illini squad. But, Purdue's not good. Illinois.
Pete Cunningham: What's the etiquette on the visiting team firing The Cannon? Illinois.
Jim Knight: Purdue had a five-game winning streak in this matchup end last season. Now it'll be a two-year skid. Illinois.
Kyle Meinke: What's the perfect remedy for a loss? Well, a date with Purdue of course! Michigan, take note. Illinois.
Rich Rezler: Will Michigan fans spend their Saturday "scouting" the Boilermakers or head over to the pumpkin patch to pick out their Illini helmet-inspired Halloween decorations? Illinois.

INDIANA (1-6) AT IOWA (4-2)
Noon, BTN

Baumgardner: Indiana couldn't beat North Texas on the road. How's it supposed to win in Kinnick? Iowa.
Cunningham: SportsCenter should be required to play "Yackety Sax" during Indiana game clips. Notice, I did not say highlights. Iowa.
Knight: This isn't as automatic a pick as you might think. Iowa won by just five points last season. They'll win by more this year. Iowa.
Meinke: The Hawkeyes may not be great, but they're also not Indiana. At least, that's what Kirk Ferentz tells himself to fall asleep. Iowa.
Rezler: What's at stake here? The battle for the best acronym for a university that starts with the letter I … IU or UI. Iowa.

No. 13 NEBRASKA (5-1) AT MINNESOTA (1-5)
3:30 p.m., ABC

Baumgardner: Minnesota didn't lose last week. It was off. That changes Saturday. Nebraska.
Cunningham: See Indiana prediction. Same goes for Minnesota. Nebraska.
Knight: Sorry, Minnesota. You'll want to forget this season. Nebraska.
Meinke: The Cornhuskers have won 14 in a row in this rivalry, outscoring the Gophers 553-100 in that span. Considering Minnesota might be the worst BCS team in the country, can't see this one going much different. Nebraska.
Rezler: This is the 3:30 p.m. ABC game? Seriously? Somewhere, Keith Jackson is rolling his eyes. Nebraska.

PENN STATE (6-1) AT NORTHWESTERN (2-4)
7 p.m., BTN

Baumgardner: Oh, the Battle for the Old Ball of Yarn. I'll pick Northwestern for the upset. Hopefully the Wildcats don't make me regret it. Northwestern.
Cunningham: Penn Sate just might be one of those teams we think isn't that good, but finds a way to win a lot of close ones. Northwestern might be a team we think is decent, but always finds a way to lose those same games. Penn State.
Knight: This time, Northwestern hangs on to its first-half lead. Northwestern.
Meinke: I'll repeat what I said last week: The Wildcats were unbeaten last year with Dan Persa at quarterback (7-0), winless this year (0-3) and he's too good for that trend to continue. I figure as long as I keep saying this, at some point, I'll be right. I think. Northwestern.
Rezler: I actually like Northwestern here, but some outside force (the legend of JoePa, perhaps?) is telling me to type: Penn State.

No. 4 WISCONSIN (6-0) AT No. 15 MICHIGAN STATE (5-1)
8 p.m., ESPN

Baumgardner: Michigan State flexed its muscles last week against Michigan. Good luck doing the same against a legit Top 10 team. Wisconsin.
Cunningham: Michigan State is a good Big Ten team, Wisconsin is one of the best teams in the country, period. Kurt Cousins has not shown an ability to give the Spartans the two or three big plays a senior quarterback needs to make to win this type of games. Wisconsin.
Knight: Wisconsin should take charge late. Wisconsin.
Meinke: The Spartans are coming off that bruising rivalry game against Michigan, and will be without defensive end William Gholston. Oh, and Wisconsin's better. Wisconsin.
Rezler: Picking an upset here for three reasons: 1) This is Wisconsin's first real road test of the season. 2) Michigan State is sky-high after last week (buckle those chin straps tight, Badgers) and Spartan Stadium will be hopping. 3) The Badgers are 55-16 under Bret Bielema, but just 11-11 in Big Ten road games and 0-2 in East Lansing. Michigan State.
Last week: Rezler 4-0, Knight 3-1, Baumgardner 2-2, Cunningham 2-2, Meinke 2-2, Reader polls 2-2.
Season: Knight 11-2, Reader polls 10-2-1, Baumgardner 10-3, Rezler 10-3, Cunningham 9-4, Meinke 9-4.
Nick Baumgardner covers Michigan sports for AnnArbor.com. He can be reached at 734-623-2514, by email at nickbaumgardner@annarbor.com and followed on Twitter @nickbaumgardner.