Posted on
Fri, Nov 11, 2011 : 3:55 p.m.
Big Ten predictions: No secrets, tricks, frills or finesse in Michigan State-Iowa game
By Nick Baumgardner
A year ago, Iowa wrecked Michigan State's season. Wrecked might actually be too soft a word.
With a 37-6 beat down in Iowa City, the Hawkeyes knocked the Spartans out of the national title picture and the Rose Bowl game in one embarrassing afternoon.
"We didn't play very well last year," said Michigan State coach Mark Dantonio, who did not make his players available to the media this week.
When Michigan State visits Iowa on Saturday (noon, ESPN2), the national title is out of the question.
However, the inside track for the Big Ten Leaders Division crown and a spot in the league championship game take center stage.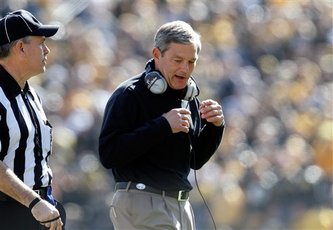 Both the Spartans and the Hawkeyes control their own destiny, starting now. If Michigan State (7-2, 4-1) wins, only Indiana and Northwestern sit between it and Indianapolis.
If Iowa (6-3, 3-2) wins, it pulls even with the Spartans and collects the all important tie-breaker. The Hawkeyes would have some work left (road games at Purdue and at Nebraska) but things would get pretty interesting.
The game itself features a matchup of two very similar styles, as both Iowa and Michigan State have hopes of establishing the run and playing physical on defense.
The similarities aren't a coincidence, either.
"When you come into a conference, such as we did when I first came back here (at Michigan State), you look at people and try to emulate some of the things they've done and you see that (Iowa) has some of the same challenges we have," Dantonio said. "Coach (Kirk) Ferentz's football program is one we've tried to say 'hey, let's be like them a little bit.' We have a great amount of respect in terms of how they play the game."
There aren't any secrets on either side of the football. Iowa wants to pound Big Ten leading rusher Larry Coker on offense, and wants to beat up Michigan State quarterback Kirk Cousins on defense.
Conversely, the Spartans pretty much want the same thing — churn up the ground with La'Veon Bell and Edwin Baker, and hit Iowa quarterback James Vandenberg.
A lot.
"It's not like you've got to sit in the room for eight hours to figure out what Michigan State is going to do," Ferentz said. "They have an identity."
No secrets, no tricks, no frills or finesse.
Just 60 minutes of old-style football with major Big Ten title implications.
Sounds about right, doesn't it?
"We've got 40 players who last season went out there with us when we were undefeated and I think ranked fifth in the nation at that point in time," Dantonio said. "So we've got some things to prove."
B1G Predictions
The AnnArbor.com sports department are picking the winners of Big Ten football games this season with bragging rights in our corner of the newsroom at stake. Check out last week's results below, after you play along with us by choosing your own winners.
Note: To avoid redundancy, you won't find Michigan's game here. A Michigan-Illinois poll and Kyle Meinke's prediction was published earlier Friday.

No. 13 MICHIGAN STATE (7-2, 4-1) at IOWA (6-3, 3-2)
Noon, ESPN2

Nick Baumgardner: Both teams struggled with Minnesota, both beat Michigan. Ugh, tough call. I think the Spartans exorcise their demons here. Michigan State.
Pete Cunningham: Despite the voodoo that the Hawkeyes apparently have over the opposition at home, Sparty (a.k.a., the better team) should prevail. Michigan State.
Jim Knight: Iowa is as tough as any Big Ten team at home. Michigan State is tough enough. Michigan State.
Kyle Meinke: Michigan State always seems to find a way to win the big ones. That's always been true, especially when it plays on the road, in control of its own Big Ten destiny. ... Wait, today is opposite day, right? Iowa
Rich Rezler: Is it true this game will be played atop a giant harvester in the middle of a corn field? Michigan State.
No. 19 NEBRASKA (7-2, 3-2) at No. 12 PENN STATE (8-1, 5-0)
Noon, ESPN

Baumgardner: I see no way Penn State survives one of the biggest midweek distractions in modern college football history. Nebraska.
Cunningham: Lost all respect for Penn State fans after the display they put on this week. Will the circus surrounding the Nittany Lions be a distraction or a rallying cry? I'd imagine the former. Nebraska.
Knight: Nobody cares about football in Happy Valley right now. Nebraska.
Meinke: The crowds chanted "Beat Ne-bras-ka!" after learning of the sordid details of the alleged child-sex abuse scandal that has engulfed the football program. Ousted coach Joe Paterno, for his part, told the media and his players that the program needed to stay focused on beating the Cornhuskers. Some programs talk about avoiding distractions, but it's good to hear Penn State has really taken that to heart. Great perspective, guys. Nebraska.
Rezler: See above. Ditto. But, on the field, Penn State is better. Penn State.
OHIO STATE (6-3, 3-2) at PURDUE (4-5, 2-3)
Noon, BTN

Baumgardner: The Buckeyes continue to play like it's 1943. If Ohio State keeps its pass attempts under five, it wins by 30. Ohio State.
Cunningham: The Buckeyes' offense is starting to resemble an offense under Braxton Miller. Officially time to start worrying, Wolverines fans. Ohio State.
Knight: Purdue players are still talking about being bowl eligible. This game won't help. Ohio State.
Meinke: The Buckeyes struggled last week against Indiana. Nothing like a good ol' fashioned wake-up call. Ohio State.
Rezler: Ohio State is sticking to the run, and Purdue is giving up 191 rushing yards per game. Ohio State.
RICE (3-6) at NORTHWESTERN (4-5)
Noon, BTN-X

Baumgardner: Rice? Really? Whatever, Northwestern better roll here. Northwestern.
Cunningham: Sam McGuffie was injured when Michigan lost to Northwestern in 2008 and has been sidelined the past two weeks for Rice. No McGuffie, no victory. Northwestern.
Knight: Quarterback Dan Persa is likely to play, which is bad news for Rice. Northwestern.
Meinke: The Wildcats have been the Big Ten's biggest disappointment this season. I guess when all else fails, schedule Rice for a big November showdown. Bowl eligibility, here we come! Northwestern
Rezler: I'm starting to think Dan Persa being back in the lineup isn't such a great thing for the Wildcats. Sophomore Kain Colter sure is fun to watch. Northwestern.
No. 16 WISCONSIN (7-2, 3-2) at MINNESOTA (4-5, 1-4)
3:30 p.m., BTN

Baumgardner: The Badgers ran up the score last year, and they'll probably do it again. Because the chart says so. Wisconsin.
Cunningham: I will admit that Minnesota has looked pretty good the past two weeks. Good enough to pick the Gophers? Of course not. Wisconsin.
Knight: Nobody's stopping Montee Ball. Wisconsin.
Meinke: Montee Ball is the only non-quarterback in the country to score at least two touchdowns in every game this season. It's hard to see that streak ending ... assuming starters make it through the first quarter. Wisconsin.
Rezler: Minnesota has to be considered the favorite after sweeping North Dakota last weekend. But you never know what will happen in this border battle … oh, wait. We're not picking college hockey games? Wisconsin.
Season records: Cunningham 15-8, Knight 15-8, Rezler 15-8, Reader polls 14-8-1, Baumgardner 14-9, Meinke 14-9.