Posted on
Thu, Jan 6, 2011 : 10:38 a.m.
Brock Mealer credits fired Michigan football coach Rich Rodriguez for pushing him to walk again
By Jeff Arnold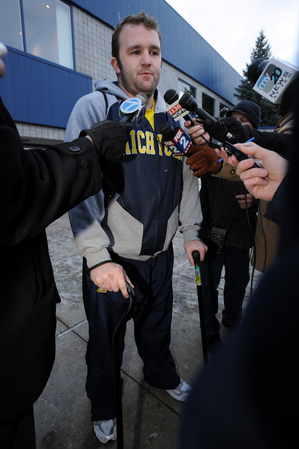 Lon Horwedel | AnnArbor.com
Brock Mealer put one foot in front of the other Wednesday afternoon, using a pair of canes to guide his steps out of Schembechler Hall.
Like everyone else who met inside of the Michigan football building hours after Rich Rodriguez was terminated, Mealer was there to say goodbye.
But in Mealer's case, he wasn't parting ways with a hard-nosed coach, but a man he first met three years ago while he was laid up in a hospital bed, paralyzed after a horrific car accident.
Rodriguez was there for Mealer in the tough times. Now, it was Mealer's turn to repay the favor.
It was Rodriguez who visited Mealer - the brother of offensive lineman Elliott Mealer, whose father and girlfriend were killed in a car accident Christmas Eve night in 2007. Although Brock held a degree from Ohio State, the newly hired Michigan coach told him that when it came time to try and learn and walk again, to pay him a visit.
The Mealers became honorary members of the Michigan football family.
"He believed in me, and I believed in him," Brock Mealer said Wednesday as he left Schembechler Hall, where players met with Rodriguez and athletic director Dave Brandon for 45 minutes to discuss the future of the Michigan program. "I wouldn't be where I am today if they hadn't believed in me.
"So it's a tough day, but I've gotten through adversity before, and that's what I am going to do now."
As Mealer rehabilitated with strength and conditioning coaches Mike Barwis and Parker Whiteman, Mealer's goal was to lear to walk again. Barwis and Whiteman may have provided the physical help, but it was Rodriguez who encouraged Mealer to remain positive, helping him through the tough days.
Although Mealer and his family were from Ohio, they discovered a new home at Michigan, mainly because of Rodriguez.
"You go up to Michigan, and we hate to come home, because you don't get all that love," Brock's mother, Shelly Mealer told AnnArbor.com last year. "They have all cheered my son on every day. It is an atmosphere that will carry me all the days of my life."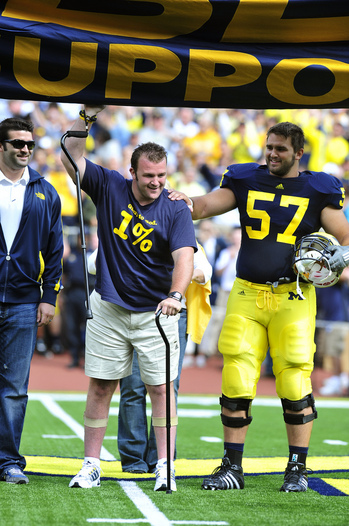 Melanie Maxwell I AnnArbor.com
When he needed another goal, Rodriguez told Mealer if he was up for it, he could lead the Wolverines out of the tunnel for last season's opener against Connecticut. Brock emerged from the Michigan Stadium tunnel and gingerly took one step after another, finally reaching midfield, touching the same banner Michigan players leap to touch before each home game.
Afterward, Rodriguez called the achievement a touching moment for himself and his team.
On Wednesday, Mealer said he was disappointed that Rodriguez hadn't received the same level of support that Mealer did in the years since his life-changing accident.
"I think things would have turned out differently if (Rodriguez) would have gotten a fair shake," Mealer said. "It seemed (from the beginning) people didn't want him. That's not an excuse for how things turned out, but the circumstances were what they were, and I think things could have turned out a lot differently."
While Rodriguez's hiring and three-year tenure created a rift in Michigan's fan base, Mealer's support for the embattled coach never wavered. The relationship opened up a different side of the coach to Mealer. He said it's a side of Rodriguez few got the opportunity to see.
"He's just always been (portrayed) as a villain, and he's nothing like that," Mealer said. "He's one of the greatest guys I have ever met in my life, and I wish people would just acknowledge that. As little as I know about football, I know his character is much different than people played it out to be."
Jeff Arnold covers sports for AnnArbor.com and can be reached at (734) 623-2554 or by e-mail at jeffarnold@annarbor.com. Follow him on Twitter @jeffreyparnold.