Posted on
Fri, Dec 10, 2010 : 7 a.m.
Bryan Hogan gets the nod as Michigan's Big Chill starting goalie, winds of change and more
By Jeff Arnold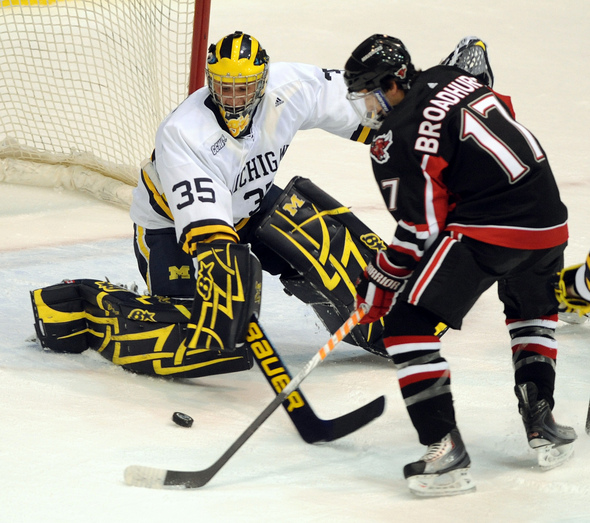 Lon Horwedel | AnnArbor.com
Michigan hockey coach Red Berenson said earlier this week he would consider several factors when choosing a starting goalie for Saturday's Big Chill at the Big House.
When judged by statistics alone, senior Bryan Hogan appeared the front-runner, pulling ahead of classmate Shawn Hunwick.. Both had shown flashes of brilliance this season, but more recently, both also struggled.
Berenson announced Thursday that Hogan -- last year's starter until suffering a season-ending groin injury --Â had done enough to earn the start when the Wolverines face rival Michigan State at Michigan Stadium Saturday (3 p.m., Fox Sports Detroit).
But whether that extends beyond this weekend remains unknown.
"I think it's obvious when you look at the win-loss record, and Hogan has had the experience of playing in an outdoor game (last year against Wisconsin)," Berenson said after Thursday's practice. "I think it's fair to tell them now. We're not going to wait until the day before because everyone's worried about who's starting in goal.
"Hunwick's not out of the loop (for the full-time job), he's just not going to start this game."
Berenson did not make either goalie available to reporters Thursday.
The two goalies have split time all season with Hunwick playing in series openers and Hogan wrapping the weekend up. Hogan has registered better numbers, taking advantage of better Wolverines' performances. Hogan is 7-2 this season with a 2.11 goals against average.
Berenson said he considered each goalie's recent performances, none of which he considered outstanding. Michigan has only won one of its last four games, splitting with Ohio State last weekend after tying Wisconsin and losing to Minnesota in the College Hockey Showcase.
Hunwick, who is 2-3-4 this season, was the hard-luck victim against Ohio State. The Buckeyes scored a game-tying goal with 10 seconds remaining in regulation before scoring just 90 seconds into overtime for a 3-2 victory last Friday. Michigan bounced back the next night, playing in front of Hogan, and pulled out a 2-1 victory.
Berenson said he would likely wait until after The Great Lakes Invitational at Joe Louis Arena later this month to make his final decision on a full-time starter.
"Somehow, Hogan has found ways to win," Berenson said. "And for me, looking at the stats, looking at the last couple months of games, I think Hogan gives us a good chance to win."
Home ice advantage
Berenson likes the way his team has practiced all week inside Michigan Stadium. The Wolverines will wrap up five straight days of outdoor ice time Friday afternoon when they skate one final time before Saturday's game.
Michigan State will also practice at the Big House Friday afternoon, getting on the rink for the first time. Earlier this week, Spartans coach Rick Comley said he wasn't overly concerned with how much time his team has - or hasn't - gotten to acclimate to the surroundings.
"I think one of the key things will be for them to stop looking around," Comley said this week. "I want to get there early enough on Friday so they have a chance to wander. Once you get on the ice (for the first time), how much are you going to accomplish? I don't know, but that's something you just have to get past."
Berenson said that's been one advantage to having the week to get used to the outdoor surface.
"Now we don't have to worry about the sun or the rain or wind or snow or bad ice or good ice. Now we can just worry about playing hockey," he said. "We know the environment, we know the scenario is unique, but I think the novelty is wearing off a little."
Blowing in the wind
Should wind conditions be fierce for Saturday's game, the Central Collegiate Hockey Association has a plan in place to make things as equitable as possible. In the case of high winds, the teams would skate with the wind for one period and switch directions after 10 minutes in the third period.
Michigan players got a feel for how wind could impact play on Tuesday when high winds whipped through Michigan Stadium during the Wolverines' hour-long skate. The Wolverines also experienced high winds during last year's loss to Wisconsin in the Camp Randall Classic.
"It's a bad feeling when you're skating against the wind and the wind's pushing you back," senior forward Louie Caporusso said. "You can't go anywhere. But sometimes, when you shoot with the wind, you can shoot across the whole wind. It's pretty cool."
Jeff Arnold covers Michigan hockey for AnnArbor.com and can be reached at (734) 623-2554 or by e-mail at jeffarnold@annarbor.com. Follow him on Twitter @jeffreyparnold.