Posted on
Thu, Oct 20, 2011 : 11:15 a.m.
Eastern Michigan coach Ron English says competition, not proximity, is key ingredient to a rivalry
By Pete Cunningham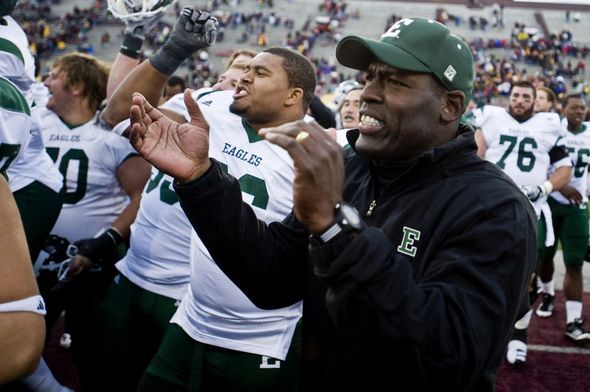 Joseph Tobianski I AnnArbor.com
Proximity does not make a rivalry.
Competition. That's the main ingredient, says Eastern Michigan football coach Ron English.
So while the distance between Ypsilanti, Kalamazoo and Mount Pleasant didn't grow in English's first two years as coach, the Eagles' 0-4 record and average margins of defeat against Central Michigan (43) and Western Michigan (18) made the in-state games anything but rivalry games in his eyes.
"We need to play well enough in rivalry games for it to become a rivalry game," English said. "What we want to do is be competitive enough on the field to make (games with Western and Central) a rivalry again because then it's fun for players, fun for coaches, fun for fans."
With a 35-28 win at Central Michigan last weekend, Eastern did its part to reignite a rivalry with the Chippewas.
The Eagles will host Western Michigan at 1 p.m. Saturday in a game for the Michigan Sports Hall of Fame Michigan MAC Trophy, awarded when one of the three Michigan schools in the Mid-American Conference beats the other two in football.
How the Eagles (4-2, 2-1) took down Central may be particularly relevant to their chances at doing the same to Western on Saturday. The Broncos (4-2, 2-1) come into Rynearson Stadium favored by 12 1/2 points, but proved vulnerable on defense against Northern Illinois in a 51-22 loss last week.
Western gave up a program record number of total yards (697) and rushing yards (494) to the Huskies -- totals that ranked fourth and seventh, respectively, all-time in MAC history.
Eastern tailbacks Dominique White and Javonti Greene combining for 256 yards and four touchdowns while quarterback Alex Gillett rushed for 93 yards in the win over Central.
Also, Dominique Sherrer is expected to return form an injury he suffered in Week 2. Before the injury, Sherrer rushed for 120 and 111 yards in wins over Howard and Alabama State.
"Offensively, they give you a lot of problems because of the quarterback running game, and then they've got a couple running backs that are playing at a real high level," said Western coach Bill Cubit. "We just have to regroup (from the Northern Illinois loss) and get ready for a real good Eastern Michigan team."
English said his team's biggest challenge is approaching the game with the same mindset it had on the road last week.
"Can we prepare to take some shots and give some shots and then to play four quarters and then be in position to win it at the end?" he said.

In state recruiting

What would a sweep of Michigan's two other MAC schools mean to Eastern's in-state recruiting effort?
"I think it always helps, but I don't know if it's ever the deciding factor," English said. "But I don't know that any one thing is ever a deciding factor."
Central Michigan has 64 players from the state of Michigan on its roster. Eastern has 34 and Western 32.
Pete Cunningham covers sports for AnnArbor.com. He can be reached at 734-623-2561, by email at petercunningham@annarbor.com and followed on Twitter @petcunningham.