Posted on
Tue, Jun 25, 2013 : 4:55 p.m.
Five reasons Ann Arbor hockey fans should actually care about the 2013 NHL Draft
By Pete Cunningham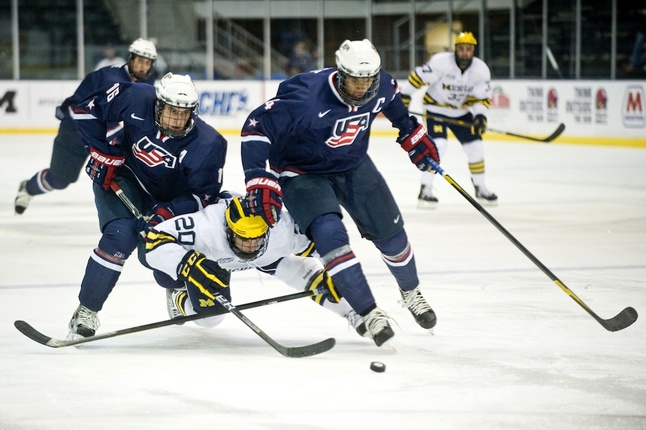 Joseph Tobianski | AnnArbor.com file photo
The NHL Draft ranks somewhere above
Major League Baseball's annual 40-round marathon
and below the
NBA's two-round sprint
as far as fan interest in professional sports leagues' drafts goes.
Everyone's playing catch-up with the NFL, which is in a category all on its own.
Like the NFL, the NHL has seven rounds, but unlike the NFL and NBA, hockey fans don't get to see these players suit up in the big leagues right away, so interest in the draft is relatively low. Save for a few freaks of nature like Sidney Crosby, players develop in college hockey or minor-league oblivion (much like baseball prospects), sometimes never to be seen or heard from again.
But with the Michigan hockey team and the United States National Team Development Program within miles of each other, hockey fans in Ann Arbor have several reasons to actually be interested in Sunday's 2013 NHL Draft (NBC Sports Network, 3-8 p.m.).
Here are five of them:
1. Seth Jones
Jones called Ann Arbor home for two years as a member of the National Team Development Program and there is a general consensus among most pundits that he will be the top pick in Sunday's draft. If selected first overall, Jones will be the first-ever black player with that distinction in the 50-year history of the draft.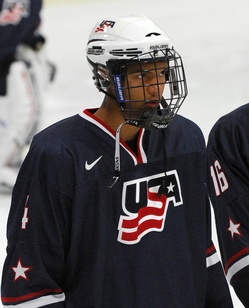 Photo courtesy of Tom Sorensen
Jones is the son of former NBA journeyman Ronald Jerome "Popeye" Jones.
According to Sports Illustrated,
Popeye first sought advice on getting his sons involved in hockey during the 1999-2000 NBA season when he played with the Denver Nuggets. The Nuggets and Colorado Avalanche shared a weight room at the Pepsi Center, so Jones asked former all-star
Joe Sakic
for advice on getting his sons involved in skating and hockey to which Sakic kindly obliged.
Jones' story could come full circle on Sunday as the Avalanche hold the No. 1 overall pick and recently hired Sakic as the executive vice president of hockey operations with final say on who the team drafts.
Jones would be the third No. 1 overall pick produced by the NTDP after Erik Johnson and Patrick Kane were selected No. 1 in back-to-back years in 2006 and 2007.
2. Andrew Copp
The former Skyline High School quarterback, NTDP player and current Michigan Wolverine was passed over in his first year of draft eligibility. Though that's usually not a good sign, much has happened since that year that has Copp's name floating around as a potential third-seventh round pick.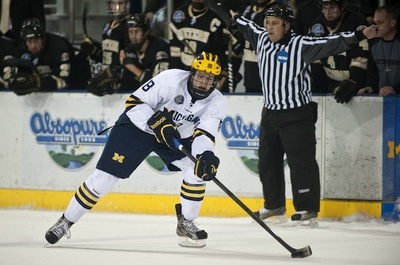 Joseph Tobianski | AnnArbor.com file photo
Copp had just one goal and one assist through Michigan's first 18 games this season, but
had 19 points in the final 22 games of the season.
He was Michigan's second most productive player after Christmas, leapfrogged from the fourth to first line, and over the summer was invited to USA Hockey's 2013 National Junior Evaluation Camp. NHL teams usually don't like late-developing prospects, but Copp's case is unique in that this year was his first-ever as a full-time hockey player having split his time between the ice and gridiron in high school.
His production in one year as a full-time hockey player may outweigh previous years with the NTDP when he didn't catch the eye of NHL scouts while he was splitting his time.
"(Copp's) been a part-time football player and a part-time hockey player, so I think he's going to be a late bloomer and he's just starting to go," Michigan coach Red Berenson said in March.
3. Steven Santini
Joseph Tobianski | AnnArbor.com file photo
Santini has been a member of the NTDP for the past two years and will play college hockey at Boston College. Santini is now being projected as a potential late first round or second round pick.
Santini told AnnArbor.com earlier in the year that he intends to attend college regardless of whether or not he is drafted high, but at the end of the day his goals revolve around his future as an NHL player.
"At the end of the day, I want to be a hockey player and that is very important to me," Santini said earlier this year.

4. J.T. Compher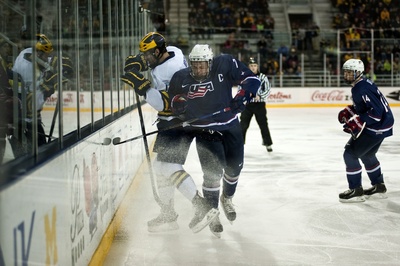 Joseph Tobianski | AnnArbor.com file photo
Compher has been with the NTDP for the past two years. He is expected to play for Michigan in the fall regardless of where he is selected, which has been projected as somewhere
between the late first round and third round
.
Compher had 49 points (18 goals, 31 assists) in 55 games played with Team USA last season including a pair of assists in an exhibition game against Michigan in january. Compher led Team USA at the Under-18 World Junior Championships with seven points (three goals, four assists) in a silver medal winning performance.
5. Tyler Motte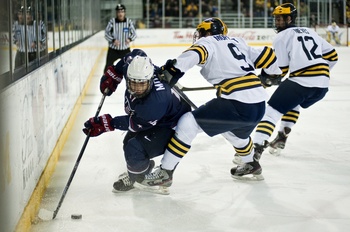 Joseph Tobianski | AnnArbor.com file photo
A St. Clair native, Motte is expected to join the Michigan hockey team in the fall and projected as anywhere from a late second round to fifth round pick. Another product of the NTDP, Motte has spent the last two years in Ann Arbor and is expected to spend many more as a member of the Wolverines as his size (5-foot-9, 184 pounds) leaves him in need of physical development no matter where his skill set is.
Motte had 44 points (26 goals, 18 assists) in 63 games played with Team USA and two goals in a 5-3 exhibition win over Michigan in January.
***Bonus: Evan Allen
Allen is a Sterling Heights native, two-year NTDP player and will join the Michigan hockey team in the fall along with Compher and Motte. He was one of four 20-goal scorers with Team USA last year and according to TheHockeyWriters.com could be picked in the fourth-sixth round range.
Pete Cunningham covers sports for AnnArbor.com. He can be reached at petercunningham@annarbor.com. Contact him on Twitter @petcunningham.