Posted on
Mon, Apr 15, 2013 : 2:29 p.m.
Four-star Brogan Roback watches EMU spring game from sidelines but doesn't plan on staying
By Matt Durr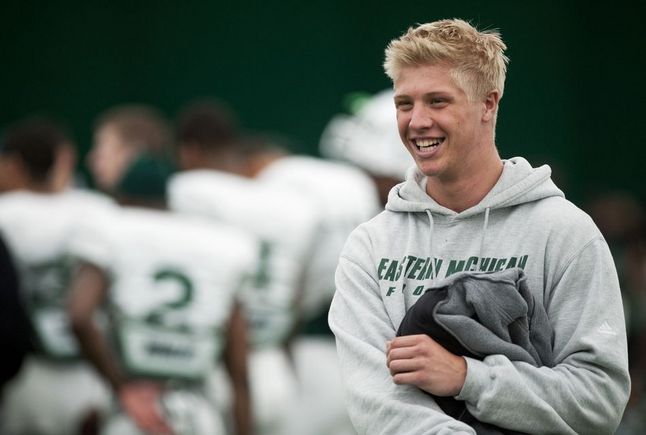 Daniel Brenner | AnnArbor.com
Standing at 6-foot-4, quarterback
Brogan Roback
watched from the sidelines as the Eastern Michigan University football team finished its
last practice of the spring
. Roback -- a signee from St. John's Jesuit High School in Toledo, Ohio, rated a four-star recruit by Rivals.com and Scout.com -- is the Eagles'
highest rated recruit in program history
. While he knows there is a long road ahead of him to getting on the field at
Rynearson Stadium
, Roback said Sunday's game provided plenty of motivation for the fall.
Because there isn't much distance between Toledo and Ypsilanti, Roback has been able to watch some of the team's spring practices while waiting to officially join the team in the summer. While he can't work directly with the team, being able to watch from the sidelines has helped him get a better feel for what he might be in for once he arrives on campus.
"The offense looked good, which obviously I was looking towards that. But it's just a flash of what it could be in the next season," Roback said. "Coming up here and learning the plays and formations kind of gets me ahead of the game.
"Meeting the guys and the receivers and the running backs and the lineman…you know I couldn't ask for anything else but to be up here. It definitely gives me an edge."
Billed as a pro-style quarterback, Roback ran a pass-first version of the spread offense in high school and was clocked with a 4.6 second 40-yard dash time.
At one point, Roback received offers from other Mid-American Conference teams such as Akron, Bowling Green and Toledo. He also received interest from Michigan and Penn State when he was a junior. Roback said the decision to come to Ypsilanti was easy once he met coach Ron English and his staff.
"I like coach 'E' a lot and we got coach Parrish now, who I didn't know when I committed, but when he came over, he sold me," Roback said. "Especially because of his history, being over at Michigan and being with the (Tampa Bay Buccaneers) when he won the Super Bowl and being with coach (Jon) Gruden, who is one of the most well-respected coaches.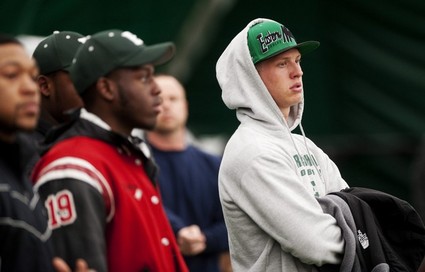 Daniel Brenner | AnnArbor.com
"But mostly the players and the coaches and the location. My
sister plays volleyball here
so I'm kind of familiar with the place. I just liked the people here."
While watching the game Sunday, Roback looked comfortable with his future teammates. Being comfortable will be a key point in Roback's development whether or not he starts for the Eagles this fall.
If he lives up to expectations, he shouldn't be on the sidelines long, but he has some work ahead of him. Tyler Benz won the starting job four games into his redshirt sophomore season last year and surely won't step aside for the highly touted blue chip recruit.
But a little competition never hurt anyone.
"I'm itching to get out here. It's kind of a tease, we've been out of the game for a while now. We're anxious, but it was good to see all these guys out here working," Roback said.
Matt Durr is a freelance reporter for AnnArbor.com.