updated w/coach's comments:

Dexter football coach resigns days after 69-0 loss

Posted on Mon, Sep 10, 2012 : 5:59 a.m.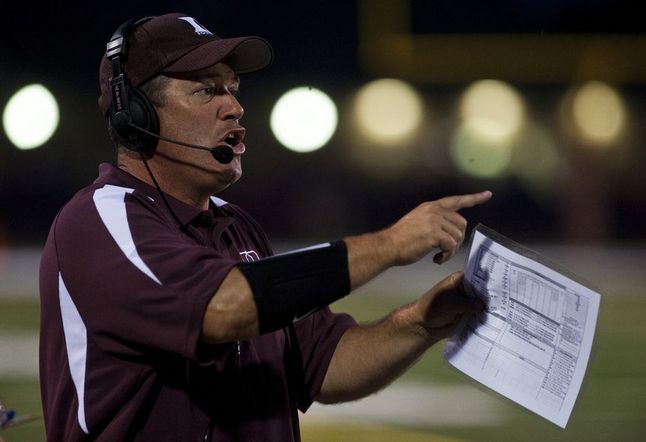 Updated at 8:36 a.m. with comments from resigned Dexter coach Brian Baird.
Dexter High School head football coach Brain Baird resigned over the weekend. According to a press release from Dexter Public Schools interim athletic director Mike Bavineau, Baird handed in his letter of resignation over the weekend stating he was leaving the program for personal and family reasons.
"We wish him well and know that as a teacher at Dexter High School he continues to be an asset to the school and community," Bavineau said in the release.
Baird is a math teacher in the district.
Baird's resignation comes just days after the football team suffered a 69-0 loss to Pioneer. Friday's loss was the largest margin of defeat in school history and the most points allowed in school history. Baird's predecessor -- Tom Barbieri, who was fired as the head coach after ten years in 2010 -- is an assistant coach for Pioneer.
"This has nothing to do with the loss on Friday. I know a lot of people will look at it and that will be their thought, but this is to do with a health issue," Baird said.
Baird declined to disclose the specifics of his condition stating, "That's a family matter."
Baird said his health condition has worsened over the past six months and after lengthy discussions with his family and physician, he decided to step down.
"It was time to do it," Baird said. "Things were coming to a head."
The Dreadnaughts were 3-12 under Baird, are 0-3 so far this season and in those three games have been outscored 139-14.
Baird worked with the football program in various capacities from 2002-09, but did not coach in 2010 after what Barbieri called "differences in opinion of how the program should be run," in an interview in 2011. Prior to coming to Dexter, Baird coached at Milford High School and also for 10 years in Illinois. This was Baird's first varsity head coaching position.
Ryan Fisher, a current Dexter High School teacher, will take over for Baird and coach the team the remainder of the season according to the release. Fisher was the linebackers coach and assistant defensive coordinator under Baird.
"The focus of the coaches and Dexter administrators continues to be providing a quality athletic experience for students. Please help us support the student-athletes on the football team and wish them success for the remainder of the season," Bavineau said.
Peter Cunningham covers sports for AnnArbor.com. He can be reached at petercunningham@annarbor.com. Follow him on Twitter @petcunningham.