Posted on
Fri, Jan 18, 2013 : 11:04 p.m.
Dexter holds on to beat Chelsea in overtime and more boys basketball results
By Kyle Austin
Updated 1:17 a.m.
AnnArbor.com Washtenaw County Scoreboard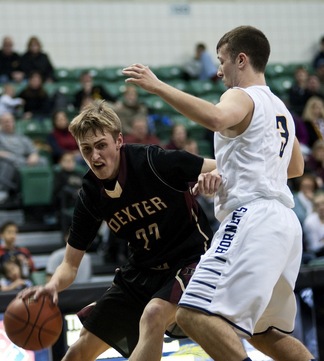 Daniel Brenner | AnnArbor.com
Dexter 54, Chelsea 46 (OT)
Story | Boxscore
Dexter rallied to force overtime, then shut out Chelsea 8-0 in the extra frame to take the latest edition of this Southeastern Conference White Division feud.
Derek Seidl's 16 points paced Dexter, while Brandon Bednarz netted 14. London Truman and Kyle VanDusen added 10 each.
Truman's 3-pointer with roughly a minute remaining in overtime put the Dreadnaughts (3-5, 1-1 SEC White) up seven and clinched the game.
"He shouldn't have taken the shot, but it went in," Dexter coach Randy Swoverland said. "That pretty much did it for us."
The two teams battled back and forth all night long, with Chelsea leading 23-21 at halftime, only to watch Dexter snag a four-point lead entering the fourth quarter.
Chelsea pushed back for a three-point edge partway through the fourth, but Dexter equalized and actually squandered an opportunity to win in regulation when a last-second free throw misfired.
Luke Hollandsworth scored 16 points for Chelsea (2-7, 1-2 SEC White).
Skyline 53, Saline 47
Story | Boxscore
Skyline overcame a sluggish start with help from Chris Spaly, who raked in 11 points, 10 rebounds and three assists.
A 16-9 Skyline advantage in the second quarter created enough separation for the Eagles (3-5, 1-1 SEC Red) to take home their first victory in their second Southeastern Conference Red Division matchup.
Saline (5-4, 0-3 SEC Red) led 6-0 after the first two minutes but fell behind 25-18 by halftime.
Ypsilanti 55, Lincoln 42
Story | Boxscore
Ypsilanti senior Lavonte Davis had 10 points, 18 rebounds and eight blocks as the Phoenix pulled away from Lincoln in the third quarter.
Justin Bernard and Corey Allen both scored 11 points, and Allen had six assists.
Lincoln's Tyler Mabry led the team with 15 points, making five field goals, one 3-pointer and going 4-for-4 from the free-throw line.
After leading 25-21 at halftime, Ypsilanti (7-1, 3-0 SEC White) outscored Lincoln (4-6, 1-2 SEC White) 10-2 in the third quarter.
"(Davis) has shown great leadership with the young team that we have," Ypsilanti coach Steve Brooks said. "He's been a fantastic leader. Keeps all the young guys going, and is really playing like a senior.
"There were great defensive stops and some good attacking of the basket by both teams. Once all the emotions and stuff settle down, we were able to hold them to two points in the third."
Milan 64, Flat Rock 39
Story | Boxscore
C.J. Turnage and Latin Davis of Milan both scored 19 points, respectively, and Jacob Novak had five rebounds, as the Big Reds (8-1) remained undefeated in the Huron League at 4-0.
"Flat Rock did a great job taking us out of our offense in the first half with contesting shots," Milan coach Josh Tropea said. "Latin was in foul trouble in the first half, which led to our scoring problems, but he scored 13 in the second half."
Detroit Loyola 85, Father Gabriel Richard 62
Details not available
Detroit Allen 68, Willow Run 54
Story | Boxscore
Jason Williams and Tikaya Ellis scored 28 and 21 points, respectively, to lead Detroit Allen Academy. Daquanta Brown led Ypsilanti Willow Run with 20 points and teammate Anthony Davis added 10 points.
"We weren't feeling too bad at halftime," Willow Run coach Tim Cain said. "It was a back-and-forth game and they just happened to be up by eight."
Willow Run (1-8) narrowed the Allen lead to four, however could not maintain the comeback. Willow Run missed its last eight free-throw attempts.
Vandercook Lake 75, Manchester 64
Story | Boxscore
Matt Kemner had 15 points to lead Manchester (0-10, 0-4 Cascades Conference), while Jake Korican had 14 points including four 3-pointers. As a team, Manchester made 13 3-pointers, but not in the fourth quarter.
Tyler Applegate had a career high 35 points, including seven 3-pointers, and Josh Sheets had a double-double of 22 points and 14 rebounds, to lead Vandercook Lake.
Greenhills 52, Lutheran Westland 50
Story | Boxscore
Greenhills' Ross Scheinberg nailed a 3-pointer with seconds remaining to complete the comeback victory.
Greenhills (7-1) trailed by five with two minutes left in the game, but a 3-pointer with Andrew Diehl and one from Scheinberg clinched the victory.
"We put in Scheinberg because he is a good shooter," Greenhills coach Andrew Wright said. "We knew it might come down to making an outside shot."
Greenhills' Diehl scored 14 points, followed by Derek Heitman with 11. Abe Estenson added 10 rebounds and four points.
Rudolf Steiner 56, Battle Creek Calhoun Christian 33
Story | Boxscore
Ben Hadlock and Koji Vroom each netted 12 points, leading Rudolf Steiner to a home win in Mid-South Conference play.
Rudolf Steiner (7-4, 4-0 Mid-South) also got 11 points from Peter Larson and 10 from Steven Molitor. The Storm led 19-7 after one quarter and put the game out of reach with a 16-4 advantage in the third.
"We got on them quick, switched defenses and forced turnovers," Rudolf Steiner coach Nick Sherwood said. "We got quick points and moved the ball well all night."
Arbor Prep 52, Washtenaw Christian 43
Story | Boxscore
Arbor Prep (5-4) outscored Washtenaw Christian (5-3) 17-9 in the third quarter, as Michael Donatelli led the team with 20 points and six rebounds.
Ailohi Izirein and Trayvan Gentles each added 11.
Washtenaw Christian was led by Trenton Shelby with 11 points and Brian Stout had 10.
"Michael made more of conscience effort to get to the basket in the fourth quarter and he's tough to stop," Arbor Prep coach Don Spencer said. "We had way too many turnovers. It plagued us throughout the game but we were able to keep ourselves in the game with our defense."
Taylor Baptist Park 59, Calvary Christian 35
Story | Boxscore
Ypsilanti Calvary Christian Academy's Kenny Warren scored a game-high 20 points, including six 3s, and David Walker totaled 10 points and seven rebounds.
"It was actually 16-16 with a minute to go in the first quarter, then they hit a couple 3s and we had some turnovers," Ypsilanti Calvary Christian (0-7) coach Steve Thurmond said. "The defensive intensity increased, and we didn't match it."
AnnArbor.com coverage
Pioneer 64, Huron 47
Story | Boxscore | Photo Gallery | Tevis Robinson exploits the low block in Pioneer win