Posted on
Fri, Jan 18, 2013 : 11:16 p.m.
Tevis Robinson's (low) block party helps Pioneer beat Huron and its defense
By Pete Cunningham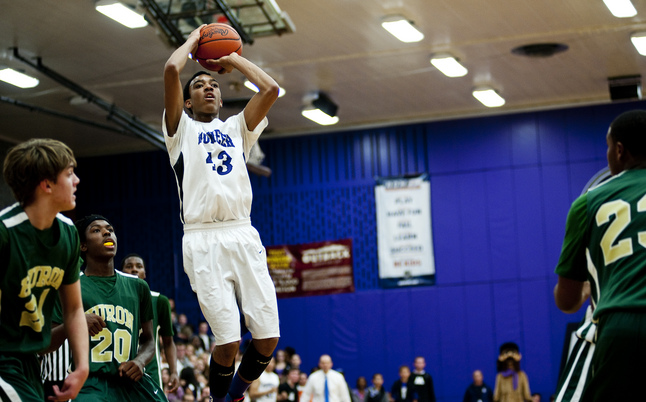 Daniel Brenner | AnnArbor.com
Everyone always knows Huron's press is coming, But being able to handle it, that's a whole different ballgame.
Pioneer did exactly that on Friday in the AnnArbor.com Game of the Week and beat the River Rats 64-47 in large part due to senior center Tevis Robinson's ability to finish in the low block.
Robinson hasn't been called upon to be a big scorer this year so far for the Pioneers (8-2, 3-0 SEC Red). His 20 points on Friday were well over his previous average (8.4) and his first time in double digits scoring in five games.
More Coverage: Game Story | Boxscore | Photo Gallery | Friday night roundup
But Pioneer coach Rex Stanczak and his coaching staff knew to beat the pressure defense of their cross-town rivals, Robinson would need to play that role and he answered the bell.
"My assistant coach said yesterday in practice, 'certain guys that score a lot might not score much against this defense and Tevis might be able to get 30'," Stanczak said. "If we do what we're supposed to do, he's going to get a lot of the shots."
Get a lot of shots he did. Robinson scored Pioneer's first six points, all from the low block. It's where you could find the 6-4 Robinson all night, moving from one side of the key to other getting in position for his teammates to feed him.
It was that Pioneer kept getting the ball to Robinson that Huron coach Waleed Samaha saw as the problem, rather than being able to defend Robinson once he got it.
"We didn't have enough pressure in the backcourt so they were making a lot passes. We like to put people under duress and they were under no duress in the first half," Samaha said. "We needed to do a little better job of pressuring the backcourt."
"They executed very well and Tevis was big for them because he cleaned everything up," Samaha said. "All second chance shots, rebounded the ball well and finished when they got the ball to him."
Huron's lack of pressure - or Pioneer's ability to break it, depending on your viewpoint - led to great ball movement from Pioneer. Pioneer had assists on 16 of its 19 field goals on the night.
Robinson was the most common final piece of the puzzle on Friday, which he just saw as his role for the night.
"We've been practicing that, staying down there and finishing shots," Robinson said. "Our bench, everybody can do (what I did)I'm not the only person that can score (in the low block)," Robinson said. "It doesn't really matter who's in the game because we can all do the assignment."
It's nice of Robinson to tow the team line, but he's being modest. Stanczak gave Robinson a rest near the end of the third quarter and it was no coincidence that Huron finished the frame with a 12-2 run. With seven minutes left in the fourth, Huron had pulled to within five of Pioneer after trailing by double digits for much of the game.
Robinson put the final stamp on the game when he did return, right away getting an old fashioned three-point play underneath, hustling for a defensive rebound on the other end, then coming down and finishing on a putback off of an offensive rebound on back-to-back-to-back possessions.
Stanczak said the strong finish was made possible by the rest, even if Huron was able to inch closer during it.
"When you're playing at that pace, you gotta rest guys and we thought that Forest Neal was playing really well," Stanczak said. "We were able to give Tevis a little bit more of a rest than we originally anticipated and he came back in the game and I though really finished off the game well."
Pete Cunningham covers sports for AnnArbor.com. He can be reached at petercunningham@annarbor.com. Follow him on Twitter @petcunningham.