Posted on
Fri, Jan 18, 2013 : 10:49 p.m.
Pioneer boys turn away second-half Huron run, win 64-47 at home
By Kyle Austin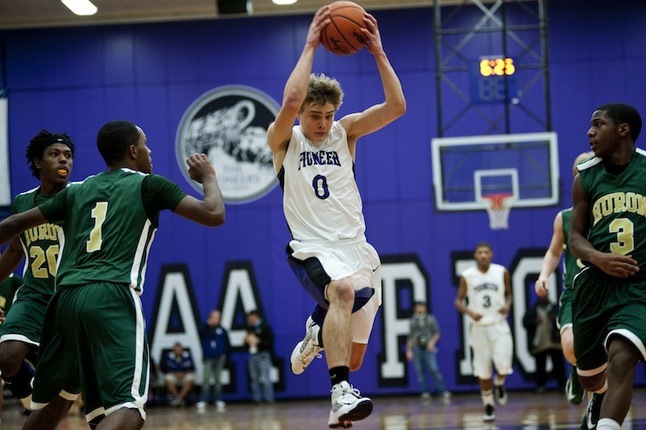 Daniel Brenner | AnnArbor.com
The two words on the top of the list of keys in the Pioneer pregame locker room were patience and poise.
And when the game got close in the fourth quarter, Pioneer showed both.
Pioneer picked apart the Huron press and turned away a fourth-quarter River Rats run in a 64-47 win Friday night at Pioneer High School.
More Coverage: Boxscore | Photo Gallery | Tevis Robinson throws (low) block party in Pioneer win | Friday night roundup
The win was the Pioneers' eighth straight, as they move to 8-2 on the year and (3-0 SEC Red). Huron falls to 4-3 overall and (2-1 SEC Red).
"This is a rivalry game, we want to come out and set the tempo and show that we're the best team in the area," Pioneer forward Ethan Spencer said. "When we came out here, we wanted to show that we can beat them big."
Pioneer led nearly the entire game and by double digits most of the second half. But Huron was able to slowly chip away through the third quarter and make it 48-43 with seven minutes left.
But didn't fold and ended the game on a 13-1. Huron turned the ball over three times during the stretch.
"You just can't do that against good teams," Huron coach Waleed Samaha said. "That's a veteran team and they're well-coached and they do a good job and you've got to play better against teams like that if you want to win."
Pioneer's Tevis Robinson led all scorers with 20 points, as he was able to find open space on the low block throughout the night. Aedan York finished with 12, while Jibreel Hussein and Cal Kirchen each had 10.
Sophomore Xavier Cochran led Huron with 11 points.
After turning the ball over on five of its first six possessions, Pioneer settled into a groove and started picking apart the Huron press. After Huron scored the first three points of the second quarter to cut its deficit to one, Pioneer went on a 20-4 run.
"By the end of the first quarter, beginning of the second quarter, we got it back to a normal tempo, got it back to our tempo and got it back to our composure," Pioneer guard Duane Simpson-Redmond said.
The key to that run, Pioneer coach Rex Stanczak said, was slowing down and making good passes against Huron's press. The Pioneers were able to get the ball across halfcourt with little incident.
And once in the halfcourt, Pioneer used crisp passing to find open shots. The Pioneers finished with 16 assists on the night, with nearly every shot coming off a pass.
"We know that our history against their trap is that when we rush we get beat, and when we're patient, we win," Stanczak said.
For Pioneer, poise comes in part from the fact that it fields a starting lineup of all seniors that has played together most of their high school careers.
Huron, meanwhile, has a roster of only three seniors, with two sophomores in its starting lineup.
For many key River Rats players, Friday marked their first Pioneer-Huron varsity matchup. Samaha hopes it's something they will learn from.
"They've been through the battles together, it's not only that they're experienced players but they're experienced together," Samaha said. "I think that makes a big difference. Hopefully by the time March rolls around we'll have some experience too."
Kyle Austin covers sports for AnnArbor.com. He can be reached at kyleaustin@annarbor.com or 734-623-2535. Follow him on Twitter @KAustin_AA.