Posted on
Thu, May 13, 2010 : 10:08 p.m.
Father Gabriel Richard's Josh Herbeck named Catholic League Athlete of the Year
By Rich Rezler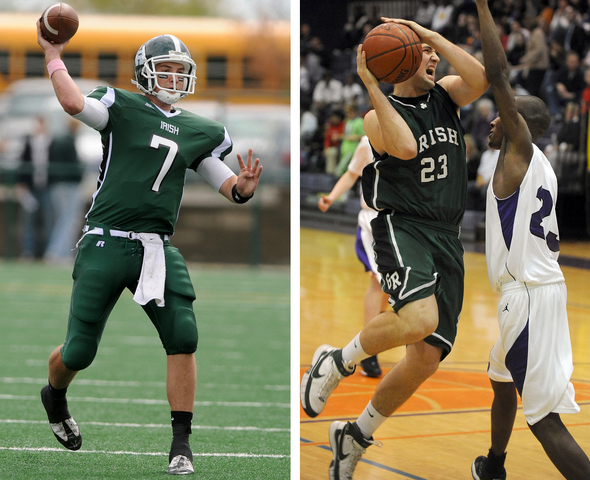 Josh Herbeck isn't participating in a spring sport at Father Gabriel Richard High School, but the basketball and football standout is still making school history.
Herbeck will become the first Father Gabriel Richard student to win the Catholic High School League's Walt Bazylewicz Athlete of the Year Award when he is presented the 2009-10 honor on May 26 at Comerica Park in Detroit.
The Fighting Irish baseball team, currently the No. 1-ranked team in the state's coaches' association Division 3 poll, could make the afternoon quite an occasion for the school if it qualifies for that day's CHSL championship game.
"They should get there. If they do, our school gets the day off … that would be a lot of fun," Herbeck said.
Herbeck says he's spending his spring focusing on basketball, working out frequently with Gabriel Richard graduate and current University of Michigan basketball player Eso Akunne.
He called winning the award a "humbling" experience. "It means a lot, especially being the first person from Richard to win it," he said.
Last winter, the West Point-bound shooting guard led Gabriel Richard to a Catholic League AA Division regular season basketball championship and a spot in the A-B Division tournament championship game, where the Fighting Irish lost to Class A Warren DeLaSalle.
"He's one of those once-in-a-lifetime kids. This year was validation of what I've seen from him throughout his career," said Gabriel Richard coach Pete Schoch. "He's a great ambassador for the school and is very deservedly Garbriel Richard's first winner of the award."
Herbeck was also a three-year starting varsity quarterback who led the Gabriel Richard football team to an 8-2 record in 2009, including a 31-26 win over Pontiac Notre Dame Prep in the league's C-D Division Prep Bowl.
"There's been a couple really nice athletes come through Richard the past couple years. This year it seemed like Josh was the face of the program," said Gabriel Richard football coach Brian Lemons. "He's just a great role model for the other students at the school. (Winning the award) couldn't happen to a better kid. He really represents Gabriel Richard as well as anyone can."
Past winners of the boys' award include current University of Michigan football player Mike Martin; former Michigan football players Darnell Hood, Grant Mason, Jermaine Gonzales and Derrick Alexander; and former Michigan State University basketball player Shawn Respert.
"It's quite an honor. To actually win it is a very big deal in the Catholic League," said Schoch. "I completely feel that there isn't a more worthy recipient than Herbeck. He's a class act, a great player and a terrific student."
Kaleb Roedel contributed to this report.