Posted on
Fri, Nov 30, 2012 : 2:37 p.m.
Huron sets sights on return to Breslin Center and more girls basketball preview notes
By Matt Durr
Annarbor.com File Photo
Be sure to check back Sunday for a team-by-team preview of all of Washtenaw County's girls basketball teams.
If the Huron High School girls basketball team can make just one shot more than it did last year, it'll be a successful season.
It sounds easy, but for a team that lost in the Class A state semifinals, that one extra bucket is at the end of a very long, very difficult road.
"It's always going to be tough. Anytime that you get that far, you have to have the talent to get that far, but you also have to have some luck," Huron head coach Steve Vinson said. "People are going to be gunning for you. Anytime you go to a semifinal, you have a bull's-eye on your back."
The River Rats know what it takes to get back to the Breslin Center, but as the 2012-13 season gets started, Vinson and his team are going back to the basics.
At a recent practice Vinson lined his team up to inform of them of a disciplinary measure he had to take with a couple his team's key players. When two players were caught missing class, Vinson didn't allow them to practice.
It was a character building moment for the team.
"This is serious," Vinson told the team. "These rules will be enforced."
Later, as the team struggled during a basic defensive drill, he once again lined them up for a bit of tough love. As he explained to the team, last year's trip to the final four doesn't guarantee them a return trip, or a free pass from the work it took to get there.
"If we continue to work as hard as we did last year, we will make it as far as we did last year," said senior Auzhane King. "We only have one goal this year and that is getting back to Michigan State."
Once practice resumed, the message started to sink in and the players quickly responded to Vinson's motivational techniques.
As expressive as Vinson is when his team makes a mistake, he is just as rewarding with compliments when the team executes. Numerous times during the practice, Vinson points out players that are making the right decisions. High fives and smiles for a team with plenty of expectations.
"We're better this year than we were this time last year," said senior Alexis Garner. "I think we're going to have even better success than we did last year."
With ten players returning from last year's team, Huron boasts a roster with as much talent as any team in the state. Which makes for some interesting scrimmages at practice.
"The best thing about it is practice. The practices are always so competitive and there is always the threat of 'If you're not doing the job, I've got some very capable who can,'" Vinson said.
And while March and the state tournament are a long ways away, Vinson and his team are prepared for the journey.
"Bianca (Williams) and I shared a quote the other day 'you can't take the elevator to success, you have to take the stairs.'"
Looking to repeat history
The 2011-12 season was a historic one for the Manchester High School girls basketball team, winning 22 games and a share of its first Cascades Conference championship. But after falling in the Class C regional final, the Lady Dutch are focused on improving on last year's success.
"Manchester's never won a regional title, so that is next, one step at a time," said head coach Cori Kastel. "If we can all stay on the same page and be consistent, they have a shot at going to the Breslin (Center)."
Annarbor.com File Photo
All five starters from last year's team return, led by senior
McKenna Erkfritz
,
last season's AnnArbor.com Player of the Year
. Having so much experience on the team is a huge advantage for Manchester entering the season.
"You can tell that our chemistry was never lost from last season," Erkfritz said. "It helps because chemistry is one of the hardest thing to get. To have this, it's the one thing that will bring us together."
Senior Jesse Coltre said the chemistry goes beyond the basketball court.
"We're all friends off the court and so we all just click and it helps a lot," Coltre said.
As hard as it may be to not think about the playoffs so early in the season, senior Taylor Manders admitted that she knows how important a deep run would be to her team.
"This is my senior year, it's now or never," Manders said. "I'm excited for the postseason to come. But we have to take it day-by-day."
New faces, same places
Every offseason brings some sort of change to the various coaching staffs, but for two teams those changes weren't so different after all.
At Lincoln High School, Mike Foley takes over as the girls head coach after spending the last eight seasons as the head of the boys team.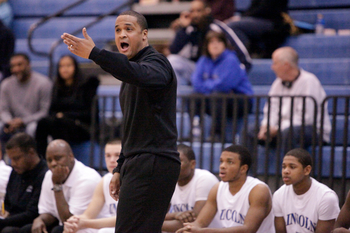 AnnArbor.com file photo
"The attitudes of these girls are great. I've never worked with a better group of kids," Foley said. "This first couple weeks, we're going to try establish Lincoln basketball with the girls."
Foley has also taken on the unique task of coaching his daughter, Dominique Foley, who was already on the team when he took over.
"It's been smoother than I thought it would be. I never imagined I would be coaching my kid. I didn't get into coaching to coach my kid, she just happened to be on the team," Foley said. "At times, it's tough. It's not the easiest to coach your kid. I can only imagine being coached by my mother."
Just down the road at Milan High School, Brad Baden takes over for Jeff Scott the girls team after spending last season as an assistant on the varsity boys team.
Baden said that while the first couple weeks of practice have involved a lot of learning about his players, he is able to improve on the skills built before he took over as coach.
"I don't think it's a huge change, Last year they did a lot of good things and we're trying use that foundation to introduce a wrinkle here or a wrinkle there," Baden said.
One last dance?
What the future holds for Ypsilanti High School is uncertain because of the consolidation with the Willow Run district. Ypsilanti coach Chris Slater and his team are well aware that the 2012-13 season could be the last season the Ypsilanti Phoenix play as a team.
With that in mind, this year's team is out to make a lasting impression. The team has adopted the slogan "This is it" as a motto for the upcoming season, signifying their final chance to make an impact.
"This is your time to leave your mark. We can go out with a bang," Slater told his team. "And that's something people will remember for a long time."
Returning leaders
Here's a look at returning players who led their teams as underclassmen a year ago.
McKenna Erkfritz, Manchester, F
Annarbor.com's Player of the Year, Erkfritz averaged 17 points and almost nine rebounds a game for the Lady Dutch.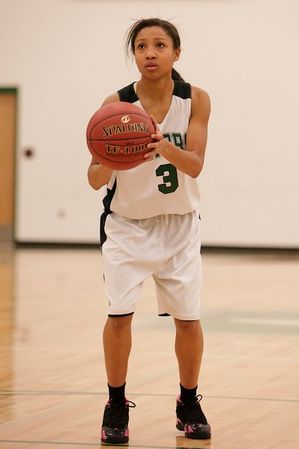 AnnArbor.com file photo
Jasmine Jones, Ypsilanti, G
Jones averaged just fewer than 13 points per game last year for the Phoenix. Ypsilanti head coach Chris Slater expects that number to be even higher this season.
Zakiya Wells, Arbor Prep, G
While the school may be small, Wells' game is huge. Wells was an Annarbor.com Dream Team selection a year ago averaging 17 points and five assists a game, as a freshman. Head coach Rod Wells (Zakiya's father) said putting her at the wing instead of the point, may add more to her already impressive totals from a year ago.
Tessa Belanger, Rudolf Steiner, F
Belanger was second on the team in scoring averaging 11.8 points a game to go along with a team-best 12 rebounds per contest as a junior last season.
Janae Sims, Skyline, G
Sims led Skyline last year averaging 10.5 points per game and expects to improve this season as the Eagles continue to grow on the offensive side of the ball.
Game of the Week
Fans have until noon Saturday to vote, when the poll closes. The winning game will receive our Game of the Week treatment, including a preview, multiple reporters at the game writing multiple stories, photos, and a live chat. The live chat will be accessible from both computers and through our iPhone and Android mobile apps.
Matt Durr covers sports for AnnArbor.com.