Posted on
Wed, Feb 20, 2013 : 1:58 a.m.
Huron still alive in conference title race after 42-41 win over Skyline
By Pete Cunningham
When Huron coach Waleed Samaha heard that Pioneer had given Southeastern Conference Red Division leader Temperance Bedford its first loss in league play on Tuesday night, he didn't keep the news to himself.
Samaha immediately told one of his players exiting the locker room at Skyline High School and yelled it to his assistants inside the locker room.
The Pioneer win keeps Huron alive in the chase for a conference title. That wouldn't have meant a thing had it not been for the River Rats' 42-41 win over Skyline moments before the news reached Samaha.
"We know we're alive now," Samaha said. "We gotta get a big one on Thursday and it sets up Tuesday night."
More coverage: Boxscore | Tuesday night boys basketball roundup
The win puts Huron (11-5) at 8-2 in league play, which is the same conference record as Pioneer. Bedford is 9-1 in the league and plays at Huron on Tuesday.
Huron's chances to contend for a league title were put in serious jeopardy on Tuesday as Skyline (8-9, 5-5 SEC Red) came as close as it ever has in program history to beating its cross-town rival.
Skyline bogged down Huron's offense with a disciplined 3-2 zone in the half court. Skyline's offense was equally stagnant, though, and the Eagles led 18-14 at halftime.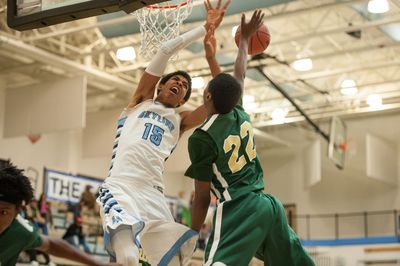 Courtney Sacco | AnnArbor.com
"We just had a lot of missed opportunities to where I thought instead of being up four at half, it should have been closer to 10 the way the flow was going," said Skyline coach Mike Lovelace.
With the 3-2 zone, Skyline was basically challenging Huron to win with its outside shooting and the gamble paid off in the second quarter as Huron shot just 3-of-14 from the field.
Skyline got burned on the gamble in the third quarter, though, as Huron heated up from 3-point range, hitting 3-of-5 attempts in the quarter and taking a 29-26 lead into the fourth.
"We were getting good looks all game, we just weren't knocking them down, and sometimes that happens," Samaha said.
Xavier Cochran turned the table for Huron, connecting on all four of his 3-point attempts in the second half, including one with 1:29 left to give Huron a 40-38 lead. Cochran led all scorers with 21 points.
"Xavier just hit big shot after big shot," said Lovelace. "He did a real nice job we had to do a better job finding him a couple times."
Peter Bakker-Arkema hit a 3-pointer with less than four seconds on the clock to pull Skyline within one, but with no timeouts remaining, Skyline could only watch helplessly as Huron allowed the clock to expire.
"At this point of the year, we're almost numb to it," Lovelace said of the dejecting loss.
Skyline has lost four games by two points or less and lost in overtime to Bedford after giving up a game-tying 3-pointer at the buzzer in regulation.
"We've been through it so many times at this point. We just want to win so bad," Lovelace said.
Bakker-Arkema and Tristan Wilson led Skyline with 10 points apiece.
For the first time in a long time, Huron finally controls its own destiny when it comes to the conference title race.
"We just gotta take care of business and not look ahead and all the old cliches," Samaha said.
Pete Cunningham covers sports for AnnArbor.com. He can be reached at petercunningham@annarbor.com. Follow him on Twitter @petcunningham.