Posted on
Tue, Feb 19, 2013 : 7:47 p.m.
Milan tops Monroe St. Mary for second straight Huron League title and more Tuesday results
By Kyle Austin
This file will be updated
AnnArbor.com Washtenaw County Scoreboard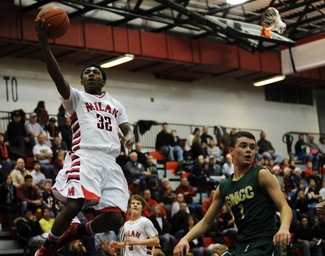 Daniel Brenner | AnnArbor.com
Milan 55, Monroe St. Mary Catholic Central 49
Story | Boxscore
Milan's C.J. Turnage scored 21 points — 11 in the third quarter — Latin Davis had 13 points and Nick Perkins scored 12 points as the Big Reds outscored Monroe St Mary Catholic Central 28-18 in the second half.
"C.J. played really well tonight," Milan coach Josh Tropea said. "He had a personal 7-0 run in the the third quarter that gave us a lead heading into the fourth."
The Big Reds, at 17-1 overall and 13-0 Huron League, clinched at least a share of their second straight Huron League title. Tuesday marked their 26th straight league victory.
Tropea also said that Adam Salo's second-half defense made a big difference.
"Adam did a great job on (Kevin) Woodson, not allowing him to make a field goal in the second half," Tropea said. "His defense forced them to turn the ball over, and we were able to get out in the open floor."
Saline 67, Monroe 57
Story | Boxscore
Saline's Reece Dils led all scorers with 31 points and Gabriel Becton scored 12 points as the Hornets (9-8, 3-7 SEC Red) outscored Monroe 34-19 in the first half.
Ypsilanti 73, Adrian 37
Story | Boxscore
Ypsilanti's Janeau Joubert scored a game-high 22 points, including three 3-pointers, as the Phoenix improved to 13-4 overall, and 9-1 in the SEC White. Jaylen Johnson totaled 11 points, 10 rebounds, five steals and four assists, Justin Bernard scored 11 points, and LaVonte Davis added 10 points.
"LaVonte been a great senior leader, and he's one of our bigs, so he does a lot of talking on defense for the younger guys," Ypsilanti coach Steve Brooks said. "He's been a varsity starter for three years and has a remarkable record. I'm proud of him taking a leadership role, keeps the young guys focused.
Lincoln 71, Chelsea 47
Story | Boxscore
Lincoln (7-10, 4-6 SEC White) scored at least 18 points in three quarters in what Railsplitters coach Rich Marion said was likely the team's top offensive showing of the season.
Motley-Dismuke had missed the last four games with an injury, but scored 14 against Chelsea in his return. Tyler Mabry led the Railsplitters with 17 points and Lazon Hicks had 14.
Luke Hollandsworth had 18 points for Chelsea (3-14, 2-8 SEC White).
"We set the tone in the first quarter," Marion said. "It was the best offensive game we've had this year. We shared the ball better than we have all year, we got comfortable looks from the perimeter and played with good energy."
Dexter 35, Tecumseh 28
Story | Boxscore
Dexter led 25-13 at halftime, but Tecumseh was within six points of tying the game in the third quarter.
"It was a low scoring, slug-it-out kind of game," Dexter coach Randy Swoverland said. "We got up on them early and maintained that lead."
Dexter's Adam Sikorski and Ben Kasper of Tecumseh both scored 11 points. Dexter (8-9, 5-5 SEC White) hosts Lincoln Thursday.
Willow Run 52, Ferndale University 51
Story | Boxscore
Willow Run's Dreshawn Patten hit the game-winning 3-pointer from the corner with nine seconds remaining.
Coming out of a timeout, Anthony Davis drove down the lane before passing it to Patten. Davis led the team with 14 points, making six field goals, and Daquanta Brown had 13.
Following Patten's 3-pointer, Willow Run (9-8, 5-1 MMAC) stole the inbound pass to secure the win.
"We said that we were going for the win," Willow Run coach Tim Cain said. "We were not looking for a tie and overtime. Early in the third quarter Davis popped his ankle, and he came back with 30 seconds remaining when he told me he was good to go." They came out and their guards are 6-4, and their bigs are 6-7, so we had shooters who can shoot and take away their advantage."
Washtenaw Christian 64, Westland Huron Valley Lutheran 45
Story | Boxscore
Washtenaw Christian (11-6) outscored Westland Huron Valley Lutheran 33-18 in the first half, scoring points off of steals and fast breaks.
"Defensively, we were pretty effective," Washtenaw Christian coach Dan Benefiel said. "We try to hold teams to single digits in each quarter."
Washtenaw Christian's Shelby Trenton scored a game-high 20 points, and Mathias Donat chipped in with 12.
Britton Deerfield 61, Whitmore Lake 60
Devon Kowalewski led Whitmore Lake (5-13, 4-9 Tri-County) with 16 points.
AnnArbor.com Coverage:
Pioneer 64, Temperance Bedford 61
Story | Boxscore | Photo Gallery | Racial slur leads to brief altercation between Pioneer players and Temperance Bedford fans
Huron 42, Skyline 41
Story & Photo Gallery | Boxscore | Photo Gallery